CULTURE | COVID-19 |

This year's Kabaka Ronald Muwenda Mutebi II's coronation anniversary will be held at Lubiri- Mengo on July 31, 2020.

The 27th coronation ceremony will be attended by not more than 50 guests as a way of preventing the spread of COVID-19.

While announcing the preparations guidelines, Charles Peter Mayiga, the Katikkiro (prime minister of Buganda) said COVID-19 has changed the norm.

He noted that usually during the event the Kabaka interfaces with his subjects across the kingdom but it will not be possible this year.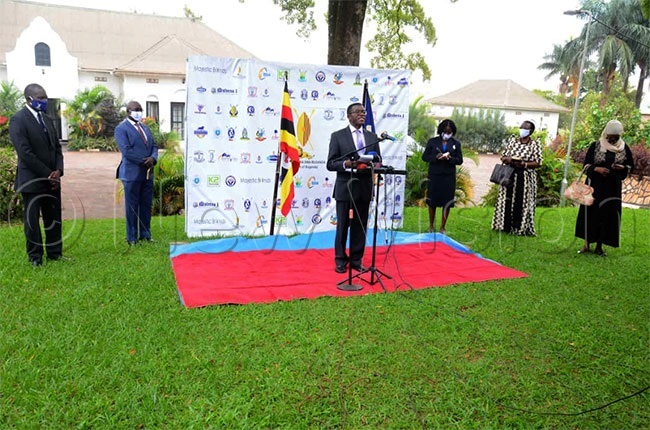 Mayiga said the few guests who will attend this function will be subjected to the health guidelines put in place by the government to control the spread of COVID-19.

"It will be what these days they refer to as a scientific event. It will be held while maintaining all the guidelines given by health officials, which include having a small crowd, social distancing, guests wearing masks, washing hands with soap sanitizers, among others," Mayiga explained.

Kabaka Mutebi II is the UN's Goodwill ambassador in the fight against HIV/AIDS and he has rallied his subjects to fight against COVID-19 by observing all the guidelines put in place by the central government.

"It is against this background that the theme of this year celebration is ' Let's fight against the coronavirus and HIV/AID'.

"I appeal to all officials of the king and all leaders in their different categories to urge the people of Buganda to adopt all measures aimed at stopping the spread of coronavirus and HIV/AIDS," Mayiga said.

Mayiga also announced the organizing committee of the event headed by the Kingdom's culture minister David Kyewalabye Male deputized by lands minister Hajjat Mariam Nasejje Mayanja.

Others are Josephine Nantege Ssemanda the permanent secretary in Katikkiro's office as the committee's secretary, and Kyadondo County Chief Agnes Nakibirige Ssempa as one of the members.