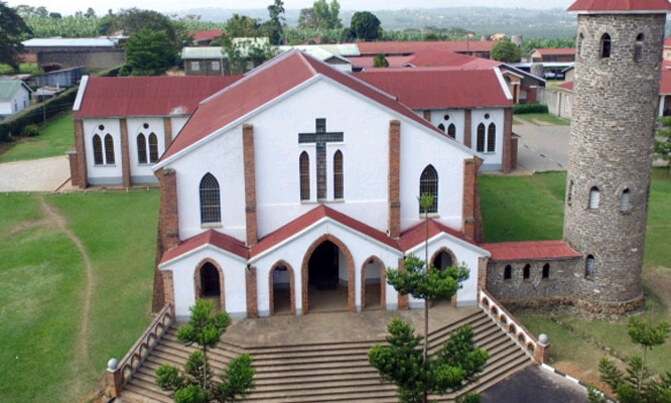 The Pope's representative in Uganda (Nuncio) Archbishop Luigi Bianco will seat Archbishop Bainomugisha upon his new apostolic throne, known as the Cathedra.
RELIGION

As we build-up to the first scientific installation of Mbarara's Archbishop, Lambert Bainomugisha, here is what you need to know about Mbarara Archdiocese.

Mbarara installation at a glance

Mbarara Archdiocese is the first diocese in Uganda to organize a scientific installation of its second archbishop, Lambert Bainomugisha on Saturday, June 20.

The enthronement ceremony takes place on the Feast of Immaculate Heart of Mary, the Cathedral, dedicated to Our Lady of Perpetual Help

Archbishop Bainomugisha was appointed by Pope Francis on April 25, 2020. He replaced the retired Archbishop Paul Kamuza Bakyenga, who became 75, the retirement age of Catholic prelates.

The pope's representative in Uganda (Nuncio) Archbishop Luigi Bianco will seat Archbishop Bainomugisha upon his new apostolic throne, known as the Cathedra. The seat symbolizes the archbishop's teaching and apostolic authority. The Nuncio will then deliver the pope's message to the new archbishop and ask him to accept it. After Bainomugisha accepts it, the nuncio will give him a shepherd's staff or crosier, which is the symbol of his pastoral authority.

What you need to know

Only 150 people have been invited due to the COVID-19 measure of social distancing. The rest can follow the function of TV West, radio, and social media.

The ceremony couldn't wait for the post corona lockdown because the church law says a new archbishop must be installed not more than two months from the day of his appointment.

Another elaborate ceremony will be organized after the lockdown where the entire Christian community in the diocese, province, and the country shall welcome and congratulate the Archbishop. The province includes suffragan dioceses of Hoima, Fort Portal, Kasese, and Kabale," he said.

Bainomugisha's scientific installation will not be the first in the world to result from the Coronavirus pandemic. It will be the 24th in the Catholic Church since the lockdowns began in February and March. At the installation of Archbishop Matthew Ishaya Audu as Archbishop of Jos in Nigeria on March 31, only 50 people were allowed.

Since April 1, Pope Francis has made 90 appointments of cardinals, archbishops and bishops. Of these, 8 bishops have been ordained in a scientific ceremony. Only one of the 2 from Africa, Bishop Salvator Niciteretse of Bururi, Burundi, was ordained with crowds. The other, Bishop Ildevert Mathurin Monanga of Kinkala, Congo, had a scientific ordination. Other bishops who had a scientific ordination are 2 are from Asia, 4 from North America, 4 South America and 6, Europe.

Nine prelates have also been installed in a scientific ceremony so far, out of the 13 scheduled between April and June (1 cardinal, 4 archbishops and 8 bishops). Two of these, (Archbishop Jean Patric Iba-Ba of Libreville, Gabon and Bishop Peter Ebele Okpaleke of Ekwulobia, Nigeria) are from Africa. Three are from Europe, 2 from Asia, 1 North America and 5 from South America.

The ceremony will not make Bainomugisha an archbishop; he became one the moment the pope appended his signature on the appointment letter. That signature also retired

Archbishop Bakyenga, becoming Archbishop Emeritus, together with his administration team, except the Chancellor, who has legal responsibilities in the installation.

The Cathedra, or archbishop's throne symbolizes his teaching and apostolic authority. A Cathedra started in the early Christian basilica as a raised seat, or throne, of an archbishop or bishop. Today, it is placed behind the altar or on the left side of the altar.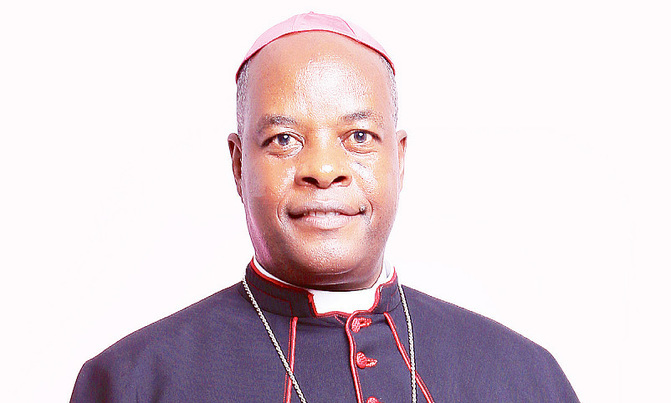 Who is Archbishop Bainomugisha?
Born on July 12, 1961, at Kashumba, Isingiro district.
Started primary at Buhungiro Church School, where they would study under a tree, before changing to Kiyenje Primary school.
Joined the seminary at Kitabi and continued to Katigondo and Ggaba.
He has ordained a priest on July 13, 1991.
Has a doctorate in Canon Law from St. Paul's University, Ottawa, Canada.
Ordained Auxiliary Bishop on October 1, 2005.
Worked as Apostolic Administrator of the diocese of Hoima from November 13, 2009, till February 29, 2016.
Pope Francis appointed him Archbishop of Mbarara on April 25.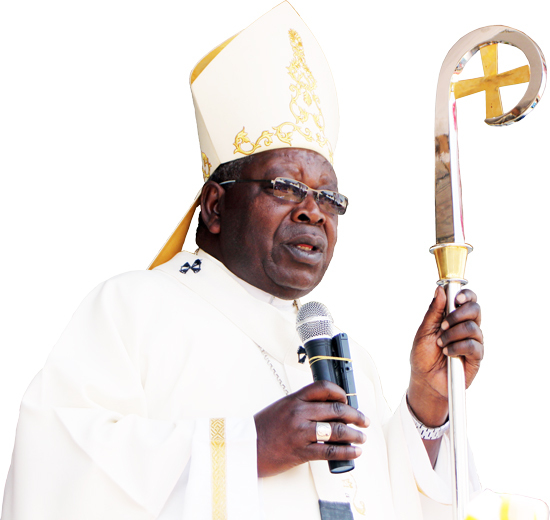 Who is Archbishop Bakyenga
Born on June 30, 1944, in Bumbaire, Igara in Bushenyi District
Became priest on 11 July 1971
Appointed bishop on 6 March 1989
Ordained bishop coadjutor on 24 June 1989.
Succeeded Bishop John Baptist Kakubi as bishop of Mbarara on 23 November 1991.
John Paul II elevated him to archbishop on 2 January 1999.
Mbarara Archdiocese
Became the Vicariate of Rwenzori became a Diocese covering the Western Region of Ankole, Kigezi, Toro, and Bunyoro on March 25, 1953.
Apostolic Vicar Lacoursiere became the first Bishop of the new diocese, which was named Mbarara till April 20th, 1956.
Bishop Jean Marie Ogez took over in 1957 till he handed over to the first black bishop, John Baptist Kakubi, who was ordained Bishop on August 1, 1969, at Kololo by Pope Paul VI during his visit to Uganda.
Bishop Kakubi resigned on 23rd of November, 1991 and was succeeded by Bishop Paul Bakyenga.
The Diocese of Mbarara was elevated to an Archdiocese on the 2nd of January, 1999, and Bishop Bakyenga was installed as Archbishop of Mbarara on the 11th of July, 1999. Mbarara became the seat of the newly created Ecclesiastical Province with suffragan Dioceses of Fort Portal, Hoima, Kasese, Kabale and Mbarara.
On July 2, 2005, Lambert Bainomugisha was appointed Auxiliary Bishop of Mbarara to help Bakyenga. He will on Saturday be installed as the Archbishop of Mbarara Archdiocese.