Lilian Ajio has retired. The lionhearted She Crane has walked off the stage. A golden netball career, a tale of peculiar greatness has reached the finish line. But the legend lives on.
A two-time African champion and a member of the legendary 2015 and 2019 She Cranes netball World Cup squads, Ajio will live forever in the annals of not just Ugandan netball but Ugandan sport.

Sure she was forced into retirement by a foot injury but that should not overshadow the main point. Ajio's body of work, her contribution to Ugandan netball and sport at large is more than enough reason to make peace her retirement. Injury or not, the legend of Ajio will always be a key feature in the golden era of Ugandan netball.

Ajio picked up the foot injury last year and was not able to treat or receive adequate treatment for it from netball authorities, something that has left a bitter taste in her mouth and robbed this occasion of proper perspective.

"When I felt pain in my foot, I knew I was injured. I immediately informed the Uganda Netball Federation (UNF) president Suzan Anek," the Prisons netball club great told New Vision Sports. "I still travelled, but when we reached Liverpool for the 2019 Netball World Cup, Anek took me for a scan where she was informed I could play but not for the whole game."

Ajio did not receive any more assistance from the UNF. The Commissioner General of Prisons Dr Johnson Byabashaija would make a sh1.5m contribution towards Ajio's treatment but it was not enough to cater for a recovery.

Ajio felt she had no other choice but to call time on her career. The SheCranes defender has never been the centre of attention with the Cranes but her defensive abilities were crucial to the SheCranes Africa Netball Championship successes in 2017 and 2018 and more importantly the team's historical World Cup feats in Sydney and Liverpool, where Uganda finished eighth and seventh respectively, moving to seventh place in the world rankings.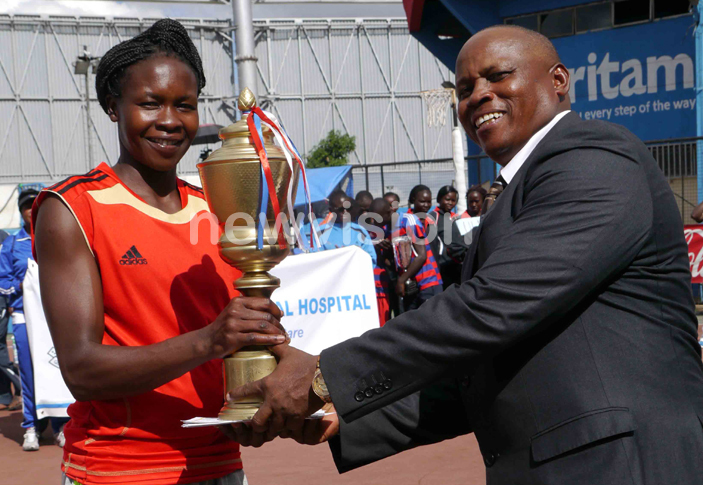 Ajio deserved more acclaim and certainly treatment for her foot and it makes sense to cast a light on the circumstances surrounding her retirement for the purposes of raising awareness. Still, more attention should be placed on the mark she made as a player. In this edition of SportsWoman, Ajio opens up about her journey in netball, playing at two Netball World Cups, and her painful retirement from the national team.

My netball journey
"I started netball at Naguru Katale Primary School although athletics used to take a lot of my time.

I was a good runner in the 100m, 200m and relay races, so most of the time I just used to enjoy watching netballers doing their thing on the court.

"Little did I know that I was being taken up by the sport. In my primary seven at East Kololo, I decided to give it a try and since then, I have never looked back.

"Betty Namukasa is one of the reasons I chose to be a goal defender. I liked her style of play and saving tactics. I admired her dearly and promised to be as good as she was during her teen moments as a goal defender.
"Whenever I used to go to Nakivubo during the netball matches, Namukasa took all my concentration with the skills she displayed.
"In 2005, I made my debut for the She Cranes. This was a dream come true for me. I knew this was the beginning of a successful netball career."

Playing at two Netball World Cups
"My first appearance at the Netball World Cup was in 2015 in Sydney, Australia. It was Uganda's second time at this event having last participated in 1979 in Trinidad and Tobago.

Uganda had spent 36 years without participation, so Uganda's appearance at the tournament was less expected when compared to the other countries like Malawi and South Africa."

Tough times
The 2014 African Netball Championships that were held in Gabarone, Botswana confirmed Uganda's second participation. However the joy of qualification was later filled with sadness as the team spent the most part of its preparations crying out for travel tickets to Australia.

"But I am grateful that the government came to our rescue. The memories of being on the squad that led Uganda to finish eighth overall are still fresh to date.

"In 2019, I played at my second World Cup in Liverpool and it was Uganda's third time at the world event. I am glad to have helped my team finish seventh overall during my last World Cup as a She Cranes player. I call myself lucky because I am among the few players who have been at two World Cups with 14 years experience on the national team."

Unsatisfactory retirement
"After returning from the 2019 World Cup, I decided to retire from national duties and concentrate on my club Prisons.

Age (not mentioned) is among the many things that forced me to let it go. Many people were complaining about us being old and not giving a chance to the younger players. Because I had no guts to take in that anymore, I had to give my self peace and retire.

"To my surprise, the nations we call netball giants, like England, Australia and New Zealand, their players are of age and no one complains. To my understanding, experience, skills and fitness matter most."

Retiring with complaints
"Although I have retired, I am retiring with a lot of complaints and regrets about how the Uganda Netball Federation (UNF) handles issues affecting players.

"When we won the Africa Netball championships in Zambia 2018, President Yoweri Museveni promised each player sh20m as a token of appreciation.

"However, nothing has been done for the players to get this money. Whoever mentions this issue is labelled money-minded and indisciplined.

"As a mother, there is a lot I could have done if that money was rewarded to me. And now that I am retiring, the hope of getting it is also diminishing."
"I also appeal to the government to reconsider the funds given to the netball federation and also look into players payments. They also need to reward netball players as much share the national football players.

"Netball has been to three World Cups and I think we deserve better. Let players be proud of the choices they made other than having regrets at the end.
"My life after netball will rotate around coaching. However, I am willing to return to the team provided I am asked or if they lack a goal defender that matches my abilities."