Ruth Nankabirwa, the Government chief whip, said of the 72 cabinet ministers, 47 had contributed sh280m to the fund, starting with their June salary.
HEALTH COVID-19
KAMPALA - Cabinet ministers have offered sh1m for six months to the COVID-19 National Response Fund in the fight against the spread of the pandemic.

Ruth Nankabirwa, the Government chief whip, said of the 72 cabinet ministers, 47 had contributed sh280m to the fund, starting with their June salary.

Nankabirwa revealed this yesterday at the Office of the Prime Minister (OPM) in Kampala while handing over donations to the fund.

"The cabinet ministers have agreed that sh1m be deducted from their monthly salaries in order to boost the fund's account so that they can fight against COVID-19," she said.

Nankabirwa also said some ministers had agreed that sh6m be deducted from their accounts while others accepted sh4m and sh3m, respectively.

She said the ministers were emulating President Yoweri Museveni, who recently committed part of his sh3.6m monthly salary to the fund, starting April, to fight the spread of coronavirus in Uganda.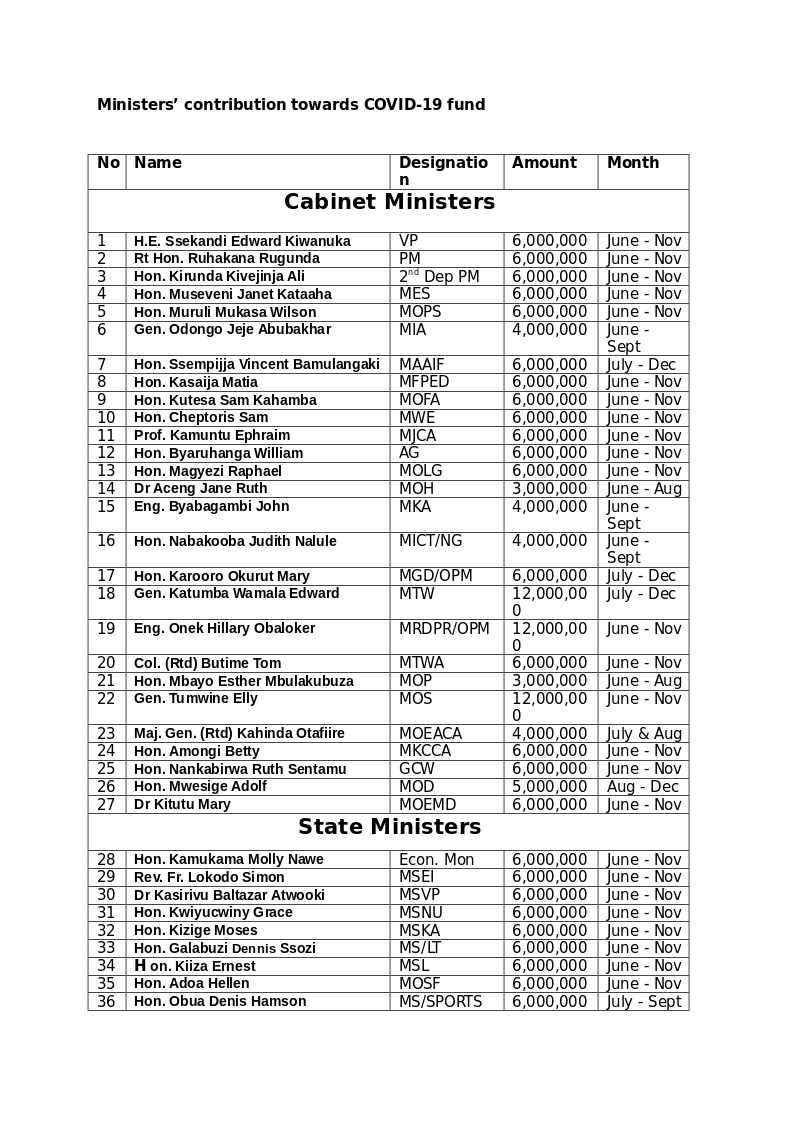 The ministers' contribution was received by Mary Karooro Okurut, the Minister in Charge of General Duties, flanked by Emmanuel Katongole, the fund's chairman, Dorothy Kisaka, the secretary and administrator and several members.

Nankabirwa named Museveni, the First Lady Janet Museveni, Vice-President Kiwanuka Ssekandi, Prime Minister Dr. Ruhakana Rugunda, the First Deputy Prime Minister, Gen Moses, the Second Deputy Prime Minister Ali Kirunda Kivejinja and Okurut among those who have already contributed to the fund.

Nankabirwa said she had communicated to the Clerk to Parliament, Jane Kibirige, and Kaweesa Nganda, the Parliament chief accountant, to effect the deduction of the sh1m from ministers' salaries. Nankabirwa said she had also communicated to John Mitala, the head of the Public Service and Secretary to Cabinet, to see if public servants including permanent secretaries, and undersecretaries can also contribute part of their pay in the fight against COVID-19.

"It is not compulsory for public servants to commit their salaries to the fight against the pandemic, it is voluntary," Nankabirwa noted.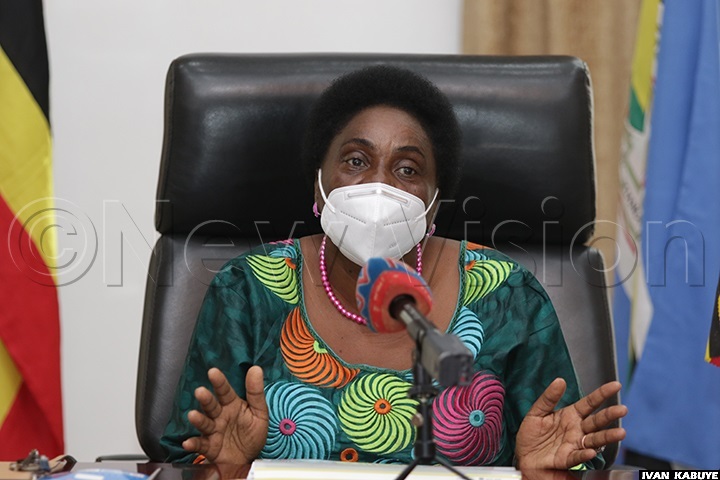 Karoro commended Good Samaritans and organisations that have contributed to the fund in response to Museveni's call. Karoro said Museveni would explain to the public how the donations collected will be utilised. The fund has so far collected over sh32b in physical goods and cash.

At the same occasion, Great Lakes Energy Company (GLE), the investors of Kabulasoke Solar Power Plant in Gomba district, donated five new Nissan double cabin pickups worth $134,300 about (sh507m) to the fund. The vehicles were handed over by Great Lakes Energy Company regional manager John Paul Mogere.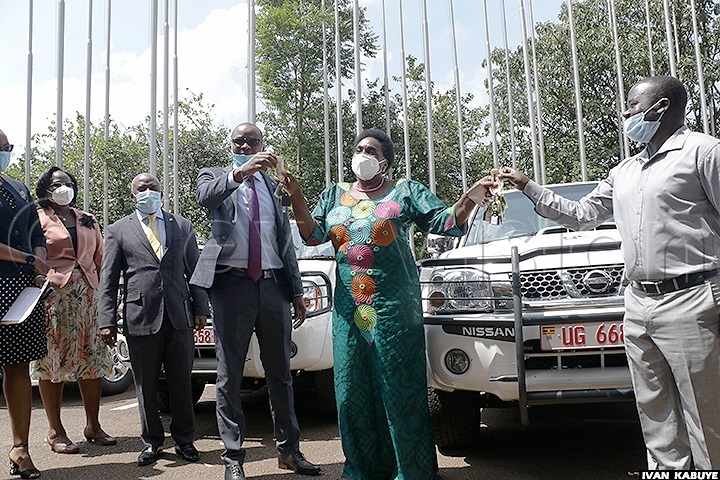 GLE director Michael Kearns said: "Given the gravity of the coronavirus pandemic, we felt it prudent to respond to President Museveni's appeal for additional logistical support to boost the health ministry fleet.