President Yoweri Museveni has pardoned 833 prisoners to decongest prisons as one of the measures to control the spread of COVID-19.

"In an exercise of the powers vested in the President under article 121 (1)(a) of the Constitution of the Republic of Uganda, and on the advice of the Advisory Committee on Prerogative of Mercy, I hereby grant pardon to the following nationals and non-nationals on humanitarian and public health grounds," Museveni stated.

However, the President noted that the pardon of the foreign nationals is on condition that they are repatriated to their home countries upon release.

The Prerogative of Mercy is an executive process that comes after the Judiciary has concluded its duties; it is a system that mandates the president to exercise his powers to pardon some prisoners.

Headed by the President and chaired by the Attorney General plus six reputable members of the public, the Prerogative of Mercy Committee is authorized to receive the names of prisoners who qualify for clemency then forward them to the president for approval.

The prison's department is mandated to compile a list of prisoners from various detention facilities who qualify for presidential pardon annually; thereafter submit the names to the Attorney General's office for approval.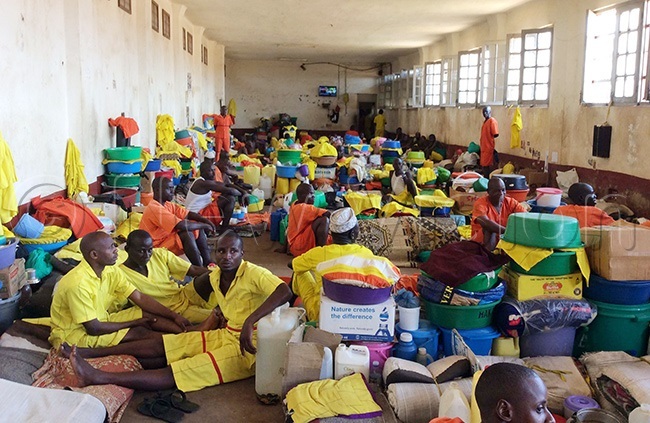 The Commissioner-General of Prisons Dr Johnson Byabashaija told New Vision that each year prisons department submits over 2000 names of prisoners within the 249 prison units countrywide who qualify for pardon to the Prerogative of Mercy Committee for consideration.

"We recently submitted the list to the Attorney General for consideration of pardon to decongest Uganda's detention facilities. We wrote to the registrar of courts to release persons whose remand period had expired. This, however, excluded capital offenders," Byabashaija said.

He observed, "Most of these custodial centres are presently housing inmates beyond their capacities yet the overcrowded facilities pose a potent threat to the health of inmates hence the need for urgent steps to bring the situation under control," he said.

Frank Baine, the prison's publicist told New Vision that the President sent instruments of power to the Attorney General who under the Prerogative of Mercy Committee wrote to the Prison's Chief instructing the release of the suitable inmates.

Baine noted that those who qualified for presidential pardon included, the elderly above 54 years, pregnant women, breastfeeding mothers, terminally sick prisoners, and petty offenders who completed three-quarters of their sentences, among others.

The President last exercised his powers to release prisoners on February 12, 2016 when he pardoned Anthony Okwonga, 80, a former Officer in Charge of Luzira Upper Prison who had spent 17 years behind bars at Luzira Upper Prison for murdering and kidnapping with intent to murder.

In 2012, Museveni released Sharma Kooky, who was convicted of murdering his wife, Renu Joshi, and sentenced to death. He had spent 12 years in Luzira.

Others were Brigadier Ali Fadhul, a former minister for provincial administration in Idi Amin's regime, who was released in 2009 after spending more than 20 years in prison.

Former minister for Security in the Obote II government, Chris Rwakasisi, who had been on death row for two decades, was also released in the same year.

Another beneficiary of the presidential Prerogative of Mercy was Abdallah Nassur, former Central Province Governor during Amin's regime (1971-1979), who was released in 2001 after spending 20 years in prison.

Nassur had been sentenced to death in 1981 for the murder of Francis Walugembe, a former mayor of Masaka.

Below is the list of the pardoned: