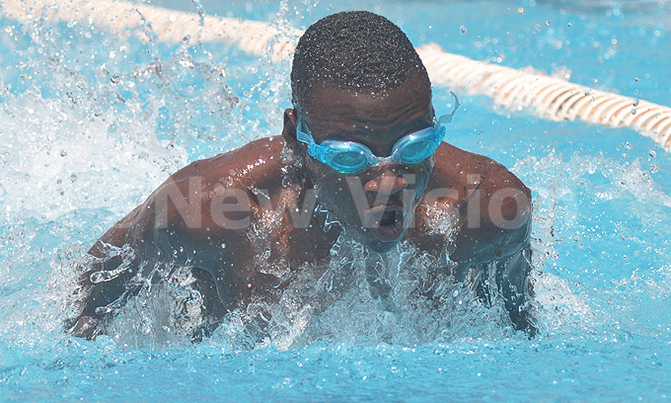 Uganda Swimming Federation (USF) president Moses Mwase has revealed that they have come out with plans to ensure that they get funds to support their activities when sports action resume.
The sports industry is currently on hold due to the coronavirus pandemic.

"We are working on a marketing strategy which will help us to reach out to stakeholders, sponsors, development partners but even to our athletes and parents. We are working on an online data base for athletes, most developed federations have gotten an online data base for athletes which unfortunately we have not been able to put in place because is quite expensive so we are coming up with initiatives that will enable us to have this.The other thing we are doing is we would like to develop a firm strategy for open water swimming and water polo. About two years ago we launched into water polo and it has been growing but because of COVID 19 we sought of how we have been slow so we would like to refine that strategy so that when the covid situation comes under control we spread our wings for open water and water polo",he added.

"We have lost momentum and alot of activities on the calendar have not being implemented. We should have had our assembly on March 21st but this was called off for public health concerns and this affected us. We have been encouraging our swimmers to remain fit but when they open up we need a minimum of two to three months to ensure our athletes become fit. Our calendar has been greatly disrupted and this does not affect us only since it's a worldwide challenge. The Olympics were post postponed and other several activities. Another challenge is that we will have to re-discuss with our partners, sponsors who we were close to signing deals for the sponsorship package of different events this year. The other challenge which is Covid-19 not related but we have struggled to have a national swimming pool. But there is an initiative by ministry of Education and Sports to have one but we hope it happens."

Mwase has also appealed fro financial support from stakeholders saying they have run out of cash.

"The first support that we need are funds since Covid 19 has been very destructive. Many of our members they don't have means to survive on a daily basis because sports activities were suspended so they can't earn any some of income. We have reached out to National Council of Sports and they have told us that they have made a request to the ministry of finance. We have taken some personal initiatives and requested the clubs to find a way of helping their coaches and we have also assisted some of them. We have also engaged with FINA because it usually gives us funds and we hope they don't cut it. Financially we have been affected in the sense that we have put on hold payment of membership fees and FINA has not been able to pass on the money that they contribute in time because of the lock down effect. For every event we usually collect up to sh10m which also helps us to settle some costs but now we have lost up to sh50m.We hope to organize some of the events to recover the money if time left on the calendar allows," Mwase said

Inter secondary School gala, Masters swimming activity and National age group Championships are some of the competitions affected but the federation is optimistic that they will be able to have the sixth CANA zone three swimming Championship.