Vouchers helping mothers get antenatal care under lockdown

In March 2020, when the government imposed a lockdown to slow the spread of the coronavirus disease (COVID-19) many preg ... In March 2020, when the government imposed a lockdown to slow the spread of the coronavirus disease (COVID-19) many pregnant women were left wondering how they would receive essential health services including antenatal care and childbirth.
With both private and public means of transport suspended, mothers needed a special travel permit from their local leaders as clearance to travel to hospital.

Even though this directive was later eased to allow a pregnant woman to be transported to hospital even minus a travel permit, how many could afford private transport?

"I was anxious what if I am to go into labour at night, how will I get to hospital," Sharon Akello recollects how she worried for her life and that of her unborn child when government in March effected a lockdown.

She was due to deliver in a month or two. When her time came to give birth, it was during the day, there was no vehicle to transport her.

Akello had seen most pregnant women in her village in Aloi Corner Alal subcounty Alebtong district picked up by the Director of the health center where she attended her antenatal whenever they were in labour.

It was mostly in the evenings, and she had not taken the opportunity to get his number for help. When Akello's time came for childbirth, her husband had to use a rusty motorcycle to get her to health center for safe delivery.

On May 23, 2020 Akello delivered a healthy baby girl now two months who follows her three years firstborn boy.

She did not have to bear the rough motorcycle ride back home with her new born baby, the health center on My 25, 2020 provided a car to transport her back home free of charge.

Coming to the rescue of mothers

In rural Uganda, most pregnant women have to trek long distances for several hours, to get antenatal care, or a health facility equipped to handle complications in birth.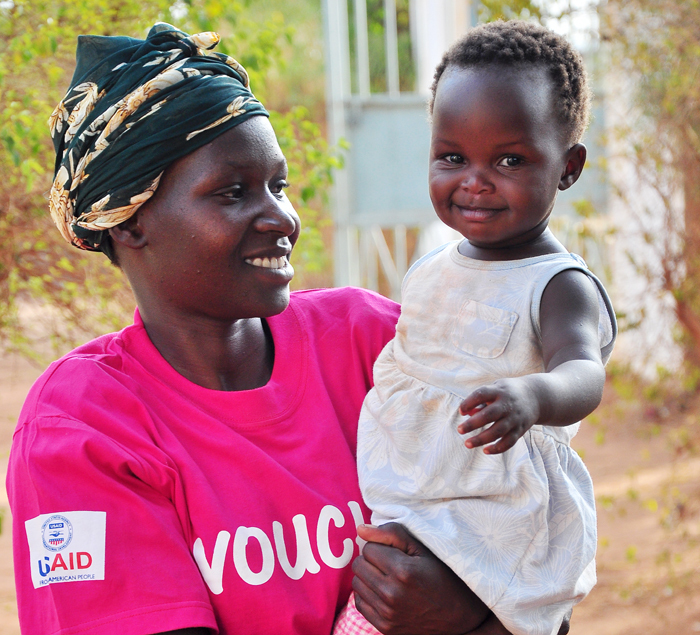 Pregnant women struggle to get timely and quality antenatal care as most are poor, and are financially constrained, live far away from the nearest health center and depend on public means for transport.

In May, the United Nations Children's Fund (UNICEF) estimated 116 million babies will be born under the shadow of the COVID-19 pandemic.

The babies are projected to be born up to 40 weeks after COVID-19 which is straining health systems all over the world.

Worryingly maternal mortality rate in Uganda has consistently been one of the highest in the world with 440 deaths per 100,000 live births, according to UNICEF's data.

Also, one woman out of every 49 Ugandan women will die of a complication related to pregnancy or delivery.

But mothers are afraid to go to hospitals for fear of getting infected, or missing out on emergency care due to strained health services and lockdowns that constrained transportation of mothers to hospital for the case of Uganda.

Luckily, before lockdown the United States Agency for International Development (USAID) had introduced a maternal health project titled USAID Voucher Plus Activity in 36 districts of Eastern and Northern Uganda.

It was to ensure pregnant mothers get quality antenatal care in private health facilities. The Village Health Team (VHT) sold vouchers to pregnant rural women in the two regions of Uganda for a minimal sh4, 000.

"On anticipating a lockdown due to COVID-19, we targeted women in the third trimester of pregnancy, who were bound to give birth anytime," says Dr Dennis Buluma, the Deputy Chief of Party of the USAID Voucher Plus Activity.

The voucher ensured pregnant rural women get all four routine antenatal checkups, HIV testing and counselling, routine postnatal checkups after delivery and new born care, and postpartum family planning services of the mothers choice, during the lockdown.

The voucher also fostered the management of illnesses and complications that a woman may have during pregnancy, delivery, and after delivery.

But, importantly the voucher also catered for emergency referral transport in case a pregnant woman needed to be referred to a high level facility to deliver. It's the component of transport that saved most pregnant women's lives during the lockdown.

Easing transport

"For some reason most pregnant women get their labour pains in the night, we experienced challenges due to the lockdown and curfew, especially when it came to transport," says Dr Buluma.

Most pregnant women were not able to access any means of transport, and delivering at a health center become a challenge.

"We engaged VHTs to mobilize pregnant women to go for checkup and delivery at a health facility and better ahead of time during the lockdown," says Dr Buluma.

"We also engaged over 600 Local Council I (LCI) chairpersons in villages surrounding voucher supported health facilities to mobilize pregnant women to get antenatal care under lockdown," he adds.

Dr Buluma says unlike VHTs who could not move to distant homes due to lockdown LCs were able to reach out to every pregnant woman and are nearest to them.

"LCs would identify a woman in labour or with complications yet far from a health center, and call the district COVID-19 taskforce to send a vehicle to transport her to hospital," states Dr Buluma.

All district vehicles were pooled at the district head office to attend to various COVID-19 emergencies.

But "We realized that access to district vehicles was limited for pregnant women in the far deep rural areas. We coordinated our health facilities with both ambulances and personal vehicles, and got the district to give them movement stickers to transport even in the night a mother stuck in the village with pregnancy complications," says Dr Buluma

Emergency referral to the rescue

Considering some pregnant women using the vouchers in health centers IIIs were referred to hospital for a cesarean section, they could not find transport to return home under lockdown, says Dr Buluma.

Ordinarily rural mothers after having their babies use boda-boda (motorcycle taxis) or public vehicle taxis to return home, given some of the hospitals are far from the villages.

The health center only provides transport to hospital for the operation but not after she has been operated upon and discharged.

"We realized there was a problem during lockdown, we would have a mother who has had her baby, is in good health and is discharged from hospital stranded with no means to go home. To ease the anxiety of referral to hospital arising from transport challenges during lockdown, we directed our health centers, to pick the mothers and drop them home upon discharge from hospital," says Buluma.

Other measures

Where a health center did not have a vehicle, they were asked to create a holding space where a pregnant woman due for delivery would spend a few days and nights before labour sets in.

The arrangement ensured women nearing delivery did not wait in villages for labour to set in and begin a desperate search for transport.

Of the 318,000 mothers who bought vouchers before lockdown, 190,000 delivered safely in March under lockdown.

Dr Buluma says services mothers received were at no extra cost. The voucher has different stickers for different services, which is removed to correspond with the services consumed.

The facility would normally fill a claim form with details of the mother attended to, as an invoice for the USAID Voucher Plus Activity to process payment before lockdown.

"But during COVID-19 we have been using the SMS platform to share and receive details of a mother who has consumed services, and it has been equally efficient," says Dr Buluma.

"We also engaged the District Health Office (DHO) to supervise the private facilities to ensure quality health care continues even under lockdown," he adds.

Lessons learnt under lockdown

According to Dr Buluma many Ugandans are left out when it comes to accessing essential health care. "We spend a lot of money out of the pocket to receive health care beyond our income which is pushing many into poverty," he says.

Dr Buluma says the voucher system demonstrates that if there is a mechanism that provides health coverage for vulnerable poor people, they are able to access the services

"As policy makers we should be able to look at health care financing mechanisms that allow universal coverage irrespective of one's level of income or economic status. Some women had never attended facility delivery, they feared they had no money but the voucher system has proved more useful," he reveals.

Dr Buluma government does support public health facilities to offer free services, but in private facilities one has to pay.

"We have demonstrated through the voucher system that when the private sector is meaningfully engaged by government and other stakeholders they can complement government services to increase access to health care," he explains.

"There are areas in Uganda with no government facility but one can find a church based or NGO established facility which is paid for because they need to buy medicines and pay workers. As we design the National Health Insurance Scheme (NHIS) we should think about bringing the private sector on board in areas where government is not existent but the private sector exists," he adds.

Dr Buluma says it is easier to engage an already existing partner than putting up a whole new health facility. He says engaging the private sector in current plans of NHIS will be a good scheme to increase health care coverage to the entire Ugandan population.

The voucher project started in January 2016 and will close on September 30, 2020. Dr Buluma says the voucher project was only a stepping stone for a long more sustainable health financing mechanisms by government

"For now without the voucher I don't see myself getting another child. The voucher helps most underprivileged mothers get quality antenatal care inexpensively and with dignity," says Akello.

She has lost the moral to have another baby having heard a radio announcement that voucher use is soon coming to an end.

Akello only promises to have another child if she can gainfully earn from farming, to afford antenatal charges at a private facility.