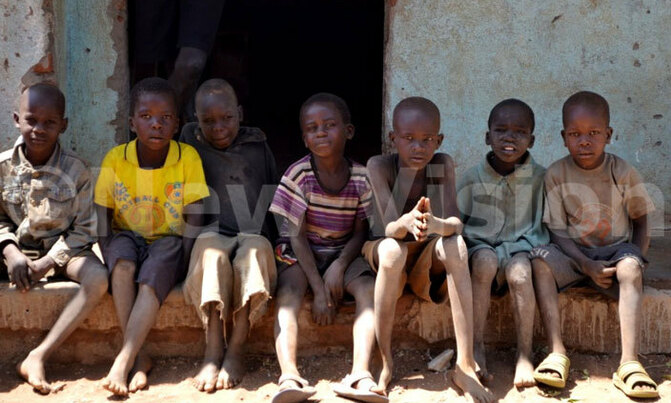 There has been an increase in sexual exploitation and abuse of children in informal settlements and slums, as a result of the coronavirus (COVID-19) lockdown in Uganda.
The Executive Director of Uganda Youth Development Link (UYDEL) that supports and skills vulnerable youths in slum areas, Rogers Kasirye, says children trying to cope in the pandemic were far worse off, and some were exploited in the name of giving food, in exchange for sex.

Of the about 1500 children supported by UYDEL, 60 percent reported having faced sexual exploitation during the lockdown.

"We received distress calls from some of our young people we serve daily in our drop-in centers that life had become unbearable. There was a lot of hunger, and some violence was inflicted on children," says Kasirye.

"In these few weeks we have seen families living in extreme poverty being hit even harder by the crisis as prices for basic food items and supplies skyrocket," he adds.

Kasirye says most of the young girls and boys are no longer working due to COVID-19 lockdown especially those that were supporting themselves for a living, and also those that were supporting their families. Even some parents and guardians are not working.

"This has raised the poverty levels of vulnerable young men and women in their households making their feeding and survival difficult," he says.

The consequence

According to the United Nations Children's Fund (UNICEF), 99 percent of children and young people under 18 worldwide (2.34 billion) live in one of the 186 countries with some form of movement restrictions in place due to COVID-19.

It is estimated that another 3 million Ugandans are expected to fall into abject poverty, and as a result, increasing the number of poverty-stricken Ugandans to 23 million people as a result of the lockdown.

Kasirye states that families and children in the city were caught off-guard as the government struggled to draw a strategy to deal with the pandemic.

Children and their families depending on small informal businesses saw it closed, capital eaten up, and didn't know what would happen next.

Kasirye, however, says the distribution of food rations by the government with donations from different partners including UYDEL with support from the University of California Los Angeles (UCLA), OAK Foundation and others to vulnerable families in Kampala, came at the right time and saved some children from exploitation due to the effect of lockdown.

Protecting children

By law in Uganda just like elsewhere in the world, all children have the right to survival, to develop to the fullest, to protection from harmful influences, abuse, and exploitation, and to participate fully in family, cultural and social life.

"As millions of parents struggle to maintain their livelihoods and income, governments must scale up social protection measures. This should include providing social safety nets and cash transfers, protecting jobs, working with employers to support working parents, and prioritizing policies that connect families to life-saving health care, nutrition and education," says UNICEF.

The Senior Programme Manager UYDEL Rogers Mutaawe says there need for more response to prevent the abuse and exploitation of children under the COVID-19 lockdown.

Mutaawe says the government is the major stakeholder when it comes to the lives of children in Uganda.

"If we had a proper database of children, the government should have identified those in the vulnerable category and effected a cash transfer to their families even if it was with sh. 100, 000," he says.

He says much as the food distribution by the government to vulnerable families was timely and welcome, it was a short term solution.

For better protection of children under lockdown, Mutwaawe says the government needs to conduct media awareness campaigns so that children especially girls know the challenge at hand, keep calm and avoid traps being laid to use their bodies in exchange for food.

He also says the awareness campaigns can also influence parents or guardians not to use their children in exchange for food, as they will only expose them to health risks including teen pregnancies and sexually transmitted diseases, like HIV that will put their lives in danger, and that of their community.

He says they hope to reach 1,300 (900 girls and 400 males) vulnerable children they support hit by the pandemic with food and little cash handouts as a short term measure to reduce trauma, dependency, sexual exploitation, and violence.

Mutaawe says they also aim to build resilience and social capital for the full recovery of the children and reduce trauma being faced during the lockdown.