REPRODUCTIVE HEALTH |

Forget about the free beans, posho and now masks being distributed by the Government. There are more freebies on the way. Ugandans in Kampala city and Wakiso district looking to have safe sex are to receive free condoms that will be delivered at their doorsteps courtesy of the United Nations Population Fund (UNFPA).

This follows the launch of an e-shop that enables online ordering of reproductive health commodities free of charge from pharmacies listed on the e-shop through the SafeBoda app.

The initiative which was launched on Friday at Abigail Medical Centre in Nansana comes as a relief since many people during the pandemic have not been able to access reproductive health commodities due to movement restrictions.

The lockdown has been hard on people's sex lives globally with people refraining from visiting health facilities, fearing exposure to COVID-19.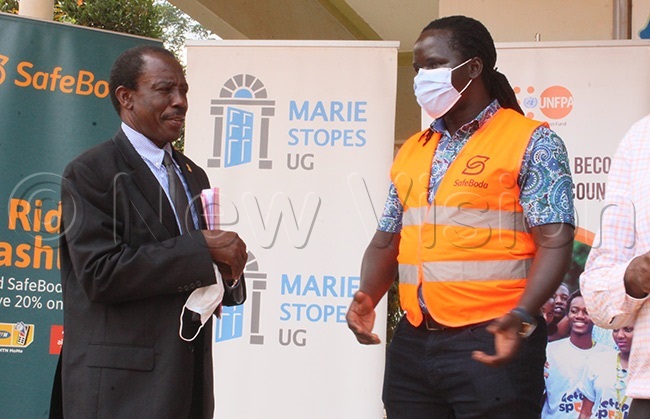 Under the initiative, the e-shop clients will be able to order reproductive health commodities including condoms, contraceptive pills, emergency contraception, pregnancy test kits, HIV testing kits, and menstrual health commodities.

According to Cedric Muhebwa, the Programme Analyst - Social Change Innovations at UNFPA, a client can order for the free government-supplied condoms both male and female, and have them delivered to them at no cost.

"All the other products will be delivered at no cost. The client will just pay the price of the product and through the Safe boda riders the product will be delivered free of charge," Muhebwa said.

Condoms are one of the most popular forms of birth control and when used correctly can prevent the transmission of HIV and STIs.

Although the lockdown is now relaxed, it has reduced access to essential reproductive health services posing risks of unintended pregnancy and sexually transmitted infections.

According to Alain Sibenaler, the UNFPA country representative, the e-shop has been developed as a way to respond to challenges around accessing sexual and reproductive health services as a result of the COVID-19 pandemic.

"For UNFPA and our partners, we believe that whatever the context, whether during COVID-19 or any other crisis, our focus remains on protecting women, girls, and young people by upholding sexual and reproductive health and reproductive rights for all," Sibenaler said.

He explained that the COVID-19 pandemic has had a significant effect on every aspect of life, not least sexual and reproductive health and rights, and the escalation of gender-based violence.

Sibenaler said COVID-19 is causing disruptions in the provision of sexual and reproductive health services because the staff is occupied with the COVID-19 response.

"We are excited to launch the Personal Health, yet another innovative add-on to enable us to reach young people and women in Kampala and Wakiso districts with sexual and reproductive health commodities. This digital platform enables us to deliver multiple reproductive health commodities to people's doorsteps at just the click of a button," Sibenaler said.

Dr. Fred Sebisubi, Assistant Commissioner Health services, Pharmacy Division, Ministry of Health says the initiatives are in line with the government's focus on improving access to family planning.

"We are looking at using family planning as the driver for development and we are looking at increasing access by breaking these barriers," Mukanga says.

He urged the initiative to be spread beyond Kampala and Wakiso.

"It has been a challenge to deliver these products to the final person but I hope this innovation is a great solution," Sebisubi said