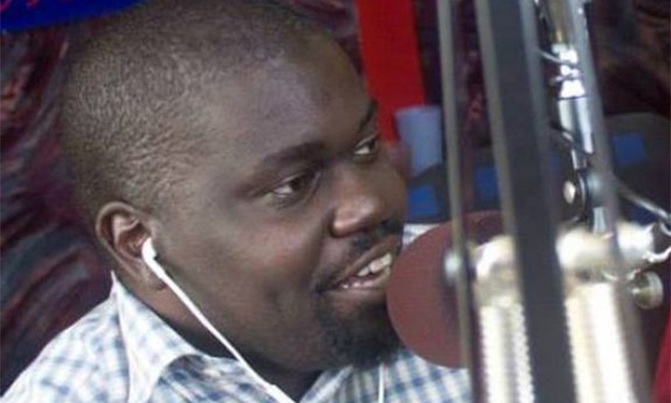 UNEMPLOYMENT |

It is no longer news, on Wednesday at 7:00 pm, James Onen dropped the mic after ruling the airwaves at one of the first FM radio stations in Uganda.

For 21 years, Onen, better known on-air as Fatboy, with his take-it-or-leave-it attitude, got radio lovers hooked every morning.

During his shows, Fatboy used to play rock and alternative music with his target niche being the affluent and aspirational urban audience aged between 18 and 45, who are discerning and well versed with leading trends in technology, current affairs, fashion, and travel.

"21 years. The ride is over. Thanks for the support all these years, you're the best fans in the world. Will communicate future plans soon. In the meantime, ladies, I am coming for some transport money. #SavetheBoyChild," reads a message he posted on his social media platforms.

In one of the radio interviews, Fatboy revealed Friday morning that COVID-19 took his job.

Social media has been abuzz since he announced his exit to pursue other interests, his diehard fans have failed to move on. To them it is going to be definitely hard to fill his shoes.

According to his fans, Onen was among the few radio presenters worth listening to. He was articulate and naturally brilliant.

"Thanks for the moments. You defined morning Radio for a long time. You rode the wave so well," said a fan.

"It's been 21 years for you, and I guess nine years for me - listening in. You have attracted the same level of love and hate - I mean some who started as your haters turned into your biggest fans and some of your biggest fans turned into your "haters". But you know what? That never mattered to you - you woke up each morning and did this thing the best way you knew it. And that's what made you the Fatboy we came to know! In a society where people choose the easy route - say what people want to hear, be careful not to offend people - you chose never to conform.

Some of the most stimulating debates on morning show radio have happened in this industry because of you," wrote Kojo Cyril Zerobrain.

"Of course, it is going to be tough. But I couldn't imagine listening to FatBoy without Seanice and it's almost like he flourished. We'll get used. You'll see," wrote David Mushanga.

"My 27 years of listening to that station has ended too," wrote Matt Muno.

"Thank you for your great moments on air. You will always live a Legend. James Onen I will always miss you every day I wake up," wrote Izzy Xamz.

"For the time I have listened to your shows, it's been awesome, educative, thrilling and intellectually captivating. Thanks for gracing the airwaves in all those years. Best of luck in your next move," said Rodney Emmason.

"While I have always disagreed with almost all of James Onen's opinions, I find that that's one of his greatest allure. He's that person you love to hate. Most people think to be opinionated and contradictory, you have to be annoying. No! Far from that. There's a difference between being opinionated and being simply annoying. And James has mastered the art of dancing around the thin line. Which is why, most people, including myself, are placing their bets on whether or not James' replacement is going to pull it off," wrote Irene Namarah.

Ever since the country went into total lockdown, most media personalities even in big media houses have lost their jobs.

'Boy child' as referred to by your Facebook friends, since you are going for green pasture may your grass stay green.