Police allege that her lover only identified as Moses, reportedly tied her hands as his friends undressed, raped and later strangled her to death. Police is yet release the official postmortem report.
WAKISO - The brutal rape and murder of Prossy Nakayenge, 30, allegedly at the hands of her lover and two of his friends, has shocked residents of Lumuli in Kajjansi town council, Wakiso district and seasoned Police officers.

Police allege that her lover only identified as Moses, reportedly tied her hands as his friends undressed, raped and later strangled her to death. Police is yet release the official postmortem report.

The motive for the savage murder of Nakayenge remains unknown as all suspects are currently on the run. Until Tuesday, Nakayenge was a resident of Lumuli in Kajjansi town council.

The boyfriend stayed at a rented home in the same area. It is alleged that on the fateful day, he invited his accomplices to help him execute the gruesome act.

Yesterday, the deputy Kampala Metropolitan Police spokesperson, Luke Owoyesigyire said; "The deceased was invited on Tuesday in the evening by the boyfriend (Moses) to spend the night together.

"However, in the room, Moses was with two others. All identified by one name; Lubega and Mutoro. The deceased was found half-naked with her pants pulled down her legs."

According to Owoyesigyire, no suspect was found at the scene. The body was taken to a mortuary for postmortem, pending ongoing inquiries.

Crime report

The 2019 annual crime report indicated that; a total of 117,903 of all crimes were committed in rural areas, while 88,944 were committed in urban centres and 8,377 were committed along the highways.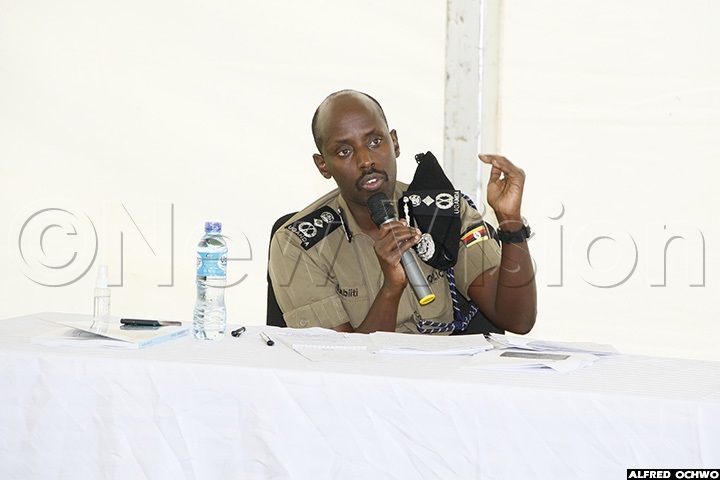 Defilements, thefts, burglaries, rape and murders are more rampant in rural areas while robbery, common assaults and aggravated assaults are common in urban areas, according to the report.

As a means of intensifying the fight against crime, recently, the Deputy Inspector General of Police, Maj. Gen. Muzeeyi Sabiiti, announced a robust and elaborate plan to combat the spiraling crime rate.

Hotlines for local communities

According to Sabiiti, each of the police stations countrywide will have a counter hotline, besides the known mobile telephone numbers of the commanders, which he said are sometimes not reliable.

"Each household must have this counter hotline number. It is the one residents should call in case of an emergency. These numbers will be operational 24 hours, seven days a week," Sabiiti stressed.

Once this number is called, the police officer on duty is expected to alert the area rapid response team to act immediately.

Failure to respond to emergency calls by a police officer, they will be held responsible. Police officers have been circulating the emergency numbers (hotlines) whenever they go for community policing in different villages/zones. The same numbers are written and pinned on community noticeboards, including places of worship.

Village registers, Maps

Sabiiti also revealed that they have intelligence information that indicates that when criminals rent houses in areas where they do not reside, they use them for surveilling their victims and the movement of security personnel before they engage in crime.

As a stop-gap measure, local council (village) chairpersons are being asked to register all their residents afresh to weed out criminals.

Police will also work with local authorities to mark routes and residences, which will make it easy for the response team to establish the exact location that may need help.

Sabiiti revealed that they will work out a plan to ensure some roads are lit and bushes are cleared, arguing that darkness and bushes have been found to be hideouts for criminals.

The deputy police boss said they have in the past few months documented criminal gangs and dismantled several of them. "The process is still ongoing." As a precaution, Sabiiti advised the public to avoid moving with huge sums of money without requisite security contingencies.

He added that they have put in place a Whatsapp number — 0707114114 — to which members of the public can send messages.