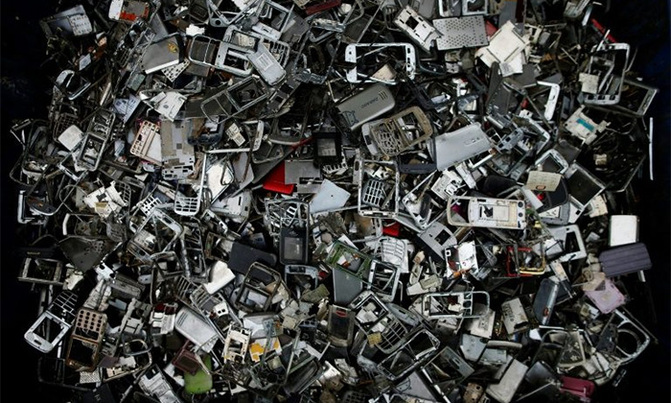 E-WASTE |

The National Environment Management Authority (NEMA) in partnership with the United National Industrial Development Organisation (UNIDO), has set up an e-waste treatment plant to manage e-waste disposal.

The e-waste plant will be located in Bugolobi along the 6th street.
Before the plant, Uganda had e-waste collectors but disposal was a challenge, as much of the e-waste was dismantled as scrap.

E-waste refers to any electric or electronic items needing to be disposed of. These can include discarded computers, televisions, VCRs, stereos, radios, copiers, fax machines, cellphones, batteries, audio equipment, electric lamps, old cell phones and inkjet printers.

According to NEMA, the disposal of e-waste poses a great environmental and health risk in Uganda and globally today as they are improperly disposed of. These wastes can leak lead and other substances into the soil and groundwater.

As Uganda, like many other developing countries, becomes more dependent on technology, more such waste will be generated, aggravating the problem of electronic waste disposal and its disastrous effects on the environment.

According to data from NEMA, e-waste is now the fastest-growing stream globally and Uganda has not been spared.

A 2017 UN Environment Agency survey estimated the stock of e-waste in Uganda at an annual growth rate of 25,000 tonnes.

Currently, 23 million people are phone subscribers; 2.5 million have television sets while 90% of Ugandans have access to radios.

Dr Tom Okurut, the NEMA executive director, said a host of electronic appliances are manufactured using a variety of harmful substances including lead, mercury, phthalates and brominated flame retardants. Yet these substances are so critical to the devices that they cannot function without them.

Lead, for instance, is effective as a solder while flame retardants keep computers from bursting into flames as we type. But for all their usefulness, they come with serious health implications.

"Some of the discarded electronic gadgets have radioactive elements that are hazardous to the environment and health if not disposed of well.

The heavy metals or chemicals can cause diseases such as cancers and skin irritation in people who get into contact with them. Also, the chemicals can leak into rivers whose waters are used for irrigation, posing further challenges," said Dr Okurut.

He observed the need to promote public awareness as a first step for the citizens as end-users, to understand the implication of e-waste to the environment and their own health.

Speaking to New Vision, Nancy Alimadi, a senior environment inspector at NEMA, noted that when they speak of e-waste the common understanding are the computers and cellphones, but e-waste goes beyond that.

"E-waste comprises of most of our household items, like fridges and microwaves, people used to have big screens but those are no more, where did those screens with big stomach go, some people have an attachment to e-waste like car batteries and spoilt phones when these things get spoilt, they keep them at home, e-waste is with us at work, within the environment and in our offices so this calls for attention," noted Alimadi.

When all e-waste is collected by NEMA for free from different offices and stores, the experts will dismantle the electronics that will be expired in an environmentally friendly manner, plastic will be separated from metallic and they will be taken to different recycling plants. All companies are advised to contact NEMA for the guidance of their e-waste.

"Once we dismantle, the dangerous components we are avoiding from penetrating into the environment and food chains will be pressed and taken to countries with good technology because right now Uganda has no technology to handle those dangerous components. Without technology, the health exposure is high, once you open up a computer, the gases go into the environment," she said.

Alimadi explained that global studies have been conducted in foods like yam, sugarcane and fish and have found traces of mercury and lead into this food chain once you consume these components they find their way into another organ and persist. The fact that they are persistent in nature gives them another characteristic of them being cancerous.

The environment body appeals to the general public to continue separating their waste. Right from household level. They are calling upon industries that are producing electronics to have systems in place to take back the products to reduce e-waste from going to the environment. Saying that if the environment is kept clean, we can reduce 50 per cent of disease.

Tony Achidria, a senior public relations officer at NEMA, noted that although there is no any study that relates directly to the rise in cancer-related to e-waste, it is common knowledge that some of the causing agents are realized from components such as e-waste heavy metals.

"When electronic items are discarded with household garbage, which is the case of our urban centres, as most they do not sort their wastes, the toxins pose a threat to the health and vital components of ecosystems like respiratory diseases, heart diseases and some of these components do not just disappear, they go beyond respiratory diseases causing cancer," said Achidria.

The East African countries are working towards harmonizing policies, laws and regulations on e-waste management.

Dangers of chemicals used in electronic gadgets

Lead is highly toxic to humans. It affects the liver, kidneys, reproductive system, and nervous system and can cause permanent problems, especially to the brain

Hexavalent chromium is known to cause cancer. It also affects the respiratory system, kidneys, liver, skin and eyes.

Phthalates are industrial chemicals that can damage the liver, kidneys, lungs, and reproductive system.