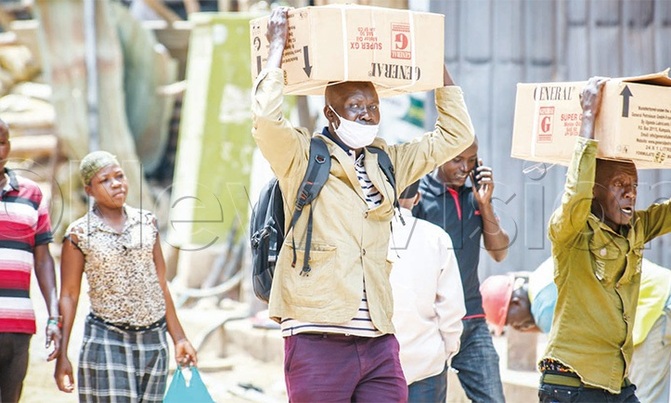 A jump in the number of COVID-19 cases by over 333,190 globally between June 3 and 7 has been described by experts as a sure sign that more work is needed to deal with new infections.
HEALTH COVID-19
On Monday, the health ministry confirmed 11 new cases of COVID-19, pushing the national tally to 657.

This comes on a backdrop of concerns over the global rise in cases as several countries move to slowly ease lockdowns to revive business and social life.

South Africa, which is the most hit African country, started opening schools on Monday as part of the measures to ease the lockdown, while Uganda took a similar route last week with the easing of some measures to open up the economy.

South Africa has registered over 50,879 cases and 1,080 deaths, while Uganda is yet to register any COVID-19-related death.

By Monday, the global cases of COVID-19 had seen a surge to more than 7million cases, with 410,975 deaths and over three million recoveries.

In Africa, a continent of about 1.3 billion people, coronavirus cases had surpassed 189,000 by Sunday, with 5,172 deaths and 82,917 recoveries.

Although Africa remains the least affected by the pandemic, health experts have warned that cases are expected to rise across the continent as local transmission of the virus increases and testing materials and medical equipment remain in short supply in many places.

Prof. Anthony Mbonye, a public health specialist and former director-general of health services, said taming new infections in Uganda will depend on the public's adherence to preventive measures.

"If 80% of the population adheres to three measures: social distancing, wearing of masks and washing of hands, the country will have about 500 new cases (in the first 100 days of easing the lockdown)," he explains, quoting a recent report he compiled with three other lecturers from Makerere University and Uganda Christian University.

According to Mbonye, the number of infections will rise to about 1,000 cases if at least 60% of the people adhere to the three measures, and rise to as many as 20,000 if less than 60% comply.

WORRYING TREND

A jump in the number of COVID-19 cases by over 333,190 globally between June 3 and 7 has been described by experts as a sure sign that more work is needed to deal with new infections.

In Nigeria, cases have risen to 12,801 with over 361 deaths, while in Algeria, cases had shot to 10,382 with 724 deaths, followed by Ghana with 9,910 cases and 48 deaths.

Across East Africa, the DR Congo COVID-19 cases have shot to 4,259 with over 90 deaths and 539 recoveries, while Kenya has 2,989 cases with 88 deaths.

Tanzania, the only country in the region to openly reject enforcement of the lockdown measures to tame the virus, has an official figure of 509 cases with a reported 21 deaths.

By yesterday, South Sudan had 1,604 confirmed coronavirus cases, with 19 deaths, the country's health ministry confirmed.

IT IS A CRITICAL STAGE

Even in the face of rising infections, many countries in the region have taken cautious steps to ease the lockdown measures so that key businesses can return to work.

In Uganda, after a two-month hiatus, public transport was allowed to start, effective Thursday last week, but with half of normal capacity of the vehicles.

All passengers and drivers are, however, required to wear face masks, while touts, hawkers and brokers are not allowed in gazetted public transport terminals.

However, passenger travel on bodabodas remains outlawed, while recreational places, schools, places of worship, public gatherings, international borders and airports remain closed.

The easing of lockdowns across the continent has allowed more people to move and work, re-opening critical sectors, but also raising the risk of new infections both from within and outside.

RESEARCHERS WORRIED

Ugandan researchers, using a scientific model, predict that the country will experience up to 9,200 new infections in 100 days after lifting the lockdown if the public ignores key preventive measures.

According to the study by Prof. Mbonye and other experts, face masks are effective only when used in combination with other measures, including social distancing and frequent hand-washing with alcohol-based hand-rub or soap and water.

The other experts who compiled the report are Dr Agnes N. Kiragga, a research scientist at the Infectious Diseases Institute; Dr John Kitayimbwa, director, Centre for Computational Biology (CCB) at Uganda Christian University (UCU); and Dr Ronald Galiwango, senior scientist at CCB.

The report states that although in Uganda the social mixing patterns are observed to be higher than most Western countries, effective social distancing and handwashing remain sub-optimal.

"Therefore, in fully lifting the lockdown, face masks could help to reduce COVID-19 transmission in the community, particularly if used in public transport, crowded areas, schools and shopping centres, (but) it is important to evaluate their effectiveness when used alone, or in combination with social distancing measures," the dons state in their report.