After the overthrow of Idi Amin, he was taken Prisoner of War into Tanzania for more than a year, until he was returned to serve his sentence in Ugandan prisons.
LIFE
Major General (Retired) Kasirye Ggwanga has gone to be with our creator. In life, he espoused a larger than life demenour and was always in news for wrong reasons. The veteran soldier one weekend some years back took the law into his hands and set a multi-million earth-mover on fire, and the defiantly bragging over the incident.

Who is Kasirye Ggwanga?

Samwiri Wasswa Kasirye Gwanga joined the Uganda Army in the early 1970s and served until recently. His recruitment squad-mates like distinguished artist Nuwa Wamala Nyanzi settled down to a respectable life ages ago, but Kasirye Ggwanga insisted he had no other life outside the army.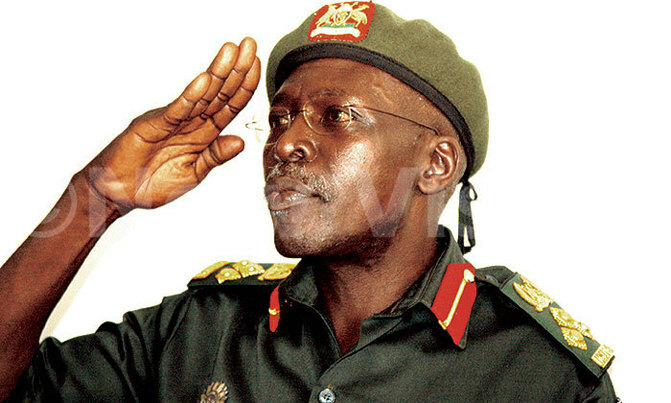 After the overthrow of Idi Amin, he was taken Prisoner of War into Tanzania for more than a year, until he was returned to serve his sentence in Ugandan prisons. He was in October 1981 released. He joined the bush war against the Obote II government and his artillery expertise proved invaluable to the NRA in the final assault on the Obote forces. After the NRA took power, he got the opportunity to attend the prestigious Fort Bragg military academy in the United States.

While serving in the NRA later UPDF, Kasirye Ggwanga was involved in several shooting controversies. At the height of the hunt for the rebel Maj. Kikomeko Itongwa in the mid-1990s, Kasirye Ggwanga himself got shot in unclear circumstances while inside a car at night with an unidentified person. He spent weeks in the hospital.

He shot dead several robbers who wanted to steal his car at Wakaliga in Kampala.

He has beaten up a ministerial aide, slapped a traffic policeman and fired shots in the air to break up a Pentecostal prayer crusade on grounds that they were making noise.

Kasirye Ggwanga has also set dogs on a man he suspected and accused of acting like a thief. He has also locked police out of his home when they went to conduct investigations during a dispute over his residential plot that was said to be claimed for former Kenyan president Mwai Kibaki. Kasirye defied a court order to open the premises for inspection. When his children accused Catherine Kusasira and the group of making noise for them, he intervened and shot Kusasira's car tyres flat in what he called 'pumping sense into the musicians' group'.

Without resigning from the army, Kasirye Ggwanga also served as elected district Chairman for Mubende. He also has a farm in Mukono, which he proudly called Camp David. He lived on Makindye hill where the media liked to engage him when a major event touching on security occurs. He made controversial statements after the death of General Aronda Nyakairima and of Assistant Inspector General of Police Andrew Felix Kaweesi, but all that was swept below the carpet.

But while Kasirye Gwanga always got away with incidents probably because he was too senior to be embarrassed with legal action, people thought the shooting for the grader would put him down. But they were wrong. Kasirye said not only did he burn the expensive grader; he was hunting the people he called land grabbers who wanted to grab his daughter's land. He said the land grabbers should be killed.

Kasirye was defiantly calling for the death of land grabbers. Interestingly, the police said they could not move on Kasirye Gwanga because there were no complainants over the incident.