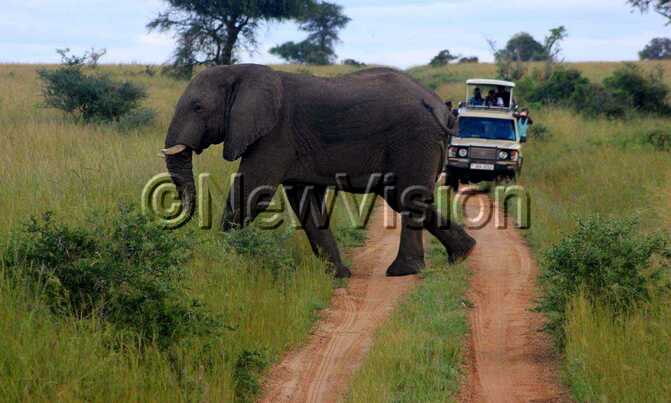 "This is under strict laws in order to prevent the spread of the pandemic," cautioned UWA executive director Sam Mwandah.
SANITISER I COMPLIANCE I PREVENTION
Tourism is staggering back to its feet after being paralysed by the Coronavirus lockdown since March.

This follows the Uganda Wildlife Authority (UWA) announcing the opening-up some protected areas such as Lake Mburo National Park, Queen Elizabeth National Park and Semiliki National Park that are now accessible.

"This is under strict laws in order to prevent the spread of the pandemic," cautioned UWA executive director Sam Mwandah.

"Trips to the parks are to be carried out in compliance with the laws stipulated by President Museveni and the Ministry of Health for vehicles transporting passengers."

"Groups of more than 25 passengers will not be allowed in but given an option to split into smaller groups. Events like weddings in the park, which are in vogue and Saloon vehicles are now prohibited," Mwandah added.


Travellers are advised to carry their own sanitizer and face masks that are not red in colour or they may scare some mammals.

"Rest assured in all the parks as we have trained and equipped our 1,600 rangers on the ground to protect them and our clients from COVID-19 infection," said Mwandah.

"The cars and boats are also adhering to the law of carrying half capacity of the conventional load."

At the beginning of the lockdown, the Association of Uganda Tour Operators (AUTO) donated nine tonnes of beans and maize flour to feed rangers and their families during the COVID-19 lockdown.

"Proof that a good job is being done was the good news of two newly-born gorillas to the Mubare and Kirungi groups during the COVID -19 Lockdown," said Mwandah. "We hope to peak our 40,000 permits sold last year when tracking them is open soon."

Uganda Wildlife Education Center (UWEC) executive director James Musinguzi said management is ready to soon unveil new products with the safety requirements are observed to the dot.

"For example, handwashing and sanitizing are now mandatory at the entrance," stressed Musinguzi. "It is compulsory for entrants having their temperature taken using non-contact infra-red thermometers at the entrance."

Uganda Tourism Board (UTB) chief executive officer Lilly Ajarova urged citizens to use this time to explore what is in their back yard since going abroad endangers their lives during the globally threatening COVID-19 pandemic.

"Statistics have it that more than 200,000 Ugandans go abroad on holiday leaving treasures in their back yard," noted Ajarova. "Now that Coronavirus is being managed at home, domestic tourists are safer in the borders of our country."