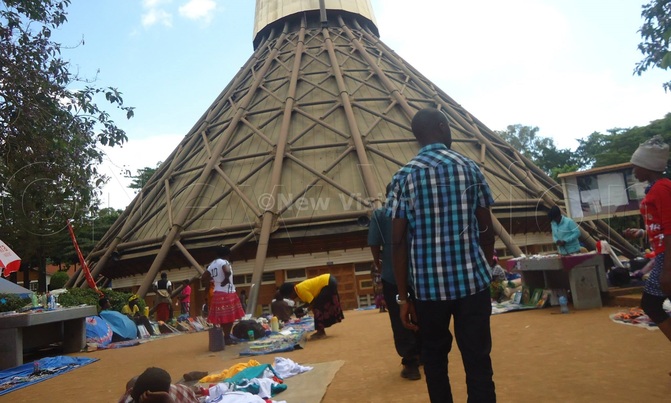 Though many Christians are still cursing COVID-19 because they are unable to celebrate, residents of Namugongo are happy that the celebrations were cancelled.
KAMPALA - The 2020 Uganda Martyr's Day feasts slated for May 29 for the youth and June 3 for the rest, were called off due to the impact of COVID-19.

For the first time in many years, the annual Catholic Uganda martyr's day feast will not occur. The COVID-19 pandemic has affected preparation plans. This year's celebrations were supposed to be organized by Masaka diocese.
Though many Christians are still cursing COVID-19 because they are unable to celebrate, residents of Namugongo are happy that the celebrations were cancelled.



"Whether the celebrations are there or not, I am not bothered, besides people forgot the reason why the martyrs lost their lives. People are always dancing, drinking and shouting for us at night. To me, it is just a public day to rest. We do not make money, people are always standing on the roadside but not buying," said Kirabo Kyasimire, a supermarket attendant.

"I am happy that we do not have those prayers, usually when the celebrations are on, all roads leading to Namugongo Catholic and Protestant Martyrs shrines are always accessible on foot. On that day, you admire people using foot if you are driving. It is always a bother to us people who drive and stay near the shrine," said Edgar Kintu, a businessman.



Hussein Kato, a resident noted that the week that leads to the celebrations, the entire Namugongo sky is always filled with pork smoke yet their Muslims around.

"I was happy when I heard that Uganda Martyr's day was cancelled, usually transport fares to the shrine are sh2500, but during the preparations, conductors hike the prices to sh5000, Boda boda fares from Kireka to Namugongo which are usually sh2,000 shot to sh7, 000. It comes with a cost for us who stay this side," said Kato.

Kato noted that apart from the transport fares hiking, usually, security officials disturb them.

"Those days are always a nightmare; we go through a lot of security checks to access our homes. The youth with dreads always face it rough because police always suspects them to be thieves or disorganizers," said Kato.

Uganda Martyrs' Day

Hundreds of thousands of pilgrims usually converged at both the Catholic and Anglican Martyrs Shrine in Namugongo to celebrate Uganda Martyrs' Day. The biggest activities take place at the Catholic shrine referred to by the locals as Namugongo because it's here that Charles Lwanga met his death over a slow fire.



By 6am, thousands are always seen queuing from as far as Kyaliwajjala township while many trek from different routes leading to the shrine. Most routes are usually manned by a ring of joint security team.

Military, police patrol vehicles and trucks are always parked at different junctions leading to the Catholic martyr's shrine. Usually, there are no security restrictions at Anglican and Muslim prayer centre.

Inside, you can hardly find where to place afoot. Because of the fatigue from the long journies, mats are always in handy for those who want to sleep.

The red cross tent is one of the busiest tents, as many suffocate. While others are praying, others are always busy fighting for holy water, actually after the main prayer services are over, more people continue to pour into the long queues to get water in small jerry cans.

Business

While others are asking God for forgiveness and to intervene in their situations, many companies and petty businesspeople use the opportunity to exploit the market potential. They are usually outside the shrines selling items like phones, t-shirts, clothes, religious relics, foodstuffs, umbrellas and soft drinks. Many business people engage in roasting and frying of pork. Pork is one of the delicacies enjoyed during the celebrations.



When you visit the shrine for reasons of praying, you end up disappointed when you see drunkards making merry. Many do not make it for prayers because the night that leads to 3 June is celebrated by drinking alcohol.

The annual celebration was set aside in honour of the martyrdom of 45 young men who converted to Christianity between 1885 and 1887 to the annoyance of the then Kabaka, Mwanga II of Buganda, who ordered that they be burnt to death. Millions of pilgrims from within and outside Uganda descend on Namugongo, the site where the majority of the converts were martyred, in celebration of their bravery.

The Visit

On a normal day, the shrine is always open for people who want to see inside throughout the week. There is someone to lead you around on request. If the celebrations were to be held, by now the first pilgrims would have arrived, activities would be going on.

Last week, we visited the shrine. we found only three cars in the parking, the novena prayers had just been concluded. The security at the gate did not even bother asking us so many questions about our visits, we found a few men manning machines and digging or fixing something. Though the celebrations are just seven days ahead, the place is empty. Only three women who were praying were sighted in the compound.

The lake were believers draw holy water looked calm with green water, some of the taps are not even working. The entire place looked so beautiful especially the place where mass is always celebrated.