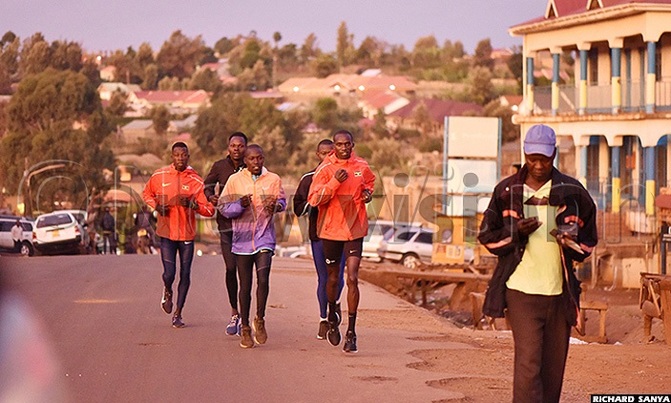 Several arguments have been advanced on what makes runners from this region tick. But perhaps the strongest reason is living at an elevated altitude.
ATHLETICS IN UGANDA

Stephen Kiprotich, Joshua Cheptegei, Jacob Kiplimo, Moses Kipsiro, Stella Chesang and Mercyline Chelangat.

No prizes for guessing what is common in these names.

They all hail from one region - Sebei in the Elgon Mountain ranges.


The aforementioned names also form the crème de la crème of Uganda's athletics and lead a big group of other Sebei athletes dominating medium and long-distance running.

What is interesting about the rise of the Sabiny on Uganda's sports map is that they form just 0.6% of Uganda's population of 43 million people.

So, what is it that makes such a small ethnic group stand out on the world's sports map?

Several arguments have been advanced on what makes runners from this region tick. But perhaps the strongest reason of this stellar performance is living at an elevated altitude.

With plateaus reaching an average height of 1500 metres, the Sabiny get to experience the advantage of high-altitude training right from birth.


At higher elevations, air is thin and oxygen is scarce. The human body thus adapts by producing more red blood cells to capture the limited oxygen around.

Lungs also increase in capacity to inhale more air with every breath. Consequently, Sabiny runners have more powerful lungs and are more used to anaerobic respiration than other runners.

It is for this reason that Uganda's High Altitude Training Centre is being constructed in Teryet, Kapchorwa - one of the highest habitable places in Sebei.

In many cases, the long distances that children cover to and from school also boost athletics potential.


There are also physical reasons. Studies have proved that on average, a Sabiny's leg is 400g lighter than their European competitors, which translates to an energy saving of 8% when running.

Over long distances, this small genetic advantage can really give the Sabiny a leg up.

There is also the rub-off effect from the Sabiny's cousins, the Kalenjins across the border in Kenya. The Kalenjin, who live in similar conditions in the Kenya Highlands, started winning medals decades earlier than their Ugandan relatives.

Since the 1968 Olympics, Kenyan runners have enjoyed unparalled dominance in distance running events, from the 800m to the marathon.


Together with their equally high-altitude neighbours Ethiopia, the Kenyans have not only dominated the Olympics, but also the World Cross-Country and the road race circuit.

Today, three-quarters of Kenya's champions on the global stage come from this ethnic Kalenjin group, which is 0.06 of the world's population.

This outstanding performance has brought not only glory and big international exposure, but also lots of wealth. The economies of cities like Eldoret in western Kenya are run on proceeds from athletics.

With numerous idols across the border to look up to, youths in Sebei also decided to concentrate on athletics.

One of these was Kiprotich, whose Olympic triumph in 2012 and World Championship victory in 2013 resulted from training in Kenya with the likes of marathon world record holder Eliud Kipchoge.


Then there is also the biting poverty.

Every year, very many Sabiny train to go professional because of poverty in their country, which pushes them to chase for every running opportunity they can get.

Sports scientists have also linked the success to their diet, which is typically high in carbohydrates and low in fat.

Their protein intake matches that of other elite athletes elsewhere. Generally, the staple diets of Sabiny runners include ugali (maize meal), green leafy vegetables, milk, beans and eggs.

Hard work is a also a key requirement amongst these athletes' regimen. Typically, they wake up at 5am daily for an early morning run that can stretch to 20 kilometers. This is followed by two lighter sessions in the day.


There even is more to the Sabiny-Kalenjin likeness in athletic superiority.

European studies have found significant differences in body mass index and bone structure between the Western athletes and the Kenyan amateurs who have bettered them.

The studied Kenyans had less mass for their height, longer legs, shorter torsos, and more slender limbs.

One of the researchers described the Kenyan physical differences as "bird-like", noting that these traits would make them more efficient runners, especially over long distances.