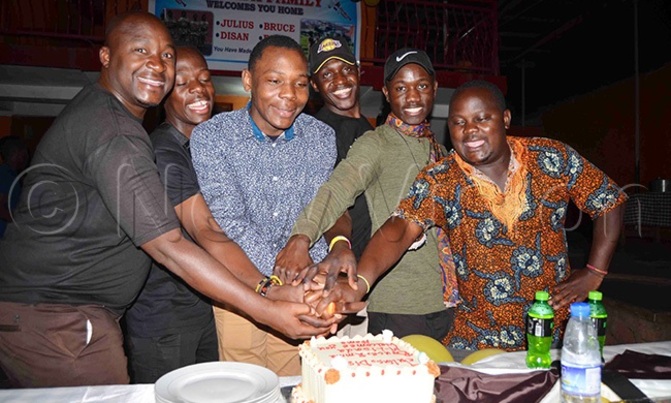 Interestingly though, the four teens do not come from a wealthy or elite background. They were needy boys who, about 10 years ago, roamed the streets of Kampala and its suburbs in search of odd jobs and food.
MUSIC

Achieving dreams

Even amid the undesirable COVID-19 lockdown, Ugandan entertainment talents continue to achieve marvellous things on the international scene. This follows the success of four former needy youthful local brass band boys, who got recruited into the British Army due to their musical gifts. They are now gallant soldiers of the Queen's army. Mathias Mazinga recently traced them for a chat.

Interestingly though, the four teens do not come from a wealthy or elite background. They were needy boys who, about 10 years ago, roamed the streets of Kampala and its suburbs in search of odd jobs and food.

Disan Ssegawa (21), Julius Namugera (24), Bruce Akampulira (21), and Emmanuel Bogere (21) are former members of M-Lisada Brass Band, an ensemble of former street children based at Nsambya, a Kampala suburb.

Although they belong to different families, they all joined the band with the strategic intention of getting school fees to be able to continue with their education.

The boys achieved their aim, but they also got the opportunity of learning how to play brass instruments, which eventually helped them to join the British Army.

And recently, they finished their military training in Britain and returned to Uganda for a brief break. Below, the leader of M-Lisada Brass Band, Bosco Ssegawa, talks about their journey.

Leaping into the Queen's Army

Namugera, Ssegawa, Bogere, and Akampulira went to England through Brass for Africa, our partner organisations.

Brass for Africa was initially a musical programme supported by our British partners, led by Jim Trott.

After working with us for some years, they decided to form an independent organisation inclined to training music teachers, who would go out to various schools and institutions and equip talented children with music skills that they would eventually use to transform their life.

The boys were among our first members and they have been with the organisation for some years.

In July last year, an opportunity manifested. The British Army wanted to recruit musicians to serve with its musical department.

The leaders of Brass Africa, being British, knew about the opportunity and encouraged our boys to apply. The boys were then given auditions, during which they displayed great musical skills. They were then taken to Scotland, from where they were selected after being subjected to physical and mental health examinations, as well as educational and social etiquette tests.

"After ascertaining their all-round competence, they were taken for military training, which they have just completed. They are now men of the British army, with which they have signed a four-year renewable contract.

As M-Lisada Organisation, we feel proud of Ssegawa, Namugera, Bogere, and Akampulira. They have added yet another achievement to our many attainments.

However, along the way, she failed to pay my fees and I dropped out of school.

But thankfully, my mother had a kind friend, who went to her and proposed that she takes me to M-Lisada organisation, which could pay my fees. They also taught me how to play brass instruments. Eventually, I specialised in tenor-horn



Before joining M-Lisada Band in 2007, I was living with my parents. Godfrey Kyakulaga, a retired policeman and Maureen Afayo.

I am the third-born in a family of eight children. We lived in the Police Barracks at Nsambya.

We were poor. My father used to teach brass music, but he was getting little money and could not pay for all our tuition. The situation became worse when our mother died of breast cancer in 2011 and dad remained alone.

Somehow, I got to know about M-Lisada through my dad and I joined it.

Dad had a working relationship with the leader of the band, Bosco Ssegawa, who accepted to help me.

M-Lisada paid fees at St. Peter's Primary School Nsambya, Nsambya Secondary School, and Tropical High School, where I did my A'level.

When I joined the band, I got more attracted to the trumpet. It is the instrument that has taken me to the UK.

We are grateful to M-Lisada for nurturing us and equally thank the founders of the band — Bosco Ssegawa, Henry Bwanika, and Ronald Mukiibi — for believing in us.

We pay an even greater tribute to MTN and Coca Cola, which were the first companies to acknowledge our musical potential and thus sponsored our music education at the Kampala Music School.

Julius Namugera

Like many of my friends, I joined M-Lisada Band out of the desire to get school fees.

My mother, Specioza Nalwanga, was a housewife working as a Kampala Capital City Authority (KCCA) sweeper. My dad, Steven Mayanja, also did odd jobs in St. Balikuddembe Market.

They did not have enough money to educate me and my three younger siblings. They were also just struggling to pay rent for our single room at Ave Maria, Nsambya, Kampala.

I joined M-Lisada through one of my friends, who had joined the band earlier. When he saw that I had dropped out of school, he directed me to the organisation, whose leader, Bosco Ssegawa, allowed me to become a member.

The organisation paid my fees at St. Paul's Primary School, Nsambya, and later at Nsambya SS, where I completed S4. They also paid for my sound engineering certificate course.

While at M-Lisada, I specialised in playing the trombone. When Brass for Africa came to Uganda, its British instructors helped me to sharpen my skills. They are also the ones who connected us to the British Army Band after realising we had the respective requirements.

Namugera's mother, Specioza Nalwanga, says her son's achievement is a miracle.

"God is great. When Julius told me he was going to play music with the British Army, I thought he was joking. However, when I saw him recently, I acknowledged the truth. I was also happy that he was able to give me some money, something I had never expected of him," Nalwanga said.

Disan Ssegawa

I joined M-Lisada in 2009. Previously, I lived with my grandmother in Masaka district.

My father, Gabriel Mugerwa, was a self-trained builder. His financial standing was not good and it caused him to separate with my mother, Maria Nabakooza, when I was nine years old.

I was lucky that when dad was working in Nsambya, a Kampala suburb, he came to know about Bosco Ssegawa, the leader of M-Lisada Band and befriended him.

Eventually, Ssegawa allowed me into the organisation. Consequently, I got fees and studied at St. Paul's Primary School and at St Peter's SS Nsambya.

While at M-Lisada, I was exposed to the brass instruments, however, I got more attracted to the trombone, although I am also good at the euphonium.

We were alerted of an opportunity to join the British Army by our trainers — Brass For Africa — who were British.

The British Army had placed an online advert inviting suitable applicants to join its music section.

We placed our applications and got shortlisted for auditions, which took place in Scotland, UK.

We performed well and we were selected for training. Today, my mother is the happiest woman I know.

When I told her on phone that I had finished the military training, she was excited. She ululated and said she was going to slaughter a huge chicken for me.

The military training was tough. We had to spend five nights outside, moreover during winter. The weather was extremely cold. Not even five gloves were enough to keep you warm.

In fact, at one time we contemplated giving up, but we encouraged each other and eventually agreed never to think of surrendering again.

You know, we are the first Ugandans and East Africans to join the Royal Military School of Music. So, we would give our country a bad image if we gave up.

I thank God who has brought us this far." Segawa's father, Gabriel Mugerwa, says he did not intend to separate with his son's mother, but was forced to go that way by poverty.

"When I realised that M-Lisada could sponsor their education and also give them brass music skills, I picked them from the village. I am happy that Disan took full advantage of the opportunity. I hope he will rejuvenate the family when he finally settles."