Ngamba Island Chimp Sanctuary hit by rising water levels
The sanctuary which spends close to Sh1m on feeding Chimps everyday has also been hit with the rising water levels, engulfing over 20% off the 100-acre piece of forested land.
Gov't committed to funding UWEC, Ngamba animal sanctuaries
By Julius Luwemba
On May 17, NewVision ran a story showing how Ngamba Chimpanzee sanctuary was drowning in Lake Victoria after the water levels had risen, engulfing over 20 acres of the 100-acre island. This followed another story published on April 24, detailing how wild animals at Ngamba Chimpanzee sanctuary and the Uganda Wildlife Conservation Education Centre (UWEC) were staring at starvation due to Covid19 outbreak in the country.
Following the publications, the government released Sh756m towards the welfare of animals at UWEC (Entebbe Zoo). According to Dr. James Musinguzi the centre's executive director, another Sh40m was donated by well-wishers in addition to foodstuffs worth Sh10m.
Musinguzi noted that UWEC which harbours over 290 animals of different species, spends Sh3m on animal feeding everyday. "Our budget has traditionally been supported by a subvention from government, gate collection plus donors. The income stream that has been coming in from the gate collection, is non-tax revenue and the government allowed us to spend that money at the source. This money no longer comes which gives us a budget shortfall of about Sh1.5b up to the end of this financial year," remarked Musinguzi.
With the government's remittance of Sh756m in addition to Sh50m in donations, UWEC remains with a deficit of Sh650m which had earlier been projected for this financial year. "However, we are now relieved, and hope that this funding will greatly help to push us through as we feed the animals as well as paying salaries to our special staff," noted Musinguzi.
Ngamba yet to receive government funding
Meanwhile, Ngamba Chimpanzee sanctuary which looks after 50 Chimpanzees, is yet to receive funding from the government. The sanctuary which spends close to Sh1m on feeding Chimps everyday has also been hit with the rising water levels, engulfing over 20% off the 100-acre piece of forested land. "And we believe that water levels are still rising, at least for the next couple of months," noted Dr. Joshua Rukundo the executive director of Chimpanzee Sanctuary and Wildlife Conservation Trust (CSWCT) which manages Ngamba Island.
He added that some of the electric poles around the sanctuary have been deluged in water, making it risky for either chimp to escape or allow external creatures to access the sanctuary.
During his tour around the sanctuary on Thursday, Godfrey Kiwanda, the state minister for tourism said, the government is still committed to taking care of all wild animals at UWEC and the Chimps at Ngamba island. "We are going to re-arrange our budget and also launch an appeal to raise funds for Ngamba Chimpanzee sanctuary. It'd be very embarrassing if we left the Chimps to starve to death," noted minister Kiwanda. He added that, the government has been supporting the sanctuary through grants.
"In 2018 we gave them Sh150m to fence the sanctuary. My visit to the island, is to show the government's commitment towards supporting the well-being of Chimps which are being kept on behalf of the government," added minister Kiwanda.
Lilly Ajarova the Chief Executive Officer for Uganda Tourism Board (UTB) also the former executive director for Ngamba sanctuary expressed disbelief to what she termed as unprecedented weather and rising water levels.
"This is a 20 year investment, all of which is being destroyed in a flash," noted Ajarova. Describing Ngamba as a magical island due to its serenity and good weather, Ajarova said, even the stories surrounding the orphaned Chimpanzees, will always leave a mark on everyone's heart.
"We thought we had it right when we moved the accommodation facilities and staff quarters further inland but these water levels are highly unprecedented. This is going to take a bit of time to restore the sanctuary in order," remarked Ajarova.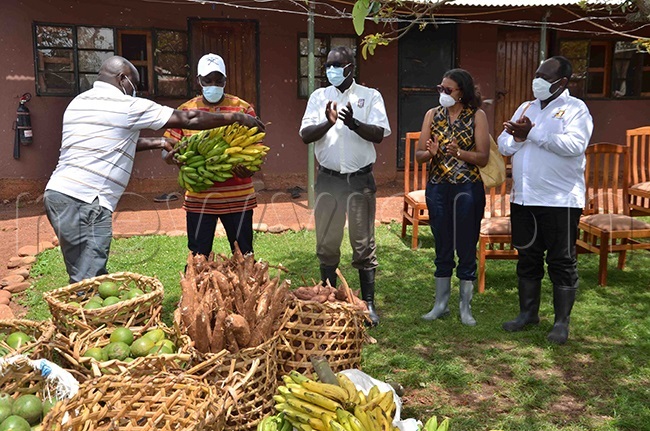 Lawrence Kiyinji (left) a representative from the community of Koome islands donating food reliefs to Minister Kiwanda as Rukundo, Ajarova and Musinguzi look on.
The community of surrounding Koome islands donated food stuffs towards the feeding of Chimps at Ngamba island while students of Nkumba Rotaract stewards and journalists under Conservation Media Camp donated Sh200,000 each.