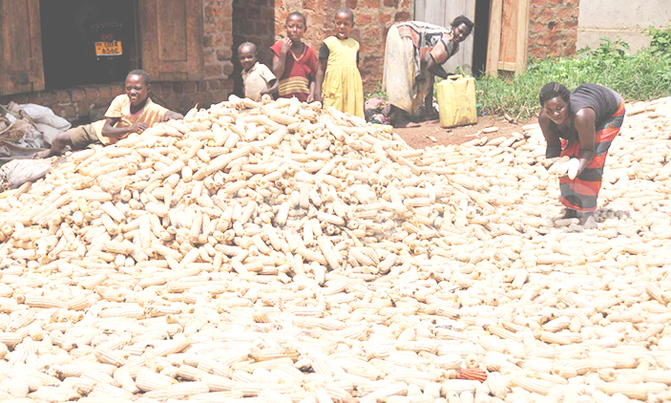 There has been an escalating demand for loans (monetary and agro-inputs) and a radical reduction in savings at all levels. Those who accessed loan facilities are incapable of repaying the loans, making it extremely difficult for loan portfolio recoveries.
COVID-19 | AGRICULTURE | PRIVATE SECTOR
Since the World Health Organization (WHO) declared COVID-19 a pandemic, the global economy has suffered, especially small businesses.
The global GDP is estimated to fall by 2% per month as the pandemic rages on, which is below the global benchmark of 2.5% for developing countries and 1.8% for developed countries.
Experts estimate the global exports to fall between 13% and 30% depending on the extent and intensity of the effect of the COVID-19 pandemic.
To assess the early impact of the COVID19 on the private sector and to identify potential mitigation actions, a survey was conducted by International Fertilizer Development Center (IFDC) Uganda with the direct partners of the Embassy of the Kingdom of Netherlands such as Center for Development Innovation, Wageningen, Integrated Seed Sector Development (ISSD), among others.
89 private sector businesses participated in the survey and findings indicate that the COVID-19 pandemic has already created unprecedented economic upheaval in their business.
Also, many agribusinesses are unable to pay the operational costs, sustain salaries or wages for workers, utility bills and rent, extra costs for field operations (meeting fewer - not more five farmers at a time) among others.
The demand for financial credit is high but recovery is difficult. There has been an escalating demand for loans (monetary and agro-inputs) and a radical reduction in savings at all levels. Those who accessed loan facilities are incapable of repaying the loans, making it extremely difficult for loan portfolio recoveries.
There is also a reduction in turnover due to a sharp reduction in volumes produced heightened by low demand for the products or fewer distributions due to transport difficulties, closure of some potential markets like schools, hotels, in addition to less engagement in production by the target farmers, and a sudden turndown of the orders that were already placed.
Also accessing some essential services from responsible authorities for certification and clearance is problematic such as Ministry of Agriculture, Animal Industry and Fisheries (MAAIF) and Uganda National Bureau of Standards (UNBS) had affected some partners.
Strategies to cope in lockdown
Some agribusinesses are contemplating to sustain their operations by reducing the operational costs such as reviewing the staff salaries, working from home, laying off some staff, and suspending some activities.
Some have asked for permission from the district COVID-19 task force to allow them to continue operating. Also, businesses have strategized the marketing of products and service delivery to the clients - door-to-door and adopting digital platforms for marketing and service delivery of products to the clients.
Others have engaged the financial institutions to restructure the loan payment plan. Holding seizing advancements to farmers before delivering the outputs are key immediate considerations with some of the businesses.
And also digitalizing the payment system with the clients through mobile money has been targeted to enhance transactions for businesses.
Support needed to survive COVID-19 crisis
According to the survey, the small agribusiness people suggested that improved communication pathways such as; phone calls, texts, social media platforms, and physical contact using the permissible travel means by the government would support partners to sustain service and product deliveries to the clients.
There is also a need to invest in infrastructures such as storage facilities, transport equipment for staff and product deliveries, and online platforms for advertising businesses and for making orders and payments have been sought by most of the partners.
The business requests for financial aid from partners to sustain their operations in the short run and post COVID-19 operations are the major exclamation for most of the businesses. The need for support to invest in transport equipment to facilitate the procurement and delivery of the products is called for attention by the partners.
Seeking for long term financing aid to invest in value addition and reviving the struggling businesses is wanting.

Support to digitalizing businesses - marketing, payments, services deliveries is another area of need by the partners.
Resources must remain focused on the economic development essential to transforming less developed countries (LDCs) into middle-income countries. Agriculture is one major driver of economic development in many of these countries.
The findings of this survey will be presented in a webinar: "COVID-19's Impact on Uganda's Private Agriculture Sector. Business leaders will reflect on challenges and opportunities for innovation.
This webinar will highlight not just the challenges presented to firms from Uganda's private sector, but it will also serve to give voice and agency to those who have found ways to innovate in this challenging business environment.