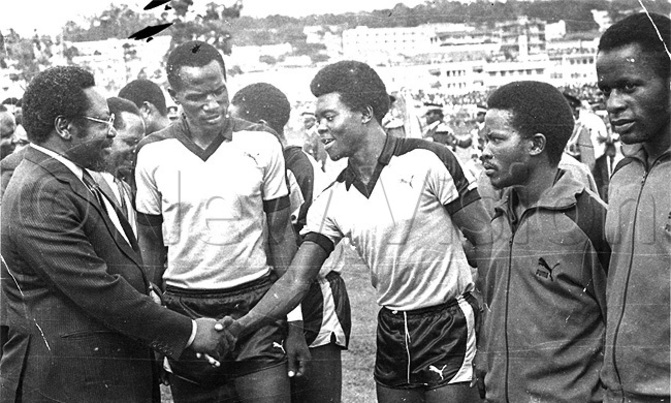 Kirunda won his first cap with the Uganda Cranes in a 1969 friendly with Burundi to mark Pope Paul's visit to Uganda.
OBITUARY
JIMMY KIRUNDA: 1950 - 2020

___________________


At the height of his career, Jimmy Kirunda was likened to German legend Franz Beckenbauer.


There was a lot in common between the two players. Both had great vision, game reading, aerial play, strength and scoring abilities.

And even more to all this, Kirunda, like his German idol, was also charismatic - a quality that explains his achievement as Uganda's longest-serving captain of the national side, The Cranes.

His career climaxed in 1978 when he captained the Cranes to the Nations Cup final, to-date the highest point reached by the Cranes.

Looking back, Tom Lwanga describes Kirunda as one of the best things to have happened to Ugandan football.

"All of us admired him. He had everything from height, good game reading, vision, superb skills, accurate heading and a powerful shot."

His football story began in the early 1960s in one of Uganda's top football hubs- Mulago. It was here at a pitch, commonly known as "Maracana" after the Cathedral of Brazilian football, that he honed his skills.


His early rise to first team places in Express, then KCC and later Cranes served as a huge inspiration to youngsters at Mulago. What followed were stars like Tom Lwanga, Sam Mugambe, Godfrey Kateregga, Adam Ssemugabi and Magid Musisi also shining both at club and national team.

Kirunda won his first cap with the Cranes in a 1969 friendly with Burundi to mark Pope Paul's visit to Uganda.

He came on for Steven Baraza and partnered with Ibrahim Dafala at the heart of defence. Showing confidence far beyond his years, Kirunda impressed.

Amongst those immediately impressed by the 19-year-old was KCC's Bidandi Ssali, who immediately attracted him to Lugogo. He was later joined by other budding stars like Sam Musenze, William Mindrea, Moses Nsereko, Phillip Omondi and Lwanga to lift KCC to the topflight in 1974.


Even more dramatic was the attractive brand of football that this team brought.

Like Johan Cruyff's Holland that time, KCC, captained by Kirunda, won the hearts of many with their all-out attacking game characterized by ground passes - an approach that came to be known as "Kasasiro" style.

Kirunda, meanwhile, also sparkled with the Cranes where, partnering with Ahmed Doka in defence, Uganda won the 1969, 1970, 1973, 1976 and 1977 CECAFA Cups.

Interesting in his rise to Cranes captaincy was a controversy that saw Polly Ouma stripped of the role after he clashed with German tactician Otto Westerhoff. This meant that Kirunda, who had displayed great leadership skills even as an emerging talent, took charge effective from the 1974 Nations Cup in Egypt.

He stayed at Lugogo for ten seasons, winning league titles in 1976, 1977 and 1981, before controversially switching to arch-rivals SC Villa. He immediately led the Jogoos to the 1982 title and the Uganda Cup the following year.


Kirunda could also pack a shot, a strength that also had him as a dead balls specialist. But this ferocious shot was to turn tragic in 1975 when one of his long hits ended on the crossbar in an Express versus KCC encounter. A staunch Express fan, one Kiggundu (a brother to General Katumba Wamala), thinking that Kirunda had scored, died of a heart attack.

Life can be unpredictable but Kirunda also collapsed and died Monday.

One of those things that stand out is the fact that just across the road where he breathed his last is Mulago, the place where he was not only born, but also honed his football skills.


📹 CLASS OF '78

Following the death of Jimmy Kirunda, the 🇺🇬@UgandaCranes historic squad that featured in the Nations Cup final against 🇬🇭#Ghana is now left with only three living former players.

One of them, Tom Lwanga, takes us through THAT lineup. | #VisionSports pic.twitter.com/JY1nWcoffS

— The New Vision (@newvisionwire) May 26, 2020



ALSO RELATED TO THIS ARTICLE

Footballers should be honest, Kirunda once said

Jimmy Kirunda death: What former teammates say

Veteran Uganda Cranes captain Jimmy Kirunda dies