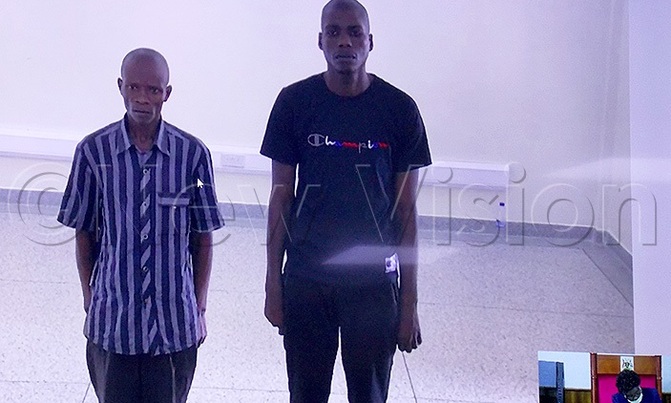 The duo was last month charged and remanded to Kitalya Prison over aggravated torture.
COURT

KAMPALA - Buganda Road Court Chief Magistrate, Miriam Ayo Akello has granted bail to two police officers accused of torturing a seven months pregnant mother at Busega.

PC Francis Mpande 33, a Ugandan Police Officer attached to Kibumbiro Police Post and Junior Asiimwe 35, a Ugandan Secretary for Defence-Nabisango Zone were on Friday released on a cash bail of sh2m, each.

The duo was last month charged and remanded to Kitalya Prison over aggravated torture.

The offence contravenes section 2(1), 5(d) of the Prevention and Prohibition of Torture Act 2012, and attracts a maximum punishment of seven years imprisonment, upon conviction.

On granting the accused bail, the Chief Magistrate said the officers of the Uganda Police Force (UPF), have substantial sureties and known places of abode, therefore entitled to bail.

"I have carefully listened to the submissions of the state and the defence counsels, the bail application hereby succeeds.

The accused are bonded cash, sh2m and each of their sureties will execute sh10m, not cash," Akello ruled as she adjourned the case to June 16, 2020.

Prior, the prosecution led by Ivan Kyazze had requested the court not to grant the accused bail but add them more three days to verify the identity cards and documents brought by the sureties, which the defence protested.

"Your worship, investigations are not yet complete, but we seek for more three days to enable us verify the sureties' documents," Kyazze said.

However, the defence counsel Deus Byamugisha objected to the state request saying they had failed to verify the said documents as earlier agreed with court.

"The last adjournment was made to enable the state verify the said documents, but up to date, they haven't. We pray that court releases them on bail," Byamugisha said.

Among the sureties presented were Daniel Tumwesigye, Peace Nanyorobe, Julius Busulwa and Julius Sseviri.

The arrest

The State House Anti-Corruption Unit headed by Col Edith Nakalema arrested the duo on President Yoweri Museveni's orders.

This was after the President received reports that security officers were allegedly torturing and insulting Ugandans during the enforcement of curfew hours.

The curfew was put in place to curb the spread of COVID-19 pandemic. It begins at 7:00pm in the evening and ends at 6:30am in the morning.

The charge

Prosecution purports that on March 27, 2020 while on Patrol at Busega - Kibumbiro in Lubaga division, Kampala district, the accused did beat up Mercy Nakate, a seven months pregnant woman thereby causing her grievous harm.