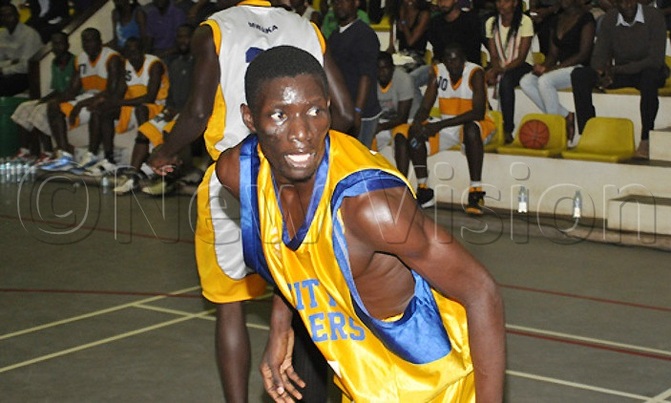 Maurice, Dennis, Mark, Ivan, Jimmy, Emmanuel and Evelyn are siblings. Apart from blood, there is one other thing that binds them all - their legendary name.
LET'S TALK BASKETBALL!

The probable return of Emmanuel Enabu to Ugandan basketball has refreshed the memory of the surreal basketball tale of the Enabus, while raising doubts about the likely significance of this surprise second coming. As if the Enabus still have anything to prove!

A combined 13 National Basketball League (NBL) titles (yes Evelyn's 2008 championship with the UCU Lady Canons counts) means the Enabus always have it figured out when they step onto the court.

Emmanuel's re-entry into the NBL, though open to questions about the sort of player he is seven years later, will probably prove worth the wait.

Jimmy says Emmanuel has cultivated a shot, which was lacking from his arsenal when he relocated to Canada in 2013. Which is another way of saying 'if you think he was good then, wait till you see him now'.

But whatever lies ahead for Emmanuel and the remnants of his fan base, the Enabu legacy is beyond harm. Truth is, it can only be bettered. Emmanuel could yet add to his share of it - but he actually doesn't need to.


In the four years Emmanuel played in the national leagues, he claimed two championships - in 2010 and 2011 with Power - and even though he was very much at the beginning of his basketball journey, Emmanuel's talent was beyond doubt.

In addition to typical Enabu pace and skill, Emmanuel had a surgical basketball IQ and the feel of a veteran. Though explosive, Emmanuel always played under control, a trait that made him distinct from Ivan and especially Jimmy at the time.

While Ivan was established as the most popular Enabu at the time, Jimmy was still fidgeting with his greatness, like the restive Math genius weeding through the bottom of his bag for a pen at the bumpy entrance of the exam room.

Ivan and Jimmy were both at UCU when Emmanuel claimed his maiden title. The following year, Jimmy was alongside him as he made it two in a row, moreover at the direct expense of Ivan. Power outlasted Ivan's Warriors 99-97 in an epic Finals Game 7. The tables would turn the following year and Ivan would win his first and, as it surprisingly turned out, only championship - the climax of arguably Ivan's best two seasons.


Like Emmanuel's, Ivan's basketball career would not be the same after the 2012 season.

While Emmanuel would play for Southern Alberta Institute of Technology, he was never able to ink a starting spot and played for just two years. Ivan, on the other hand, signed for Power at the start of the 2013 season but immediately went back on his decision after failing to get assurances about his role on the team.

After securing a protracted release back to the Warriors, Ivan just shifted his focus away from the game to his job. It was the beginning of the end for the greatest entertainer in the history of Ugandan basketball.

Legendary Jimmy

Although Jimmy had won his first championship with Power, he was dissatisfied with his relatively limited role. He was effectively a bench player, behind, among others, Emmanuel in Power's backcourt.

But the City Oilers knew better and once they were promoted to the NBL, they made Jimmy their first major signing, with a clear admission of how much they valued him and how they would build around him. When Jimmy joined the Oilers, he was considered behind Ivan and Emmanuel as a player. Eight years later, Jimmy is considered among Uganda's top 10 all-time basketball greats.

The Oilers gave Jimmy the perfect platform to display his ability and, in a sense, the best of the collective Enabu game.

Jimmy is arguably the perfect embodiment of Enabu basketball. He has got a little bit of what his five brothers have. He's got that old school mid-range nous of Maurice and Dennis, the toughness of Mark, and the athleticism and skill of Ivan and Emmanuel. Whatever his brothers may not have done, Jimmy has probably compensated with the eight NBL titles, two FIBA Zone V Club Championships, two Africa Champions Cup appearances, two Afrobasket Championship appearances and his individual MVP accolades.


Maurice the pioneer

It all started with Maurice. The eldest of the Enabu brothers learnt the game at Kabojja Secondary School and passed it on. Dennis and Mark embraced it and down the line it continued. Maurice and Dennis left for Canada, before making an impression on the national scene, but Mark claimed the family's first title in 2008 with Power.

Evelyn, the only girl of the family, also won the women's NBL title that year with UCU. She was admittedly more famous for her name than her game, but the Enabu story is incomplete without a reference to the family rose that played with a fearless energy.

First to three

It is also lacking without a mention of the 2011 FIBA Zone V Afrobasket Qualifiers in Rwanda's capital Kigali, where Ivan, Jimmy and Emmanuel teamed up alongside nine others to represent the Silverbacks.

It was a historic moment even if the brothers were reserves in a team built around Stephen Omony, Norman Blick, Henry Malinga and Ben Komakech. But it was also about the Enabus in a way it never was before and perhaps never will again.