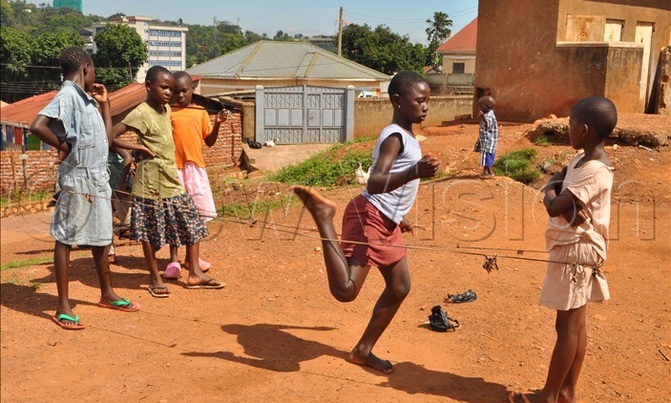 Sarah Katushabe, aged 13 years said she misses seeing her teachers and her friend
SCHOOL
|
ENVIRONMEN
T |
COVID-19
|
EDUCATION
We all know that schools are closed, to contain the spread of the COVID-19 pandemic that has greatly affected the entire world.

All children have been affected by the lockdowns, with a negative impact on their education.
Children playing tyre racing. (Photo by Shamim Saad)
We tried to engage some of the children we found playing and participating in different economic activities and this is what they had to say;

Ritah Acen, aged 12 years says she is really happy about this long holiday. "I pray that it does not end soon because I'm really enjoying it," she said.

Peter Mubiru aged 10 years, in primary six whom we found playing football with his friend, cited that, this is the longest holiday he has ever had. He thanked the president for directing schools to remain closed until the situation normalizes.

Other children were excited about staying at home claiming that the president had saved them from being caned by their teachers which they say had become a daily norm.

However, Sarah Katushabe, aged 13 years said she misses seeing her teachers and her friend.

"It is my prayer that the lockdown is lifted and schools are open, I have failed to concentrate on my books at home.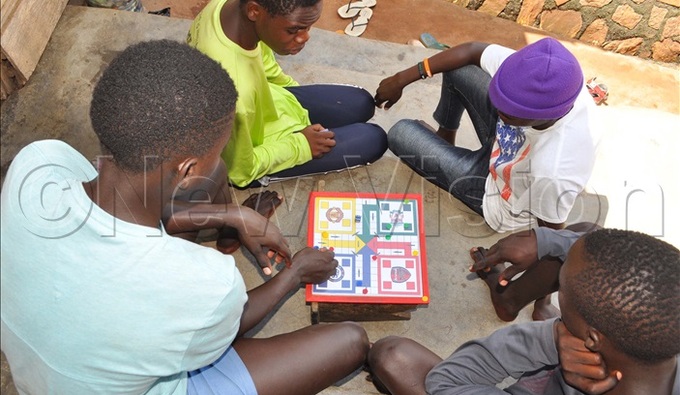 A group of boys in Naguru playing a ludo game during the lockdown. (Photo by Shamim Saad)
"I really want to go to school and resume my studies. Besides that, I also want to see my friends and teachers whom I have never set my eyes on ever since the lockdown started," Katushabe noted

Sheila Kawooya, aged 9 years says he enjoys waking up late with no worries of being canned at school for arriving late for classes.

She adds "I enjoy waking up late and staying home all day and play as much as I could than before."

However, some of the children like Sam Okello, aged 14 years, life is not a bed of roses in this lockdown since he has to wake up as early as 6:00 am to start trekking from Naguru to the city to sell sweet bananas.

Okello says that since he stays with a stepmother, he has to support and work hard to get money for his school fees. His prayer is for schools to open.

Ronald Komakech's situation is not so different from Okello's. He too has to trek from Banda to the city and vend facemasks as a way of helping his mother's business thrive.

"My mother makes facemasks so I have to help her because it is where we get money for food," he said.