Maybe when tweny tweny came in, most of you partygoers were looking forward to attending a couple of concerts this year headlined by your favourite artistes, and even saved some ka money for the shows. And then COVID-19 happened. The world was shut in a lockdown to prevent the spread of the disease.
ARE ONLINE SHOWS SUSTAINABLE?
Online shows are trending, with fans being entertained by artistes from the comfort of their homes. This follows the coronavirus pandemic that necessitated social distancing to curb the spread. And while the new trend is gaining momentum globally, is it viable on the local entertainment industry in the long-run? Steven Odeke explores the subject.
Maybe when tweny tweny came in, most of you partygoers were looking forward to attending a couple of concerts this year headlined by your favourite artistes, and even saved some ka money for the shows. And then COVID-19 happened. The world was shut in a lockdown to prevent the spread of the disease. In Uganda, the lockdown started in March.
Concerts were cancelled following directives from the Government for all to stay home. However, you are not the only one stuck at home; so are your favourite artistes.
The future of concerts looks bleak for now and artistes are missing paycheques, tours and the deafening screams from you their fans during performances. To sum it up, they miss that stage and, of course, the fans miss the entertainment.
Does it call for wallowing in misery? Perhaps not as some artistes are thinking outside the box to entertain their fans. All the fan needs is to have a good internet connection; sufficient data bundles; good gadgets such as laptops, iPads, smartphones or smart TVs and get onto online platforms such as Facebook, YouTube or Instagram.
So far, local music fans have been treated to online shows such as Club Beatz, which streamed live local artistes such as Irene Ntale, A Pass and Ykee Benda performing from their homes.
Fezah, which has been organising monthly live music performances in the past years, started off their online calendar with Kenneth Mugabi and saxophonist Michael Kitanda in the last two weekends.
Swangz Avenue held their online concert Uganda Strong and United last Sunday and a host of other artistes such as Jose Chameleone and rapper Navio have also held shows.
Away from Uganda, recently BET and several online platforms hosted revered artistes such Elton John, John Legend, Chris Martin, Paul McCartney, Taylor Swift, Jennifer Lopez and Celine Dion.
Others were Shawn Mendes, Alicia Keys, Camila Cabello, Sam Smith, Usher, and Pharrell Williams as well as Lady Gaga to perform on the One World: Together at Home online concert.
The success of that concert watched worldwide must have given many artistes, including Ugandan ones, ideas on what to do in this time of isolation as a way of connecting with their audience.
Dorothy Nabunjo, the CEO of Karizim, an artiste and events management group, said they are assessing the situation before embracing the idea. "The effectiveness of online shows here depends on your target audience. If your biggest clients are downtown, it will be a miss.
Most of them are not active on social media.
But if it is the elite, then you will have an audience. Its advantage is that it will help you as an artiste to relate with your true fans, but also introduce you to a new audience." Fezah's co-founder Elijah Kitaka, who has overseen two shows so far, says there is a big online market that artistes should embrace.
He says: "It was an important milestone for us with the Kenneth Mugabi show when I realised there is a big market for online shows. For that show, we had planned 100 tickets since we knew these are hard times, but we were overwhelmed that by the time of the show, we still had demands for the tickets. We got double the number of streamers. There were demands from those in the diaspora as well."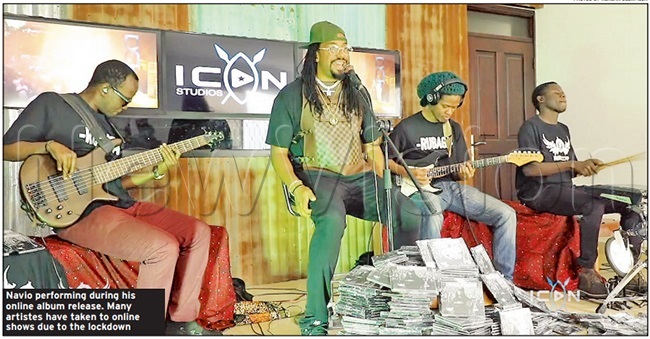 ARE ONLINE SHOWS PRACTICAL?
Let us call the non-online shows traditional concerts. To a lay fan, supporting an artiste is simply paying the gate fee to attend their traditional shows at the venue.
The experience of watching an artiste doing his thing live on stage remains immeasurable. To traditional show organisers, the costs and rigours that come with organising a successful concert are unenviable.
So, does that mean the future in cost-cutting is organising an online concert? Julius Kyazze, the co-founder of Swangz Avenue, who has organised traditional shows, says: "The two forms of concerts are different. Online shows cannot replace traditional concerts.
The experience is unmatched. There is always going to be a demand for the traditional live performances. However, an online show is one of the ways to maintain artiste-fan engagement. "It does not replace the traditional shows, but instead supplements, especially in times when there is a hindrance to public gatherings," Kyazze adds.
This is the time artistes should just adapt to new market forces before they regret it in the future, Kitaka chips in.
He says: "It is going to take a while before gatherings return to the shows. So, yes, this could be a new normal and artistes are going to have to adapt to performing online. If they do not, they will find it hard.
Kitaka goes on to argue that artistes should not even think of doing it for free online to survive the crisis. "There is a very dangerous culture musicians are starting now with free online shows that they will regret in future. I advise musicians to charge for their work.
This is a way of taking your work seriously. Otherwise what is the point of having 10,000 streamers watch your show online for free and yet you have no money in your pocket?
Yes, times are hard, but you can charge a little." For one to watch Mugabi and Kitanda shows, Fezah charged fans sh5,000 through mobile money.
To Nabunjo, challenges such as the internet infrastructure can impede the innovation.
She says: "In Uganda, we have around 2% of the population on active social media, can 2% sustain an industry? And come to think about our internet connectivity, can people manage? I do not think so." Kitaka says:
Of course, there are challenges such as the internet infrastructure but the world and even Uganda, has done well with reduction of data costs over the years.
There are issues like fans having poor gadgets and devices which might affect the growth of online shows, but the thing I have learnt about markets, especially after working in most of these technology groups, is that they adapt to situations quickly.
It is like when cab drivers and bodaboda riders here who were still conservative about being online had to quickly buy smartphones to connect with their clients on those mobile apps, same with artistes and their audiences, they will adapt quickly."
For Kyazze, it is still a long way before online shows take over. He argues: "Online shows are cost-effective, but do not generate enough revenue to sustain an artiste running budget that includes shooting videos, marketing, promotions and everything.
The aspects of the artiste's business cannot solely rely on online performances, at least for now."