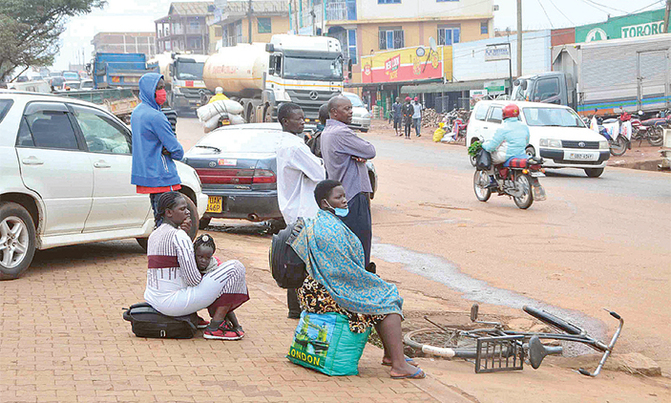 Chances are that this pandemic might play out without seriously affecting Ugandans. All we might remember was the inconvenience caused when our favourite pub was shut down
It is mainly a mystery to many Ugandans, this coronavirus thing. Sure it has killed many Chinese, and even more Italians. And before it is done, projections have it that many more Americans will die, more than any other nationality; thanks to a president that mistrusts science and initially declared it a hoax by his political opponents.
But to many Ugandans, it really is still a continent away, at least till people start dying in the streets.
When the Black Death (caused by the bubonic plague) hit Europe in the 14th century, causing almost 200 million fatalities, people were dropping dead in the streets.
It got so bad that whole neighbourhoods, and at times whole cities, were cordoned off and people left in the houses where they died.
There were no deniers then, and no one saying the authorities should be thinking about life after the plague.
That is not likely to happen in Uganda, touch wood. Partisan politics aside, the Government has done a good job in containing COVID-19 before it becomes rampant in the communities. It was the only smart thing to do, because our health services are nowhere near half-way able to deal with the level that we see in say, Italy. That country purportedly has one of the best health service systems in the
world, yet it can't deal with what is happening. Can you imagine what Uganda would be like? We would be going back to 14th century Europe.
The closest pandemic we can relate to is the Spanish flu, which between 1918-1919 afflicted more than 500 million people worldwide. Known as the H1N1 virus, it killed more than 50 million of its victims, or about 25% mortality. There were no vaccines, and no antibiotics to fight the secondary infections that came with it.
Of course there were people, especially politicians, who insisted it was just simple flu. One American governor famously said: "... you can't die from the sniffles."
The last major pestilence this country has experienced was HIV/AIDS, and it had its peak in the late 1980s and through the 1990s. We believed it was real, and not a hoax by the western media, because we could see people get sick and die.
But even then, some people still were in denial. Charlatan pastors took advantage of this and claimed to be able to heal the patients afflicted with HIV.
In every epidemic or pestilence, there are always some priests that will claim that God was angry with man, and the pestilence was punishment for man's evil ways.
That the only way to survive was to surrender to Jesus, and all worldly wealth to the priest, or pastor.
Remember Pastor Balabyekkubo of the Kibuye Prayer Palace in the 1990s? He claimed that he had seen God in a vision, and that he had been commanded to heal His people.
So he called on all the sick and afflicted to go to his church to be cured of HIV, but all that came out of Kibuye were an increasing number of coffins of dead people.
Balabyekkubo was to die soon after in a motor accident, with some people claiming it was karma that came back to bite him.
There are many more charlatan pastors these days than in Balabyekkubo's time, largely because Ugandans have more money, and want quick ways of making more. But most of them have stayed away from claiming they can cure the world of COVID-19.
Even the fellow that likes to prophesy who will win the Grammys (or is it the Oscars?), has stayed away.
That said, I have never understood God's supposed fascination with the Grammys (or is it the Oscars?). So, chances are that this pandemic might play out without seriously affecting Ugandans.
All we might remember was the inconvenience caused when our favourite pub was shut down, and we had to stay indoors with people we can barely tolerate for weeks on end.
That, and having to walk if we had to go anywhere.
Talking about walking, we folks who lived through the times when Uganda had its troubles are having a great time relating to these pesky millennials how we used to walk everywhere, and it was no big deal.
How we would cross town to go for a party, stay the whole night because it was not safe to be out at night, and then walk back the next morning.
We will end on a sad note, that the 'greatest' country in the world might actually come off the worst hit, just because of incompetent politicians.
When the coronavirus first broke out in China, and experts predicted it would spread around the world, President Donald Trump called it a hoax, and blamed the US Democratic Party and the 'fake news' press for spreading rumours.
By Wednesday this week, more Americans had died of COVID-19 than Chinese. Ironic, isn't it? And it is bound to get even worse for the Americans.
So let's all hunker down, stay at home, wash our hands, and wait out this pestilence. Stay safe.
Look out for more of Kalungi's articles in The Beat in the New Vision every Friday.