Unlike the previous years, many Muslims are finding it hard to break their fast during this holy month of Ramathan.
Unlike the previous years, many Muslims are finding it hard to break their fast during this holy month of Ramathan. Shamim Saad spoke to a few and this is what they had to say.
Juma Awath 36 years, Fashionista
This year, things are really tough on Muslims if we are to compare with previous years.
I strongly attribute it to the Corona pandemic.
My Muslim brothers and sisters used fast with hopes of getting food to break their fast at different mosques but they can no longer gather at mosques.
They are struggling and have to depend on their savings and government's posho and beans.
I pray to God to provide and enable them to finish this holy month seamlessly.
Sophie Ahmed Hamdan 38 years, Business Woman
Of course this year can't be like previous ones as far as iftar is concerned. Although there is a lot of food at the market, money is scarce in this Corona season.
We ration what we eat and keep the rest for the following day. But I thank Allah, we have never lacked.
Sadat Salim, 40 years, Imam Naguru Go-down Mosque
On my side, I thank Allah because there is no difference in my Iftar if I am to compare it with the previous years. I have never doubted Allah and he has provided for my family.
However, the situation is different at my mosque. There are Muslim brothers and sisters who would fast and entirely depend on Iftar at the mosque but with this lockdown, which restricts gathering they can no longer gather to break their fast.
Even those who were willing to provide iftar to such people can't which has really affected them. I pray for Allah to enable them through.
Rukia Khamis 48 years, Chef
This Iftar has been the most difficult ever since I started fasting because the country is in lockdown, it has limited our movement so we can't work hence making breaking the fast a hard task.
Some of us would rely on Iftar at mosques but they are closed making it hard for us to break our fasts.
Zaitun Ismail 49 years, Former Air hostess
Being a widow and a single mother, this iftar is the worst I have evern had.
Life is hard as most of the times, I lack food to eat while breaking my fast.
I rely on my neighbours who share with what they have prepared.
I got government's relief food but at times I lack charcoal to cook.
But amists all these challenges, I have kept my faith high and continue with my fasting. Insha-Allah things will get better.
Ayub Ambar 80 years, Retired Carpenter
I have not noticed any difference in this year's Iftar compared to previous years simply because some good friend gave me enough money (sadaque) to cater for me and my family's iftar.
I also help my neighbours who are struggling with iftar.
I thank him so much may Allah bless him abundantly.
Musa Mahmoud 29 years, Administrator
This is far different from other years because people are at home and not working.
Most people's salaries were cut making life hard and unable to have good meal for iftar and Daku.
The money they earn is less, the biggest percentage goes to rent and they are left with little meant for food at the end of the day making life and fasting really hard for them.
Aisha Goodo, House wife
There is a big difference in this year's iftar compared to other years. Being in lockdown it is really tough on the Muslims side. We are keen on the amount of food we cook, no wasting because you are not sure of the next day's meal.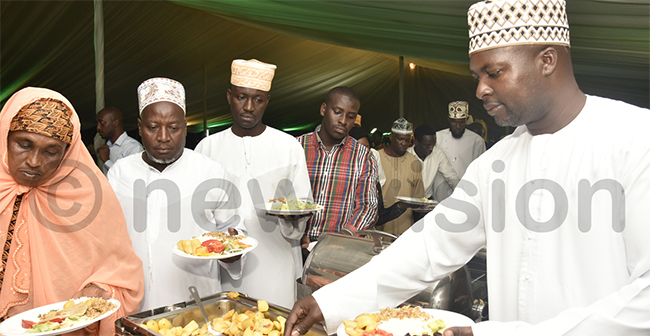 Such communal meals are prohibited in this Corona period.