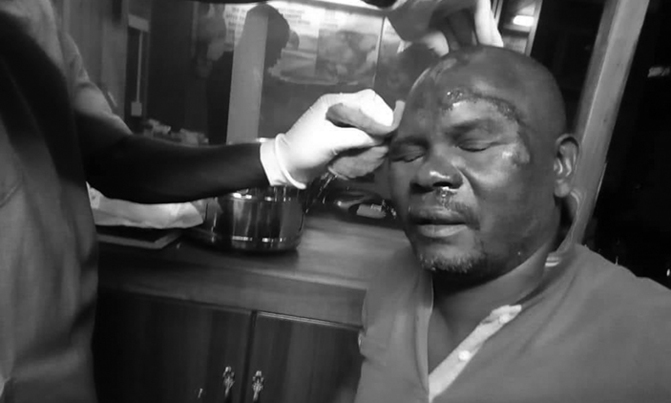 It is not surviving accident that makes news as much as the degree to which Nsubuga was willing to sacrifice his life in order to save several others.
Is it acceptable to sacrifice one person in order to save the lives of several others? This question has been the subject of debate among people living with HIV, with reference to a well-known challenge associated with this group of people today due to the lockdown: the hunger problem.
Moses Nsubuga a.k.a Supercharger, recently survived death after getting involved in an accident. But it is not surviving accident that makes news as much as the degree to which Nsubuga was willing to sacrifice his life in order to save several others. That is what adds colour to his story.
Nsubuga, the founder and director of Stigma-less Band, a music group of youth in Uganda who became advocates for healthy living, was recently knocked by a speeding car which failed to break and strayed off the road.
Nsubuga was on his way to distribute food to starving members of his band who stay in different places- Kyambogo, Kireka and Bweyogerere.Yes, his members were going without food because of the prevailing food insecurity that has mainly affected people living with HIV (as vulnerable group), because they cannot swallow their antiretroviral drugs (ARVs) without food.
Due to the lockdown that was imposed in the country to prevent widespread COVID-19 transmission and mortality, food insecurity is a key barrier to their adherence to medication, thus contributing to ARV treatment failure or postponing ARV initiation.
On that fateful day, Nsubuga woke up very early and started walking from his home in Kisasi only to be knocked by a car around Uganda AIDS Commission office, where he had passed to eventually cross to Kyambogo, Kireka before proceeding to Bweyogerere.
His band comprises 39 young members, the bigger percentage is living with HIV and Nsubuga says most of them had not eaten food for some days because they didn't have money to buy food yet they had to swallow their drugs.
He had mobilised food (rice, sugar and maize flour) from friends which he was going to deliver, and he also had gathered some little money which he could use to buy other items on reaching shops where these youth stay.
Nsubuga has since been discharged after being admitted for three days, but he still feels a lot of pain, grappling with wounds as he looks at the ugly scars on his body which are a lasting reminder of how he tested the grave as he tried to save the lives of others.
Why did he want to sacrifice his life for others? Nsubuga says the reasons for his willingness to sacrifice his life are altruistic - because hunger was "killing" his fellow HIV fighters around him, so there was need to strike back, not to wait for them to die.
"As a leader, I needed to do something. The lockdown had forced a number of HIV-positive people off ARVs due to inadequate food, and I knew that unless food became available, those innocent youths were bound soon to experience drug resistance and probably death," he says.
Nsubuga before the accident
"People who are not infected with HIV may not appreciate the kind of life we go through each passing day, and the challenges we encounter as we take ARVs daily. Defaulting medicine could be detrimental to our lives," he adds.
Nsubuga says that the constituency of people living with HIV pleaded with some health authorities, but the response they got was not the best.
One minister said people living with HIV are in the community and the ministry was giving to all kinds of people, not discriminating while giving out food, and advised that those who hadn't got food would get it soon.
"But we waited and waited for government's food in vain, and my agitation was taking food to this group of vulnerable people. It was my responsibility to get food by hook or crook, and i was doing this for my second time, walking from Kisasi to make sure my members don't starve," he says.
The World Health Organisation (WHO) guidelines state most categorically that ARVs must be taken with food, because they are very strong, if taken on an empty stomach, they make you doze, feel weak and reduce your strength-you feel like vomiting.
Yet, if HIV-positive people don't take their ARVs, the risk of repeated illness due to opportunistic infections and the developments of drug resistance forms of HIV infections are increased, says Nsubuga who has lived with HIV for over 27 years.
He says COVID-19 has hit hard the women, young girls and young people because the source of livelihood for the majority of this group of people has been hands to mouth, but the lockdown has affected their income, meaning they cannot buy food.
WHO IS NSUBUGA?
Nsubuga is a famous musician, dancer, DJ, radio presenter and an HIV activist. He has been living with HIV for over 25 years and he became the first celebrity of his generation to publicly declare his status, since the music legend Philly Bongole Lutaaya.
He got to know about his HIV status in 1993, after falling sick for quite a long period of time and not knowing what was bothering him, thinking at the beginning that someone had bewitched him, being in the entertainment industry which is associated with witchcraft.
He did not get treatment until 1998 because he was living in denial. Nsubuga became very sick until his family took him from Kampala to his village to die there as he had developed HIV drug resistance.
He later started getting treatment from Joint Clinical Research Centre (JCRC), and after being put on effective treatment, Nsubuga got better and returned to Kampala. Nsubuga started radio programmes, talk shows and other events to put HIV and in particular HIV drug resistance into the picture, after he failed on the first line. He initially started the "Stigma-less Band," and today he is the Director for Special Projects at the "People in Need Agency" (PINA) Uganda, an NGO offering social cycle support to young people living with HIV.
PINA was registered over 10 years ago and its intention is to create happiness and hope among young people who are living with HIV.