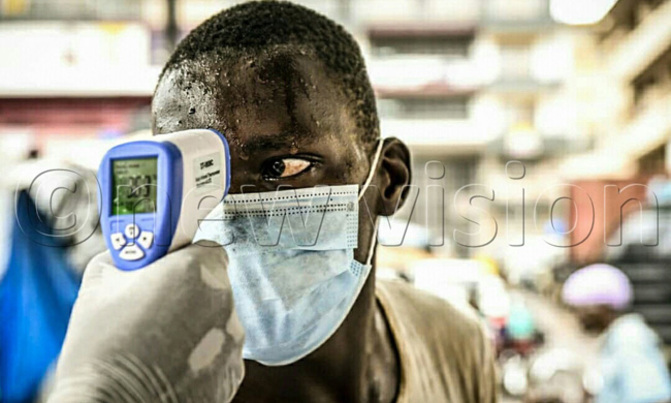 Movement of people was stopped, a lockdown was in place, and everyone got confined at home save for essential workers to stop the spread of the virus.
From the time the first case of the Coronavirus disease (COVID-19) was confirmed in Uganda on March 20, 2020, there has been anxiety in the country.
There was disbelief, even anger when the first case of the Coronavirus disease was confirmed in a male adult who had travelled to Dubai amid a raging worldwide spread of the virus.
Movement of people was stopped, a lockdown was in place, and everyone got confined at home save for essential workers to stop the spread of the virus.
But, the numbers started going up hitting 53 active cases as of April 8, 2020. There was even more anxiety as no one was being reported cured.
It was not until on Easter Sunday on April 11, 2020, that three people were reported cured and released from quarantine including the first reported cases.
There was jubilation, Uganda has also not suffered COVID-19 death and there have been many more recoveries.
But, even though the country seems to be winning the fight against COVID-19, there are still uncertainties and questions being asked as recovered cases return to the communities.
Could the recovered cases still be in a position to transmit the virus?
According to Dr. Misaki Wayengera a Clinical Geneticist, Immunologist, and Virologist, Uganda is being extremely careful and not taking chances in containing COVID-19.
Testing and medical procedure must be met before a person is declared fully recovered from COVID-19.
''Those in the risk bracket or showing symptoms of COVID-19 are placed under home or institutional quarantine (isolation), and their stool, blood plus nasopharyngeal (nasal) swabs sent to the Uganda Virus Research Institute (UVRI) for testing.
When one tests positive, they are moved from home or institutional isolation to a hospital designated for COVID-19 treatment.
Once recovered, one is moved to a more complex quarantine area in the hospital for another week where further tests are conducted.
After which one is moved to a hotel or institutional quarantine area for another week where they are monitored.
When confirmed beyond doubt that one is free of the virus, the person is finally released to go home but, advised to self-isolate for another week before mingling freely in the community,'' explained Dr. Wayengera.
He is also In-Charge of the Unit of Genetic and Genomics, Department of Immunology and Molecular Biology at School of Biomedical Sciences, College of Health Sciences at Makerere University.
He stated that recovery from COVID-19 involves a firm process that goes beyond just one feeling better. It involves both medical treatment and bureaucracy to be declared healthy.
However, Uganda's COVID-19 management protocol is not the standard practice across the world, but one the country has tailored and is piloting in handling cases said Dr. Wayengera.
The way one is discharged is not immediate. Though not in Uganda 'some people have shown they continue to discharge or shed virus even after they have recovered,'' he said.
Extra caution is being taken. Individuals who have recovered from COVID-19 are not sent directly to the community.
''We keep them for a while so that when they are back in the community they are not shedding the virus and infecting people. The tests are thorough, they include the stool, sputum, and nasal swabs. Recovery from the onset of the symptom and being out on treatment takes between 14 -21 days depending on how severe the case is,'' said Dr. Wayengera.
However, after recovery, it is best for one to assume they are still contagious for some more time and take precautions to avoid infecting others just in case. One can return to normal activity at least after a week, said Dr. Wayengera.
How about re-infection
Guidelines from the World Health Organisation (WHO) recommend that clinically recovered COVID-19 cases should test negative for the virus twice with tests conducted at least 24 hours apart before being discharged from hospital
The World Health Organisation (WHO) announced on April 12, 2020, that it was investigating reports of recovered COVID-19 patients testing positive again.
On Friday, April 11, 2020, South Korea reported that 91 COVID-19 believed to have recovered tested positive for the virus again. We haven't had this case in Uganda, said Dr. Wayengera.
However, the challenge is, when one gets re-infected, though we haven't had such a case, we still do not know if it is from the new virus, or old virus that was not cleared, said Dr. Wayengera.
There is suspicion the virus is not getting cleared completely from one's system. The current treatment we have does not have high viral activity, the virus is not completely stopped by the drugs but when the body fights back, viruses reduce and get cleared, explained Dr. Wayengera.
Why re-infection may not occur
Clinically recovery takes up to two weeks, one must be free of symptoms after 14 days, but Uganda is taking no chances, the way one is discharged after recovery is not immediate.
It takes 21 days for one to be released upon taking more than one test to confirm they are negative of COVID-19, said Dr. Wayengera.
Only then when both symptoms have been successfully treated and testing conditions met and the case tests negative more than once, is a person considered fully recovered.
Also according to sciencealert.com, once recovered from a viral infection, the body will keep cells called lymphocytes in the system, these cells remember viruses they have previously seen, and can react quickly to fight them off again,
It is said once exposed to the virus one already had, the antibodies will likely stop the virus before it starts causing symptoms. One becomes immune.
However, immunity isn't perfect for many viruses it can wane over time leaving one vulnerable to the virus in the future.
This is where one can occasionally get booster shots or vaccinated if treatment to prompt the immune system to make more antibodies and memory cells, to fight off the virus.
If immune (recovered), one can help healthcare system care for the infected, stated sciencealert.com
Its explained once communities pass the peak of the pandemic the number of infections will decline, the number of recovered people will increase, and with the trend continuing that way the risk of transmission will fall. And with a decline in transmission community isolation, social distancing orders will begin to relax and business will start going back to normal.
The treatment being used
When it comes to cures we don't know what works, explained Dr. Richard Kabanda the Commissioner In-Charge of Health Promotion, Education and Communication at the ministry health who is coordinating the coronavirus diseases communication in Uganda
Nonetheless, cases have to be managed. ''For the asymptomatic persons with the virus, but with no signs to show, we encourage a good diet to boost their immunity and ensure their immunity is not comprised,'' he said.
For those sick, the symptoms are managed, said Dr. Kabanda. Uganda is using hydroxychloroquine used in treating malaria and erythromycin an antibiotic used for the treatment of bacterial infections to manage symptoms in COVID-19 cases, disclosed the Director of Health Services at the Ministry of Health Henry Mwebesa in a tweet.
COVID- 19 like all viruses have no cure but the symptoms can be managed and one's immunity is boosted for the body to fight off the virus on its own and clear it.
Luckily for Uganda of all the active COVID-19 cases, none has been severely sick ''therefore they can't be subjected to high-level treatment that requires being put on oxygen in the Intensive Care Unit (ICU). This works in our favour to mitigate the virus,'' revealed Dr. Kabanda.
Most countries that have been most affected and have suffered high COVID-19 deaths have struggled with high-level treatment.
There has not been sufficient oxygen and enough ICUs to treat the many critically ill patient. European countries Italy and Spain have suffered so much death, and also the USA because of a lack of sufficient oxygen and ICUs.
''Our patient hasn't gotten to that level where they need high-level treatment. We pray we don't get there,'' said Dr. Kabanda.
Many countries have suffered COVID-19 fatalities because of a lot of assumptions in managing the disease, according to Dr. Kabanda.
''In Uganda, we are studying these countries, we are studying the new symptoms so we don't have to suffer the misfortunes they suffered. We are reading a lot of literature to make the right choices in managing COVID-19, we are not just following blindly,'' he added.
No country yet has succeeded in getting COVID-19 treatment. There is no known treatment for COVID19 as of now, but globally several health organisations and commercial corporations are working on finding a vaccine/ treatment including the use of antibodies from people who have healed to treat active cases.
There are some vaccines being tried in countries like China where the virus originated last year in the city of Wuhan.
However, ''Even if we get successful here in getting treatment, it takes time and a long process to get it approved,'' explained Dr. Kabanda
Worrying about COVID-19 and why you should not let your guard down
There are patients with signs and symptoms who are under isolation and treatment which is okay, then there are patients with no signs and symptoms but found to be positive (asymptomatic) with COVID-19.
They may turn out to have signs and symptoms later. Those expected to be positive but with no signs and symptoms are the biggest challenge, we call them carriers, said Dr. Kabanda.
Symptoms can come depending on individuals, however, some of the symptoms are not even documented, he added.
''It's scary that someone can have COVID-19, but with no signs and symptoms. They are infecting others in the process when they come in contact. Keeping those suspected to be positive in quarantine, social distancing, and washing hands is what is helping,'' said Dr. Kabanda.
But, even if we wash hands and keep getting in contact with COVID-19 positive persons, with no symptoms we end up getting the virus. It's important we keep social distancing and wash hands to avert getting the coronavirus disease, said Kabanda.
Dr. Wayengera said people should just comply with health guidelines given by the government to overcome COVID-19.