Abdul Karim, the Songalawo LCI chairperson, said he had never seen such floods in the last two decades.
Following the torrential rains that have hit various parts of the country, seven landing sites on Lake Albert in Ndaiga sub-county Kagadi district which submerged last weekend have left at least 200 households with over 2,500 residents grappling for survival and shelter.
Livingstone Akugizibwe, the Ndaiga sub-county district councillor, cited the most affected landing sites as Kamina, Kabukanga, Songalawo, Nyamasoga, Rwebigongoro, Nguse, Mukura and Kacanga.
"We are worried that something big and dangerous might happen at the shores any time if no quick intervention is put into action by the concerned authorities,'' he said.
Akugizibwe said he had tried to involve many stakeholders, including the Police, fisheries department, office of Resident District Commissioner in Kagadi, the district taskforce on COVID-19, and the production department, which have promised to respond as soon as possible.
He explained that the affected people lacked shelter, food, and other basic needs.
Steven Byaruhanga (right), the Kagadi chairperson, addressing affected residents at Songalawo. Photo by Andrew Musinguzi
Local leaders say...
Abdul Karim, the Songalawo LCI chairperson, said he had never seen such floods in the last two decades.
"We are very suspicious that more serious epidemics and other diseases like Cholera and Typhoid may breakout. We want the Government to feel much concerned to avert these tragedies,'' he said.
Josephine Natukunda, the assistant fisheries officer for Kagadi, cautioned residents living on the lake shores to vacate with immediate effect.
"There have been dynamics in water volumes at all lakes in the country, including Lake Victoria. This should not be taken as a joke. We need to protect ourselves before the Government intervenes. It is now a question of death and survival,'' she said.
She further cautioned the general public against encroaching on the boundaries of the lake.
Oscar Chwinyai, the LC3 chairperson Ndaiga sub-county, said many people living on the lake shores survive on only fishing activities and the submergence was a setback to both business community and residents of the areas.
"Although many leaders are advising us to vacate and relocate to new areas free from floods, we are worried about how most people are going to survive during the COVID-19 lockdown. We want the Government to send food relief," he said.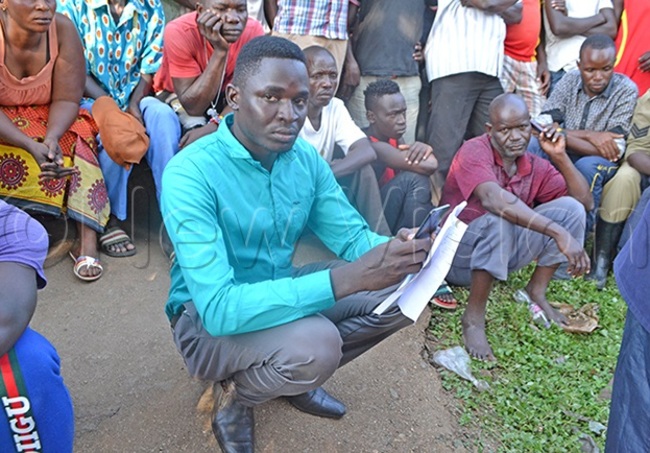 Akugizibwe with other residents. Photo By Andrew Musinguzi
What residents say
STEVEN BAUTU, SONGALAWO LANDING SITE
My business activities were first blocked by COVID-19 but it has now been worsened by floods, I do not know how my family will survive. We are surviving on God's mercy.
KORODI TULIBAMU
We want Kagadi district local government to be very mindful about our lives otherwise we are not safe and likely to face more repercussions. My family is taking refuge at Ndaiga sub-county headquarters.
MARY ACENG
Let the Government avail us with bedding materials, mosquito nets, and relief food for us to survive on before long. They should not wait for situations to worsen. We have nothing to eat, we need posho and beans and other basic needs for our survival.
RDC speaks out
Lilian Ruteraho, the Kagadi Resident District Commissioner, said some food relief was being prepared in consultation with the district COVID-19 taskforce to ensure residents at various landing sites are assisted in the quickest possible time.