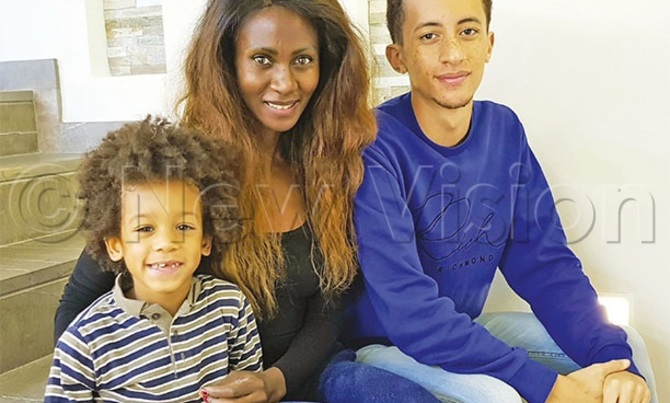 The president cried in front of the cameras, while conceding defeat for the situation was extreme.
HEALTH COVID-19
Ten years ago, Zamzam Gaina left Uganda for Italy in pursuit of love. She
settled in Milan with her fiancé before pursuing a fashion career, which she
had long dreamt about.
Four years later, she moved to Piacenza city in the North of Italy. She became a household name, thanks to 'The Sofi Kobs' shoe brand and clothing line, which found its way on the international fashion scene.
The former journalist and mother of two had a high-flying career, until early March when the Covid-19 pandemic hit Italy and turned everything around. She narrated her ordeal to Ritah Mukasa.

I moved from Uganda and settled in Milan, Italy. When I split with my fiancé, I moved to Piacenza city and got married. This city had a population of 102,465 people before the COVID-19 pandemic claimed thousands of lives. It is located in Emiglia Romagna, a region in northern Italy.
Piacenza was full of life before the pandemic. We enjoyed every bit of it. Children loved going to school as adults also went about their work with no worry. We had got accustomed to the early morning and evening traffic during the rush hours.
From work, friends would meet for happy hour drinks and feel good chats before heading home. The city had a life an outsider would envy. Weekends were for partying and dancing. We also used them for family outings, filling up eateries and shopping malls. Children got busy in the parks just as couples filled the cinemas. It was also normal for lovers to display their affection in public through the holding of hands and kissing. That and more fun was the life we knew for years.
HELL, BREAKS LOOSE
When we first heard the news of the COVID-19 outbreak in China, we did not care because we thought it was far from us. Many of us were convinced it was something for the Chinese, which would remain in China, but we were wrong. Normal life continued; borders remained open.
However, on January 30, a Chinese couple was admitted to (Lazzaro) Spallanzani Hospital in Rome and placed in the intensive care unit with COVID-19 like symptoms. On January 30, Italy blocked flights to and from China.
From then, the virus dominated the headlines of all media channels: TV, the Internet, radio and newspapers.
They were discharged on February 26. Shortly afterwards, Italy registered a case of an Italian patient, a 38-year-old man from the city of Codogno. It is believed he contracted the virus from Germany, where he had been working. It was at this point that the government realised the virus had become a threat to the country.
Piacenza, my home, is close to Codogno. These cities are 'great friends'. People move from Codogno to Piacenza and Milan for work every day. News of the first patient spread like a wildfire. It was reported that he had dined with a group of friends from Piacenza. Fear started spreading in our city, but it was already too late to block the contamination.
Many of us admit there was negligence at the beginning. When other European countries were closing borders, Italy was still open. People underestimated the havoc the virus would cause. Besides, wearing a mask was shunned. Many people frowned at a person wearing a mask, saying they were exaggerating. There was also inadequate public sensitisation on how serious and dangerous the virus was.
We were only awakened by city lockdowns. People started realising it was serious when schools and all public places, as well as their cities were closed down. The whole country was later shut down. This was a nightmare, never heard of before and, therefore, hard to believe.
The once busy cities and towns became ghost cities. Amidst the chaos, there were some defiant elements who still forced their way onto the streets. The police took over and mounted roadblocks. Everything had become surreal, like a movie.
In Piacenza, the rate at which people were dying was unimaginable. Deaths rose to over 50 daily. Hospitals were filled up with patients, but the bodies wheeled out were also many. Hospitals pitched tents outside for new patients.
Medical teams were overwhelmed, helpless and defeated. The president cried in front of the cameras, while conceding defeat for the situation was extreme. Authorities had done all that was within their might to save lives, but in vain and we all looked up to God. It was heartbreaking to know that patients were dying alone because visits from loved ones were prohibited. Funerals, too, were handled by the army and it was devastating. Then the stress, anxiety and depression started setting in.
Piacenza was officially locked down on March 7 and sudden silence befell the city. Our eyes were glued to the TV most of the time to get updates of new cases and deaths. Many families had causalities, but they could not do much to help. The sound of sirens and ambulances were the only noise on the streets.
Doctors and nurses started getting infected due to a lack of protective gear. Many died and their colleagues panicked, which brought about confusion all over again. People were confined in homes.
In Europe, most homes are apartment buildings with very limited space, which aided the spread of the virus. Death and new infections shot up every hour.
DEATH DRAWS CLOSER
Only God has kept us safe in this chaos. Some neighbours and friends have passed away and several people I knew from different places, such as eateries and hotels have died too.
We had almost got used to hearing sirens from a distance until I heard them getting closer and closer on our lane. It stopped at the neighbour's house and a few minutes later, it left. The next day, we woke up to the news that he was admitted in hospital and was in intensive care. He passed on few days later.
I have failed to come to terms with the demise of my friends because they all died suddenly. The most heartbreaking news was when our close friend lost his father. He died from home because there was no space in the hospital.
The nurses refused to admit him because patients had filled up the corridors. The funeral company came to pick the body and no family was allowed to attend the burial. We laboured to keep the news from the children so as not to traumatise them more.
My sister, who works in a hospital for the elderly, saw almost all the patients die. It was unfortunate that many of her colleagues died too. She was also infected, but she quickly self-quarantined and recovered. They could not test her because then, test kits were few and hospitals were overflowing with patients. We count ourselves lucky to have skipped the line of death.
Meanwhile, we still fear for our lives. Last week, when I was going to the private clinic for a blood test, I had to wrap myself up in protective gear, like the health workers, from head to toe.
We mitigate any chance of getting infected since my father's friend went to hospital for a check-up, but got infected instead and died.
I MISS MY SON
I usually move a lot given the nature of my work, but this time, the lockdown got me at home. Unfortunately, my eldest son, who studies in Milan could not return because it had been locked down.
I have spent more than two months without hugging him. We miss each other so much that the video calls can't help to fill the void. I fear for his safety. I always ask the police to allow me to pick him in vain. He is living with his paternal aunt.
HOME HAS BECOME A PRISON
With hundreds dying every day, many families welcomed the lockdown. Home seemed like the only safe place to be. So, we felt we would brave it until April 3, when the situation was anticipated to have normalised.
But then, things started getting stressful with the extension to tomorrow. Life indoors can be monotonous. It is so confining and it feels like you are in a box or prison cell. If anyone is found 200 metres away from their home, they are fined not less than euros 400 (about sh1.6m).
In case one drives without a valid reason or false declaration, they are imprisoned or fined more than euros 3,000 (about sh12.4m). At first, we were only allowed to go to the supermarket and pharmacy, which are among the few open places. Then, going to the supermarket was restricted to once a week and scheduled according to alphabetic order with an identity card, to limit people from going out twice. For example, A to C had Monday, then D to F Tuesday and so on.
It is hard to confine the children, especially teenagers, who are used to going out often. We keep talking to them about the dangers and some understand when they watch the news on TV. For example, my six year- old son always insisted on being let to go out. He would throw tantrums asking, "Mummy, why are we always in the house? I am tired, I want to go out." But he now understands there is a deadly virus outside.
EARNING FROM MASKS
During the first weeks of the pandemic, there was news of a shortage of masks. Being a designer, I stepped up and was one of the first people to make masks from home. I freely gave out some to friends and the needy and sold the rest.
Working in the fashion industry, I have knowledge of good materials. Masks from a simple cotton cloth are not completely protective, but they are better than nothing. So, I used a material that has high filter level as a way of passing time and earning.
HOW I COPE
Many people have been forced to adjust to a new way of life. I wake up early and prepare breakfast for my family. I then check my computer for any orders or updates for my company and store online. This takes a few hours. Then, I start preparing lunch and later exercise. I also set aside some study and play time for my son.
After dinner, we watch a movie together, before retiring to our beds. We have all learnt to get creative in the kitchen; exploring recipes and new dishes. Every day, we learn a new recipe and play puzzles as well. When I get my free space, I create designs for my work for the next fashion season because I have to revive my career after the pandemic.
MY LIFE TURNED AROUND
COVID-19 has taught me that we are all fragile in this world. Rich or poor, black or white, near or far; we are all equal when our life is threatened by a disease. Humans tend to easily forget the bad times. I am sure as soon as a vaccine for this disease is found and the virus is no longer a threat, people will forget and start abusing nature just like before.
During this lockdown, I have learnt that the essential things are food and family. We do not need much to live. It is just that humans are competitive and live for the competition.
Ugandans should not take COVID-19 for granted. When we heard of the outbreak, it sounded far away. Then we started having a few cases in Italy. Within no time, the whole of north was locked down.
Southerners, who lived and worked in the north, flooded train stations returning to the south not knowing that they were taking the virus with them. In no time, the south started getting infected too.
When you hear that the enemy has reached your neighbouring town, get ready to defend your household because in no time that enemy will be at your door. My dear Ugandans, this pandemic is serious. Try to eat healthy foods and remember that Vitamin D and C are essential in this fight.