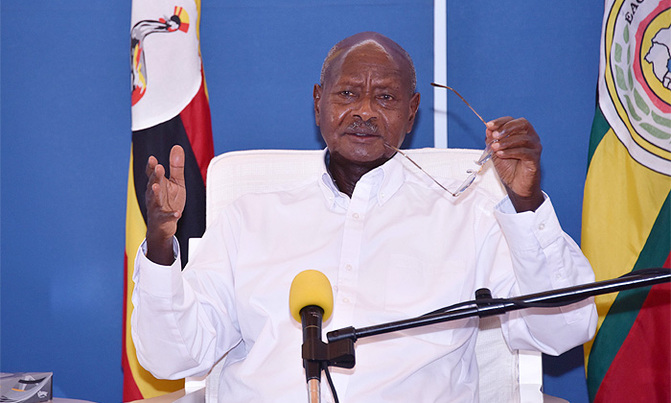 "I say it is suicidal because, if we stop cargo, how will our coffee (and cotton, tea, cotton, milk, cement from the factories and food) move?" says President Museveni.
12TH PRESIDENTIAL ADDRESS ON CORONAVIRUS

Live reporting by Joseph Kizza
Twitter: @joekizza

(Scroll down the page for earlier updates)

______________________________


11:24pm | Good night!

And it is wrap! That's all for tonight's text coverage of the president's address. Glad you stuck along.

I can hear a rumbling and grumbling outside. Something has upset the night. A storm brewing? Best time to hop into bed - or perhaps catch up on a couple of lines from William Shakespeare's The Tempest.

Good night!



______________________________


11:20pm | Lifting the lockdown - what to consider

Tonight, the President has told us that he will announce the next move a few days before the extended lockdown comes to an end on May 5.

Will the lockdown be lifted? Or is a further extension looming?

Ten days ago, World Health Organisation (WHO) country representative Dr. Yonas Tegegn listed six areas a nation must consider before lifting the lockdown:

1. Transmission should be controlled - if there, indeed, is transmission going on

2. The health system capacity is in place to detect, test, isolate and treat every case

3. Outbreak risks are minimised in special settings like health facilities, nursing homes and among vulnerable groups

4. Preventive measures are in place in work places, school and other places where it is essential for people to go

5. Importation risk can be managed e.g. testing of incoming cargo transporters, like what is happening now at border points

6. "Probably most importantly", communities are fully educated, engaged and empowered to adjust to this new norm.


______________________________


11:06pm | 'We shall not allow penalties'

On interest rates:

"Yes, the interest rates may be there, but we shall not allow penalties or even delayed payment. People are delaying to pay because you know why - they are not working. When you gave them a loan, you knew what sort of people they are, and you know how they are earning their income.

"And if you know they are not earning, how can you penalise them? If they lose, you also lose," emphasises the President.


______________________________


11:01pm | Museveni to give half of his salary to taskforce fund

On why public servants are not forfeiting part of their pay like is happening in other countries:

"Good question!" quips the President.

He says that he is paid sh3.6m as monthly salary. "Then the NRM takes 20% of that. The other remaining sh2.7m, I will tell Janet [the First Lady] to accept sh1.4m. I will tell her to sign sh1.4m each month to the fund.

"Thank you so much for asking that question. And I start now, by 50% of Janet's money (what remains of the NRM).

"So, civil servants and politcal leaders, you have all heard now. The people are asking you," rallies Museveni, adding that if the estimated 480,000 civil servants gave a share of their pay to the fund, some good amount of money would be raised.


______________________________


10:54pm | President responds to public's questions

On relief food:

"Don't compete for this food just because you think you need to get a share," says Museveni. "This is not an issue of entitlement."

He has previously emphasised that the ongoing relief food distribution exercise is not a long-term poverty eradication programme but instead an emergency to help people in Kampala and Wakiso districts who live hand-to-mouth and have been directly affected by the lockdown.

On opening the hardware shops [so that we buy things like cement]:

"We are going to study that. You see, the idea was that, let us minimise movement. That's why we said only [selling of] food. Other things can wait, but eating cannot wait," he responds.


______________________________


10:42pm | Tough measures for cargo truck drivers

The trade and transport national taskforce sub-committee has agreed on a number of measures for the cargo truck drivers to contain the spread of the coronavirus.

The sub-committee resolved to bar cargo truck drivers from stopping at all certain hitherto popular points in the country in a number of towns. The truck drivers will have a few designated stop points.

During a meeting held on April 24, the sub-committee agreed that certain stop points should be declared out of bounds for cargo truck drivers and they should only stop at 12 major points.

READ FULL STORY HERE


______________________________


10:33pm | Donations towards COVID-19 fight

The generosity of several entities and individuals is evident.


On behalf of the COVID-19 National Task Force, the Minister of Health, @JaneRuth_Aceng and Permanent Secretary, @DianaAtwine received an assortment of donations comprising of medical supplies, food items and isolation tents to support the COVID-19 response in the country. pic.twitter.com/qb9mBbPnbM

— Ministry of Health- Uganda (@MinofHealthUG) April 28, 2020

______________________________


10:25pm | Here is the youngest donor . . .

Five-year-old Sulaiti Mulindwa may possibly be the youngest donor to the national taskforce battling the coronavirus in Uganda.


5 year old, Mulindwa Sulaiti also heeded to H E @KagutaMuseveni call to support the COVID-19 response and donated 10kg of posho and Ugx 10,000. The National Task Force appreciates your hands and kind gesture. pic.twitter.com/pIBcSkqCSm

— Ministry of Health- Uganda (@MinofHealthUG) April 28, 2020

______________________________


10:00pm | President reads out donations

One of his tasks is to read out the latest list of donations to the national taskforce towards the fight against the coronavirus.

______________________________


9:52pm | Strong families are part of a strong country - Museveni

The President says he has received news of family disharmony during the current lockdown. He emphasises that while the stress is clear, families remain part of the foundation of a strong nation.

"This lockdown apparently is making families stay together. You cannot have a country without families. Having strong families is part of building a strong country," he says.

Talking of the need to have a separate, much broader discussion on the subject, Museveni is keen to underline safety of the minors within households.

"One of the crucial things about the family are the children. Whatever issue you have among adults, they should never affect the children. If children are sheltered, they are protected, then you would have a strong family," he says.

"But I think through dialogue, we should also get a minimum about the relationships among the adults themselves - because the friction and so on are due to the way issues are managed."


______________________________


9:45pm | Museveni calls for East African unity

President Museveni has used this platform to lend his voice to that of former Tanzanian leader Mwalimu Julius Nyerere to urge unity within the East African Community.

This is a task he was assigned a couple of weeks back by the East African Summit to sensitise the community about the need for an East African Federation.

"What God has put together, man should not put asunder. God is the one who said East Africa should be one."

In the 1960s, the East African nations attempted to unite into a federation but eventually this collapsed.

"If the federation had succeeded that time, I think East Africa would be where India is today. If the federation had been formed at the time, Idi Amin would never have come into power. East Africa would not have allowed it. The massacres of Burundi would never have happened.

"The problems of Congo would never have gone on the way they went. The issue of South Sudan would not have taken the time it took. The Genocide of Rwanda would never have happened.

"Even today, as we are managing these crises - locusts, water, virus - it would be much easier to take care of them in a much consolidated way.

Therefore, as a champion for the East African Federation, Museveni says he feels he needs to remind the Ugandan Bazzukulu (youths) to unite with their East African counterparts.


______________________________


9:37pm | Museveni thanks medical workers, media

The President is full of praise for the medical workers at the frontline of the coronavirus fight.

"I am very proud of our health workers and I congratulate them," he says.

He also thanks the media for doing "a good job - reasonably, so I thank them for their contribution also".

In his discourse, Museveni also congratu the NRM hsitorical and current leaders for working for their country as they see fit at any given time to produce results.

He also thanks "some of our allies", particularly picking out UPC (Uganda People's Congress) for their contribution.


What helped when the floating island came in was the wonderful equipment we bought from Japan. #M7Address #COVID19UG pic.twitter.com/KgOhnEWMQz

— Yoweri K Museveni (@KagutaMuseveni) April 28, 2020

______________________________


9:25pm | Museveni speaks out on sh20m for each MP

One of the most contentious subplots of the coronavirus fight has been Parliament's decision to allocate every MP sh20m meant to sensitize their constituents on the marauding coronavirus.

Museveni says this was "bad planning", adding that the move has legal and moral issues. On the moral side, he says it is unacceptable for MPs "to give themselves money for personal use when the country is in crisis. It is totally unacceptable to me and to the NRM".

He explains that he discussed the matter with the Speaker of Parliament, Rebecca Kadaga. His argument was that the legislators had "entered into a trap and you should get out of it".

"And the best way to get out of the trap is to not spend it on yourself. I told the Speaker, "Take that money and donate it to the district taskforce"," revealed Museveni.

For the MPs that have aready "bought things [with the sh20m]", Museveni it is a tricky line to toe, which would only require the Auditor General's intervention to take a closer look at how exactly the money was spent.

"I know many Ugandans are angry, and may have been diverted from the war [against coronavirus] but don't be. This will be sorted out," reassures Museveni.


______________________________


9:13pm | On the economic doomsayers

On Uganda's economy, the President - once again - dismisses what the doomsayers are saying. He argues that yes, while some sectors (like tourism) have been inevitably hit, it is not all doom and gloom. Manufacturing can come up.

We are going to make personal protective equipment, medicines, diagnostics, vaccines and sanitizers. So, we just need to adjust. We shall manage.

Uganda's economy grew highest - by 11% - in 1994. Museveni says at the time, tourism was not the biggest contributor of the GDP. Against that background, he underlines that Uganda's economy will grow even if tourism goes down.

He is keen to strike a positive tone as well, by saying that while tourism is one of the vulnerable sectors at the time, it will certainly go back up.


______________________________


9:02pm | Mobile quarantine

Museveni says he has spoken to his Kenyan (Uhuru Kenyatta), Rwandan ( Paul Kagame) and Tanzanian (John Pombe Magufuli) about the issue of the truck drivers.

Presidents Kenyatta and Kagame have agreed that they (their health ministers) can have a common plan for them - and these can even be tested twice per month.

"Those drivers can have mobile quarantine - they can be controlled while on the move," says Museveni.


______________________________


8:56pm | 'It is absolutely suicidal to ban cargo'

"Until the train is fully operational, I appeal to Ugandans to swallow your anger and employ amagezi [wisdom]. Stopping cargo is [not only] suicidal but also unnecessary," argues President Museveni.

"I say it is suicidal because, if we stop cargo, how will our coffee (and cotton, tea, cotton, milk, cement from the factories and food) move?"

"Secondly, my point is, it is not necessary," adds the President, pointing to the revised directive that long-distance trucks must have only one occupant - the driver - as opposed to the initial three.

"This is safer."

Once again, Museveni urges the ministry to ensure that the drivers coming into the country do not mix with the local people - especially the so-called ladies of the night.


______________________________


8:48pm | 'This is a planned war - not an emotional one'

Museveni says while Uganda enforced "radical" measures to prevent the spread of the coronavirus, "these were calculated measures".

Uganda had to survive and the pillars of her survival were:

1. Farming had to continue - because is not easily susceptible to the spread of the virus

2. Factories and construction sites could continue operating - as long as they encamp their workers.

3. Essential services had to continue - hospitals, water generation, telecommunications, etc

One of the most important things that had to continue, Museveni adds, was cargo within the country and between Uganda her neighbours.

"This is a planned war. It is not an emotional war and it is not a suicidal war. To interfere with cargo, it is suicidal."

The best way to move cargo under the current circumstances should be by rail and by water, the President adds.


______________________________


8:37pm | Next move to be determined by study

Uganda is nearing the end of the extended three-week nationwide lockdown. It ends on May 5. Will Uganda loosen the grip then?

The President has an answer for you.

"Our people are studying intensely. We shall give you the new guideline (what next) before May 5. This will be determined by the study which is being carried out quietly to know where we are in terms of the sickness," says Museveni.

He adds that it is clear that the main source of infection now is from the truck drivers coming into Uganda. He talks of how Ugandans are now "bitter" towards these drivers, perhaps alluding to the mounting public pressure to have the long-distance cargo transporters held at the border points before their coronavirus results are known.




______________________________


8:27pm | Let's remember the starting point - Museveni

In all this, we need to remember the starting point, says the President, pointing to the narrative at the onset of the crisis: This disease is very infectious but it is very easy to avoid. Here is how:

1. Do not sneeze or cough in the midst of a group without blocking using a hand

2. Do not go out into the public when you are coughing or sneezing

3. Sanitize regularly frequently touched surfaces

4. Wash your hands with soap and water

5. Do not touch yourself in the soft parts of your body (mouth, nose and eyes)

It is this awareness that Museveni says might have helped Uganda to manage the spread of the virus, and urges Ugandans not to let their guard down.


______________________________


8:19pm | 'Listening' is working for Uganda

Uganda's approach of "keeping quiet and listening" has led to no new cases registered within the society for the last one week.

This, according to the President, could mean three possibilities:

One, there are no more cases in the country - "and that would be wonderful news".

Second, the people are being infected but they are not getting sick.

Third, some of the people are dying from an underlying disease, but people do not know that coronavirus has contributed to their demise. To find out the cause here, "our people are using verbal autopsy".

"In these remaining days, our experts are going to study more," says Museveni.


______________________________


8:13pm | 79 cases so far

So far, Uganda has registered 79 cases of coronavirus. A breakdown of this statistic includes 52 Ugandans, one Canadian, one Indian resident, two Chinese, 1 Burundian, nine Kenyans and 13 Tanzanians.

As many as 12,389 people tested in Uganda have been found to be negative of coronavirus.


______________________________


8:10pm | President begins 12th address

As many as 2,000 people are said to be behind bars for defying the measures put in place in Uganda to stave off the coronavirus. President Yoweri Museveni begins his address by pointing out the significance of the nationwide measures being implemented to curb the spread of the deadly virus.

He particularly thanks "the security forces for enforcing those measures", and also thanking "Ugandans for fighting this war by listening to this advice".


______________________________


7:47pm | Good news - Five discharged

About an hour before President Museveni's delivery, health minister Dr. Jane Ruth Aceng delivered a dollop of good news to the nation.

She has tweeted that five people who had been infected with coronavirus have been discharged, bringing to 52 the cumulative total number of recoveries in Uganda.


Good news coming in today. 5 patients were discharged after recovering from COVID-19. 3 from Entebbe Grade B and 2 from Mulago Hospital.
Total recoveries now stand at 52. All praise and thanks goes to God.

— Dr. Jane Ruth Aceng (@JaneRuth_Aceng) April 28, 2020

______________________________


7:40pm | What is top on the agenda?

You could be having an idea of what the President will be touching on tonight in his address.

With much of Uganda's anti-coronavirus fight turned to the borders, it is clear what will be top on Museveni's agenda when he speaks to us again. For the last one week, nearly all of the coronavirus-positive cases reported in Uganda have been long-distance cargo transporters driving into the country from particularly Kenya and Tanzania.


______________________________


7:35pm | Hello, let's get started!

Good evening everyone! Glad you could join us for this evening's live text commentary of President Yoweri Museveni's 12th address to the nation on the coronavirus situation in the country.

Let's get our engines started . . .




Also related to this article

Uganda extends coronavirus lockdown until May 5