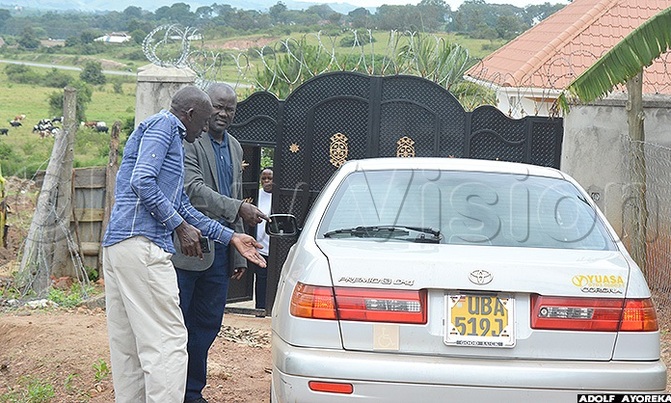 Close to 20 security personnel stormed Lagus's home on Friday night on the directives of the head of Ant-Corruption Unit Lt. Col Edith Nakalema.
GRAFT

Operatives from the State House Anti-Corruption Unit on Saturday arrested Dr Charles Lagu the Executive Director of the National Animal Genetic Resources Centre and Data Bank (NAGRC&DB) in Mbarara after he reportedly jumped police bond.

Close to 20 security personnel stormed Lagus's home on Friday night on the directives of the head of Ant-Corruption Unit Lt. Col Edith Nakalema but failed to arrest him after he locked himself inside the house.

There was a standoff at the Lagu's resident after he protested the manner in which the arrest was being effected. Lagu questioned why the motive of the raid and why they had chosen to arrest him on a weekend.

On Saturday at around midday, Lagu surrendered himself to the Rwizi Regional Police Commander Richard Echega who even surrendered his car to allow him to be transported to Kampala.

"We had to engage him in dialogue. He wanted to know why they were arresting him on Friday and they told him they were taking him to court but he insisted that he would hand himself over on Monday but the team of detective refused prompting us to intervene," Echega said.

Lagu told Journalists before he entered the car that he was not aware of the charges against him. "I am a law-abiding citizen and I have to comply."

"The police have been here since 7pm. I don't know why they are arresting me. We have been doing a great job at NAGRC fighting with encroachers and land grabbers on government farms and many people have not been happy with me, I suspect they are the ones behind this," Lagu said



The New Vision has leant that the decision to arrest Lagu was made after he reportedly failed to honor his bond.

Lagu's lawyers David Kamukama, however, told the New Vision that his client had failed to travel from Mbarara following March 30, Presidential directive restricting the movement of vehicles to curb the spread of Covid-19.

At the Special Investigations Directorate where Lagu spent his night, Nakalema had issued directives barring anyone from seeing him until he had been cleared by his office. However, State Minister for Animal Husbandry Bright Rwamirama sent his son Mwine Mpaka (Western Youth MP) to visit him and console him.

"He is fine and strong," Mpaka stated.

The accusations

According to the statement issued by the State House Anti-Corruption Unit in collaboration with the Directorate Criminal Investigations Directorate of Police shows that they have been conducting Investigations into the mismanagement of over sh18bn in NAGRIC&DB under the watch of Lagu.

The statement further indicated that the misappropriation of funds related to the fraudulent procurements that have led to shoddy construction works at Kasolwe Stock Farm and Lusenke Stock Farm. These include, Construction of a hostel at Kasolwe by Jofah Associates Ltd at Shs5bn, construction of a feed processing plant at a cost of sh2.9bn, Construction of cattle shed at Lusenke by Jyden Design Consults Ltd at a cost sh1.2bn and Construction of roads in Lusenke Farm by Rotana International Ltd at sh249m.

Others include the construction of staff house at Kasolwe by Fidelity Construction Ltd at a cost of sh198m, construction of poultry structure by LASETA at a cost of sh198m, construction of staff houses at Lusenke by Bugomola Construction Ltd at a cost of sh198m.

It also includes fraudulent disposal of livestock worth Shs616m. The statement said that 960 heads of cattle on various Farms were sold without adhering to procurement procedures for example approval by the Contracts Committee and the approval of the Board.

It also indicates that the proceeds of the sale were mismanaged. The statement shows that on April 23, 2018, Agriculture Minister Vincent Ssempijja wrote to the Board and tasked the members to investigate the matter. However, the Public Procurement and Disposal of Public Assets cleared Lagu of any wrongdoing indicating that they had followed all the guidelines.

Dr Lagu is also accused of fraudulent procurement and supply of Chloris Gayana from one Government farm to another.

It is alleged that there was procurement and supply of Chloris Gayana from Ruhengyere Farm to Nshara and Sanga Farms by M/S Nuruma Holdings Ltd at a cost of sh54m. It is also alleged that Chloris Gayana was procured and supplied from Lusenke at a cost of Shs71m

The statement also claims that Dr Lagu was being investigated over alleged fraud in the procurement of Animal semen. It is alleged that the procurement contracts for semen involve schemes to embezzle funds.

A case in point is the alleged procurement of semen from Italy worth Euros1.8milion. However, Dr Lagu had exonerated himself in the semen matters and explained that some elements within the ministry had proceeded to fraudulently dump the semen on Uganda market and then force Government to pay shs7 billion to the Italian firm. New Vision has also seen several documents he had written to Uganda Revenue Authority blocking the importation of the semen into the country.

Lagu's fight in NAGRC

Dr Lagu stay at NAGRC&DB has been riddled with a series of controversy ranging from infighting, land grabbing orchestrated by individuals both in and outside government.

In December last year, Dr Lagu spend the entire month rotating between the Criminal Investigations Directorate and State House Anti-Corruption Unit answering questions related to matters of procurement with NAGRC&DB.

In December he reported death threats sent to him and a detailed investigation by CID revealed the threats had been orchestrated by some staff within NAGRC&DB whose contracts had expired but had failed to hand over office. Four suspects who sent the messages have since been arrested and remanded.

Despite being in office for close to two years, Dr Lagu is yet to access his official residence of the Executive Director of NAGRC&DG which is still being used by the former ED Dr. Daniel Semambo.