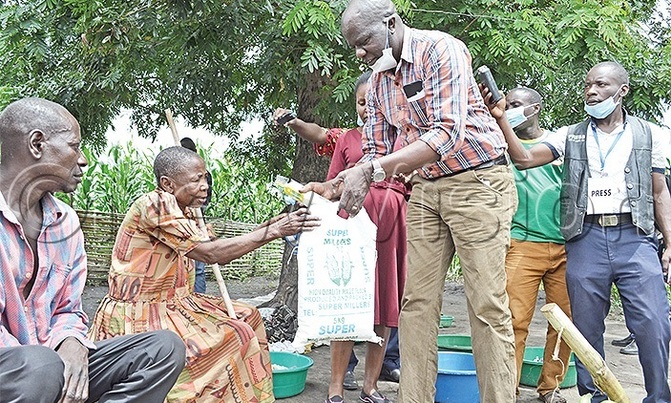 The items distributed were donations from well-wishers to ameliorate the suffering that has arisen from the lockdown announced by President Yoweri Museveni.
HEALTH COVID-19 RELIEF

The Kasese COVID-19 task force has launched the distribution of relief items to the most vulnerable people in the district, sparking off complaints from those who missed out. The exercise, led by the Resident District Commissioner (RDC), Lt Joe Walusimbi, started with Railway ward in Kasese municipality.

Walusimbi was accompanied by several security personnel, including the District Internal Security Officer, Lt Johnson Tashobya, the municipal senior community development officer, Annette Mutabazi and a senior officer from the Hima-based army brigade.

ITEMS

The items distributed were donations from well-wishers to ameliorate the suffering that has arisen from the lockdown announced by President Yoweri Museveni to contain spread of the coronavirus disease (COVID-19).

Each beneficiary got half a bar of laundry soap, a kilogramme of beans and either 5kg of maize flour or a bunch of matooke. Walusimbi told journalists that his office had so far received only 6,000kg of maize flour, 460 bars of soap and 20 litres of cooking oil.



He also said the task force considered people with disabilities, the elderly, widows and child-headed families. Walusimbi said the relief items were expected to benefit about 448 families.

He also said the task force had so far received 2,200 litres of diesel from Agrivolve, a coffee trading firm and a sh1m cheque for fuel from Kiima Foods.

During a radio talk show on Wednesday night, the deputy RDC, Joshua Kisembo Masereka, said Mpanga Hydro, a power-generating firm, had donated sh35m worth of medical equipment and supplies to Kilembe Mines Hospital.

EXCITEMENT

Safina Mbambu, 80, who is taking care of eight children, mostly her grandchildren, was overjoyed upon receiving the food. Mbambu said she fled her village in Kitswamba sub-county over 15 years ago due to harassment from her deceased husband's sons over family land.

"I was going to commit suicide in Queen Elizabeth National Park, but residents here restrained me," she said.

Mbambu hailed President Museveni for giving her hope to live on but urged the government to work harder to contain the coronavirus pandemic.

"Since the lockdown, I have been struggling to survive, so I pray to God to give President Museveni long life," she said.

Zubeda Nakanwagi, 67, who has been widowed for 20 years, said she has been surviving on selling second-hand clothes, which were stolen a week ago. Benalida Akol, 80, a person with disabilities, called for more relief items, saying most families like hers are not earning. She looks after eight dependants.



Erick Balekebagambe, 70, who has lived in Kasese town for 18 years and survives on part-time mason work, said the lockdown had separated him from his family who live on their family land in Rwimi and are unable to send him food.

Walusimbi also handed half a bar of soap, 1kg of beans and 5kg of maize flour to two abandoned sisters — Mary Bonita Kyaligonza and Elizabeth Katusabe — both pupils of Railway Primary School.

"Our mother left us and went to a place called Luwero. We don't know where our father is," they said. They said they live with a 27-year-old brother in a two-roomed rented house.

Irene Mbabazi, a single mother of three children who hails from Acholi, ululated 'afoyo tyee do' (thanks a lot) on getting the food donation.

DISGRUNTLED

However, the rest of Railway ward residents who kept following the food distribution team, but were restrained by the Police and army questioned the formula used in identifying the beneficiaries.

Zeulia Kabiira, 70, who missed out, wondered why she had not been registered. Speaking in Kiswahili, she said she had turned up because she had earlier heard a district official on a radio talk show saying the supplies were for the elderly.

Levina Ithungu, a single mother of four, urged the RDC's office to consider others who are in dire need. "I am not sure how I will feed my children. I wish the RDC's office could give me at least a cup maize flour and beans," she said.

OVERWHELMED

Walusimbi hailed the various well-wishers for their support but appealed for more donations. "The demand is overwhelming because there are many needy people in the district," he said.