At least 15 million learners were sent home following the closure of schools on March 18, before ending the first term.
HEALTH EDUCATION COVID-19

With school closures, and restricted movement of people as a result of Covid-19, children in Uganda are spending more time at home with little or no learning activities at all.

At least 15 million learners were sent home following the closure of schools on March 18, before ending the first term.

Although the majority of these children are from households that are engaged in or can engage in agriculture because of available land, few parents are looking at agriculture as a learning practice.
According to Ronald Ddungu, an education advisor at VVOB education for development, with the lockdown causing food shortages this is the best time to teach the youth that they can grow their own food to subsidize what they buy from the market.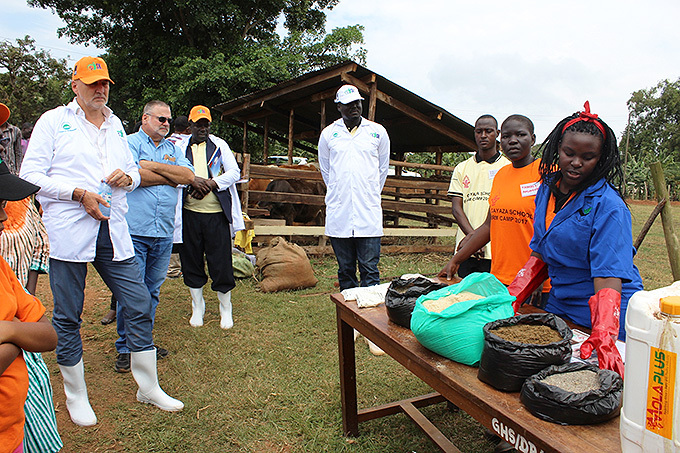 Currently, the agriculture sector contributes 24% of the national GDP. (Courtesy Photo)
"It is a good time especially if there is already something to harvest because they will be able to have enough in some foodstuffs and less in the market items. So, they will begin to wish they had grown all items," Ddungu says.
VVOB works in teacher/instructor colleges in Uganda to enhance the teaching of agriculture practically.

Currently, the agriculture sector contributes 24% of the national GDP, employs over 60% of the population and contributes 52% of the total exports earnings.

Uganda is an agrarian economy with about 80 percent of the population deriving their livelihood from agriculture.

Ddungu says children need to be encouraged to put in their best and participate in agriculture as required. Adding that it is important to let every child raise a personal bed of vegetables or assign them a banana plant to water daily.

"It is important for the youth to learn how to produce with their hands and follow up the possible value chains. It is these practical skills that will bring in daily income or help to save money," Ddungu says.

For learners offering agriculture as a subject, Ddungu says they need to put what they learn in practice by finding however small a piece of land available to use it to grow something.

"They need to follow the scientific approaches talked about in class like composting, measurements and times activities. They can also introduce some research in their work by using the right methods and the other approaches so that their gardens become educational spaces for community members. They should remember that they are in school to learn how to transform their communities," Ddungu says.

He encourages parents to make agriculture enjoyable and interesting to the children so that it does not seem like a punishment.



"Set a time table when the whole family can work in the gardens or farm. Parents then show their children how to do work as they talk about life issues. Where possible buy the right farming attire and tools." he explains.

Dungu says coming up with a reward system can be a good element to interest children in farming.

"Come up with a reward system, say 50% of proceeds are theirs or 100% depending on the project at the time of harvest. For example, vegetables can be 100% but eggs might be 50%," Ddungu says.

During her address to the nation on April 20, Janet K. Museveni the First Lady of Uganda and Minister of Education and Sports noted that in the present circumstances of total lockdown, the greatest contributors to learning are the parents and immediate family members.

"I appeal to parents and families, to help learning take place by involving the learners in their home activities to give them skills for life such as cooking, cleaning, gardening, looking after animals, business, art, music, physical activity, play, sports and many others," Mrs Museveni said.

On the continuity of learning, Mrs Museveni said that this happens beyond the four walls of a classroom but reinforced by the effective implementation of the whole curriculum.



"Spend time with your learners to develop their values and positive attitudes. Tell them stories, riddles, and other life lessons, and support their learning. Help your learners to make a craft or develop an innovation which will be required at school at the re-opening," Mrs Museveni says.

Brian Kibirige the Gayaza High School farm manager encourages teachers to think of ways of involving learners like zoom and WhatsApp where learners can make presentations.

"Many learners will not revise agriculture unless we engage them. Last week we had a zoom meeting involving learners and agricultural teachers. The learners presented to their teachers' activities they are doing on the farms and it was very interesting," Kibirige says.

However, he says the initiative needs to be expanded to reach more learners and teachers.

"When children know that they have to present, they will always put extra effort and by doing so learning will continue even when they are at school," Kibirege says.