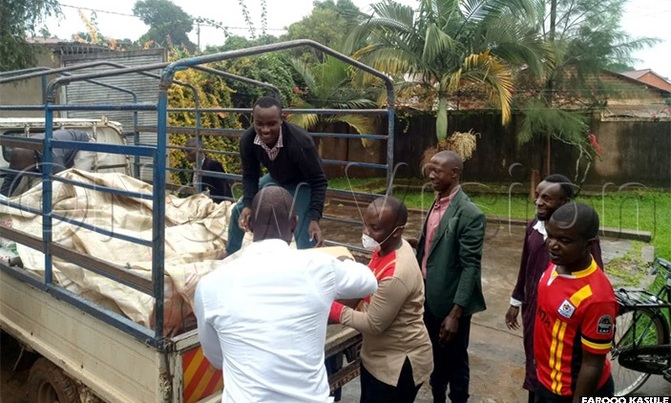 The president of the journalists association, Bashir Kazibwe Mbaziira, said the programme targets mostly scribes who are paid per story.
HEALTH COVID-19 RELIEF

KAMPALA - Uganda Journalists Association (UJA) has launched a campaign to distribute food to journalists in distress during the COVID-19 lockdown.

Addressing the media at UJA headquarters in Kawempe, the president of the association, Bashir Kazibwe Mbaziira, said the programme targets mostly journalists who are paid per story.

The first phase will see over 100 journalists benefit from the project. "We don't want the efforts of journalists, especially those paid per story, to go in vain. Some journalists lack essentials to cater for their families," Kazibwe said.

He noted that following the outbreak of the first COVID-19 case in March, journalists have been working relentlessly to serve the nation but are vulnerable.



"The association has mobilised food relief that will be distributed to members that have been most affected by this extended lockdown," Kazibwe said.

According to Kazibwe, each beneficiary will get 10kg of maize flour, 3kg of beans, 2kg of sugar and 2kg of rice.

In order to maintain the presidential directive of social distancing, Kazibwe said the foodstuff for each beneficiary will be packed and delivered to their respective media houses.

"For those who cannot move to their work stations, we will ask for guidance from the security taskforce on how to deliver packages to their respective homes," Kazibwe noted.

Kazibwe said although the media was listed among the essential service providers, they have received reports indicating that some media houses have sent a number of journalists on forced leave, which he said was unfortunate.



"These circumstances have forced us into reaching out to various institutions, government and well-wishers to support our members. We thank businessman Hamis Kiggundu who has positively responded to our call and we invite many other friends of the media to support us," Kazibwe said.

UJA secretary for information Ronald Kabuye said journalists who are distressed should reach out to them for support.

UJA applauds Gov't on COVID-19 fight

The journalists' body, also applauded the Government for its selfless effort exhibited so far in the fight against the deadly coronavirus pandemic.

"Let us continue to observe all the guidelines issued by the government and the ministry of health in order to flatten the curve of COVID-19 cases in Uganda," Kazibwe said.

Keep off fake news

Meanwhile, UJA appealed to journalists to maintain their good work exhibited during this period by keeping off fake news regarding COVID-19.

"Let us only report authentic, well-researched and balanced reports on COVID-19," Kazibwe said.