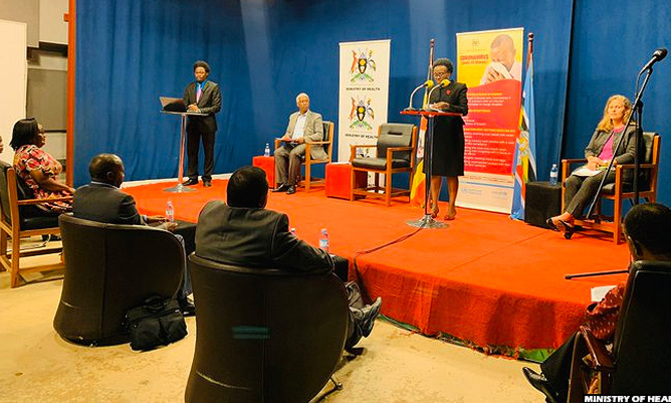 Uganda's health minister Dr. Jane Ruth Aceng and a team of scientists have given a comprehensive update on Uganda's coronavirus response.
UGANDA BATTLES CORONAVIRUS

Live reporting by Joseph Kizza
Twitter: @joekizza

(Scroll down the page for earlier updates)

___________________________


6:31pm | 'Be patient and alive'

Health minister Dr. Aceng says that despite the ongoing lockdown, Ugandans should note that neighbouring DR Cong has declared an Ebola outbreak.

"They have reported some deaths," she says, warning people particularly at the border point to steer clear.

In her concluding remarks, the minister urges caution in the fight against coronavirus.

"Ugandans, let us not start celebrating. We are aware of what is happening in other countries," she says.

And while there are voices of disgruntlement from some sections of the public because of the inconveniences caused by the restrictions in force, the minister says we should remember that this is "a battle of life and death" and requests "you to be patient and alive" as efforts are being made to bring life back to normalcy.


___________________________


6:20pm | Six areas to consider before lifting lockdown

"Communities should be fully educated, engaged and empowered to adjust to this new norm. Those cultural and life changes have to come," says WHO country representative Dr. Yonas Tegegn.

This is one of the six areas of assessment he underlines that a nation must consider before lifting the lockdown:

1. Transmission should be controlled - if there, indeed, is transmission going on

2. The health system capacity is in place to detect, test, isolate and treat every case

3. Outbreak risks are minimised in special settings like health facilities, nursing homes and among vulnerable groups

4. Preventive measures are in place in work places, school and other places where it is essential for people to go

5. Importation risk can be managed e.g. testing of incoming cargo transporters, like what is happening now at border points

6. "Probably most importantly", communities are fully educated, engaged and empowered to adjust to this new norm.

On a doomsday scenario for Africa, Tegegn says that Africa should work hard to ensure that they don't follow the path of continents such as Europe, which have been hit hard by the pandemic.

Meanwhile, there have been more than 2,251,695 reported COVID-19 infections around the world, from which 154,188 people have died, according to an AFP tally at 2pm (Ugandan time) Saturday based on official sources.

The United States has the most deaths of any country with 37,079 fatalities.

Italy is the second hardest-hit country, with 22,745 dead. Spain follows with 20,043, then France with 18,681 and Britain with 14,576.


___________________________


6:12pm | 5G and coronavirus

There has been talk going around linking 5G technology to the coronavirus.

"There is no evidence that the two are related," is the emphasis from one of the scientists taking part in today's update.



The WHO has previously weighed in on the 5G-coronavirus link. It states:

Health-related conclusions are drawn from studies performed across the entire radio spectrum but, so far, only a few studies have been carried out at the frequencies to be used by 5G.

Tissue heating is the main mechanism of interaction between radiofrequency fields and the human body. Radiofrequency exposure levels from current technologies result in negligible temperature rise in the human body.

As the frequency increases, there is less penetration into the body tissues and absorption of the energy becomes more confined to the surface of the body (skin and eye). Provided that the overall exposure remains below international guidelines, no consequences for public health are anticipated.


___________________________


6:05pm | Psychosocial norms changing

Dr. Henry Kajumbura says that COVID-19 is changing the pyschosocial norms and is, in the long run, bound to influence the psychosocial culture of Ugandans.

Some people are dealing with the crisis better than others, he adds.

In March, the World Health Organisation declared the outbreak of COVID-19 a public health emergency of international concern. After doing so, the health agency issued guidelines on the mental health and psychosocial considerations during the outbreak.

Part of this was a message for people in isolation, as follows:

Stay connected and maintain your social networks. Try as much as possible to keep your personal daily routines or create new routines if circumstances change. If health authorities have recommended limiting your physical social contact to contain the outbreak, you can stay connected via telephone, e-mail, social media or video conference.

During times of stress, pay attention to your own needs and feelings. Engage in healthy activities that you enjoy and find relaxing. Exercise regularly, keep regular sleep routines and eat healthy food. Keep things in perspective. Public health agencies and experts in all countries are working on the outbreak to ensure the availability of the best care to those affected.

A near-constant stream of news reports about an outbreak can cause anyone to feel anxious or distressed. Seek information updates and practical guidance at specific times during the day from health professionals and WHO website and avoid listening to or following rumours that make you feel uncomfortable.


___________________________


5:50pm | President to address nation on Sunday

Meanwhile, President Museveni will address the nation on the coronavirus situation on Sunday, according to his senior press secretary Don Wanyama.


Tomorrow, Sunday 19th, at 8pm, @KagutaMuseveni will address the country on key issues in the fight against COVID-19 so far. All TVs and radios to relay address, don't miss. @KennethOmona @UCC_Official @GCICUganda @ubctvuganda @nbstv @ntvuganda @newvisionwire @OfwonoOpondo

— Don Wanyama (@nyamadon) April 18, 2020

___________________________


5:45pm | We should not let our guard down

"The asymptomatic cases who are out in the public are very dangerous because they continue to shed the virus," says Dr. Jane Kibuuka from Mulago Hospital.

On the question of alternative medicine, Prof. Freddie Ssengooba says that "traditional medicine should go through rigorous approval" before it can be used.

He is also keen to underline that as the country deals with COVID-19, the disease continues to share symptoms with other diseases that kill Ugandans every year. His point is that while much of the attention is on curbing coronavirus, the guard should not be let down on handling other diseases.


___________________________


5:30pm | Is Uganda treating the same virus?

Our [corona]virus matches those viruses from other countries, comes the response.

The expert is talking sequencing and stuff like that. I will spare myself a biological headache. The most important thing to pick from this is that yes, the coronavirus strain that Uganda is treating is similar to that that other nations are treating.

___________________________


5:25pm | Where is the Tanzanian driver?

This 34-year-old driver was identified through a tracking system and channeled back to the Mutukula border. He was from Dar-es-Salaam, Tanunderstood to have arrived at Mutukula border post on Thursday. According to the ministry's statement, he was asymptomatic

As of now, he is in repatriation back to his home country - Tanzania, says Lt. Col. Dr Henry Kyobe, a senior consultant epidemiologist.


___________________________


5:18pm | When do we get to loosen the grip?

Prof. Rhoda Wanyenze, a physician and public health consultant, takes this question.

"Preparatory activities" have to be undertaken to ensure that the fight against the virus is effective.

Lifting the lockdown is guided by a World Health Organisation checklist, she says.

For instance, how safe are the markets or offices? How is the issue of stigma being addressed?

These issues must be adequately addressed when deciding to lift the lockdown. "And this must not be done abruptly - it must be handled gradually," says Wanyenze.

"It must be orderly and it must be guided by science."


___________________________


5:13pm | Question time

The team is taking questions from reporters.


___________________________


5:10pm | On payment of health workers

There has been ubiquitous talk that health workers on the frontline of the coronavirus fight have not been paid their allowances.

"We are in the process of ensuring that these allowances are swiftly paid after receiving the bank accounts of these workers from their supervisors," assures Dr. Aceng.


___________________________


4:57pm | 'Stay away from truck drivers'

Health minister Aceng has urged people who live near the roads plied by truck drivers to "stay away from these truck drivers". Women who interact with them in whicever way have also been warned to steer clear.

"Those who defiantly use these trucks as a means of transport are warned to stop these unlawful activities," cautions the minister.

"Do not accept visitors into your homes - even your neighbours. Avoid trading centres and other business centres."

The health ministry plans to "routinely" test health workers who are tracking suspected patients and those handling active patients of coronavirus.

In addition, the ministry will test all people coming in, including United Nations (UN) staff coming through to provide support.

Aceng says they plan to enhance risk communication so that the public is adequately sensitized on the ongoing crisis. She urges the public to also reach out to them for any relevant communication.


"The Ministry of Health would like to hear from you on a weekly basis," says Aceng.
.@JaneRuth_Aceng gives an updates on the COVID-19 response in Uganda.

As of today, Uganda has a cumulative number of 55 confirmed cases. Of these, 20 have recovered while 35 are active cases. Please note that this is a cumulative number comprising recoveries. #STAYSAFEUG pic.twitter.com/0dE9k9gA0V

— Ministry of Health- Uganda (@MinofHealthUG) April 18, 2020

___________________________


4:53pm | Testing cargo transporters

Dr. Aceng says that all district and national referrals have received protective wear to make work easier.

Another strategy that the ministry has used is risk communication, where districts task force teams have disseminated information on the coronavirus to the public. Messages have been translated into seven different languages.

The ministry has also taken on the strategy of testing cargo transporters at Ugandan borders. So farm one Ugandan, one Kenyan and one Tanzanian drivers have been found to be positive of coronavirus.

It is understood that on average, 2,500 trucks cross Uganda's border points daily and with such numbers, the minister says that personnel and testing equipment will have to be ramped up so as not to disrupt the flow.


___________________________


4:45pm | 46 of 55 confirmed cases have history of travel

The health minister underlines some of the achievements during Uganda's fight against the coronavirus.

A total number of 9,975 persons have been tested and 9,920 of these were negative.

Of the 55 confirmed COVID-19-positive individuals, 46 were found to have a history of travel.

All staff of Entebbe who have been taking care of patients have been tested and all have been found negative of the coronavirus. All staff at Mulago are undergoing testing, the minister adds.



___________________________


4:36pm | Ministerial update gets under way

And we are under way.

Dr. Jane Ruth Aceng, the minister of health, is on the podium.

She says that 20 coronavirus patients have been discharged, which leaves a total of 35 active cases in Uganda.

She says that the direction of handling the coronavirus will be determined by the "behaviour, support and co-operation" of the public.


___________________________


4:18pm | Security warns drivers on non-essential travel

You must have seen pictures circulating on social media platforms of strangely busier Kampala streets in a time of a nationwide lockdown.

When President Yoweri Museveni announced the suspension of public transport and later private vehicles, he underlined that only motorists carrying cargo and essential workers, as well as for cases of emergencies, would be allowed on the road. These would be given stickers by the transport and works ministry for that matter.

The joint taskforce on security has come out to issue fresh warning to motorists flouting these regualations.

Below is their statement:


The Joint Task Force has observed an increase in the flow of traffic on major roads and high ways, despite the restrictions on the movement of public and private vehicles as part of the measures against the spread of the corona virus in Uganda. The public should know that the restrictions announced by H.E the President and the SOPs from the Ministry of Health were clear and permitted movement of vehicles under very essential and exceptional circumstances.

As a result, our enforcement teams shall be stepping up patrols along various routes and intensifying screening processes at all check points to counter all forms of movements that are not essential during this period. In addition, all motorists whose stickers are not linked to that particular category and those that are forged will be withdrawn and vehicles impounded. Those who fail to comply will definitely have their travel plans disrupted amidst other probable sanctions.

The Operation shall continue for the next 18 days of the curfew and partial lockdown. We expect to handover all impounded motor vehicles once the partial lockdown is lifted.

We would also like to also use this opportunity to inform all shop owners dealing in non essential items, and all those persons violating the ban on public gatherings and proper hygiene that their behaviors risk the safety of all Ugandans including their families. Our task teams shall not tolerate all acts of none compliance to the directives and guidelines on health and safety.

We have meanwhile dispatched our teams of CLOs and Political Commissars who will continue engaging the public to help them understand the gravity of Covid 19. We call upon all Ugandans to remain vigilant and adhere to social distancing regulations.


___________________________


4:06pm | Minister's address delayed

It is a little over an hour now since the health minister was scheduled to start her address.

If you ask me, I don't know why it has delayed, but we shall keep waiting.


The Minister of Health, @JaneRuth_Aceng will give the 2nd comprehensive update on COVID-19 response today at 3:00pm.
Stay tuned on your TV and Radio stations. #STAYSAFEUG pic.twitter.com/7uFmloKxHf

— Ministry of Health- Uganda (@MinofHealthUG) April 18, 2020

___________________________


3:58pm | He is back!

Meanwhile, allow me to veer a bit from the coronavirus narrative.

Joseph Sabiiti was a face most of you were used to seeing on TV - until he took a back seat. Fast-forward to present day and the smart, eloquent journalist is back, and very soon, he will be right in your faces again.

He will be on Vision Group's Urban TV hosting a brand-new show Check Point!

I know you can't wait :)


COMING SOON: CHECK POINT!#VisionUpdates | #StaySafeUG pic.twitter.com/n48TJU87lO

— The New Vision (@newvisionwire) April 18, 2020

___________________________


3:45pm | Sly foxes on the loose

With most of us confined to our homes, our movement limited due to the anti-coronavirus measures, we have had to get crash courses on how to carry out transactions on either mobile or online.

It is also the time when crooks are leaning in closely to try and make the most out of the situation. The Uganda Communications Commission is telling you to be alert so that you do not fall victim to mobile money fraud.

So, watch your back.


Beware of increased Mobile money fraud!!
Choose to:
1. Ignore or Report (Call 100) people claiming to Register/Switch-off your phone.
2. DON'T use CODES or Approve transactions you DON'T Know.
3.DON'T share your PIN.#StayHomeStaySafe pic.twitter.com/D6utW3CYBk

— UCC (@UCC_Official) April 17, 2020

___________________________


3:17pm | Advisory committee to join minister for address

For today's address on Uganda's coronavirus response, it is understood that health minister Aceng will be in the company of the Scientific Advisory Committee and partners.


___________________________


3:13pm | What's happening in other parts of the world?


Coronavirus deaths have surged past 150,000 worldwide with nearly a quarter of them in the United States, where President Donald Trump lent his support to protesters rallying against lockdown orders.

Evidence is mounting that social distancing successfully slowed the pandemic after more than half of humanity -- 4.5 billion people -- were confined to their homes.

Governments around the world are now grappling with when and how to ease lockdowns that have crippled the global economy, even as the COVID-19 death toll climbs further in hard-hit countries.

Demonstrators in three US states rallied in public this week to demand an end to the restrictions, with the largest protest in Michigan attracting 3,000 people -- some of whom were armed.

Trump has largely left decisions on easing lockdowns to state officials even as he laid out guidelines for a staged reopening of the national economy.


But his call to "liberate" Michigan, Minnesota and Virginia in a series of tweets late Friday were quickly rebuked by the Democratic leaders of all three states.

"I do not have time to involve myself in Twitter wars," said Virginia governor Ralph Northam.

The US accounts for nearly a third of the 2.2 million coronavirus infections reported globally.

It has also recorded around 37,000 deaths, more than any other nation, followed by Italy, Spain and France which have all been ravaged by their own outbreaks.

Many countries are testing only the most serious cases and the number of confirmed global cases is likely only a fraction of the true total.


Virtually no corner of the world has been left untouched, with deaths in Africa passing 1,000 overnight.

Nigeria announced the death of President Muhammadu Buhari's top aide on Saturday, the highest-profile person to succumb to the virus in Africa's most populous nation.

And much of the world's 260 million Orthodox Christians were also preparing to mark their Easter celebrations without attending mass.

The Russian Orthodox church has asked the faithful to mark the occasion at home, even though many places or worship will remain open, while services in Turkey will be closed to the public and broadcast on the internet.


Cover-up claims

China sharply raised its own death toll to 4,636 on Friday after adding another 1,290 fatalities for the city of Wuhan, where the respiratory disease first emerged late last year.

Trump, who has angrily shot back at claims he reacted too slowly to the virus threat, has accused Beijing of downplaying the impact of the virus within its borders.

"It is far higher than that and far higher than the U.S., not even close!" he tweeted.

Trump did not offer evidence to back the claim, but pressure has mounted in recent days on Beijing to come clean over its handling of the initial outbreak.

Leaders in France and Britain have also questioned China's management of the crisis but Beijing hit back, saying it had not concealed information about the illness.


Signs that the outbreak could be easing in parts of Europe prompted Switzerland, Denmark and Finland to begin reopening shops schools this week.

Germany's health minister said infection rates had "sunk significantly" after 3,400 deaths in his country, which is now beginning the delicate task of lifting some restrictions without triggering a secondary outbreak.

Some small shops will be allowed to reopen Monday, and some children will return to school within weeks.

Parts of Italy also began emerging from lockdown, with Venice residents strolling around quiet canals.

But Japan, Britain and Mexico all expanded their current movement restrictions.


Economic damage

Signs of the economic carnage wrought by the pandemic are mounting, with China reporting its first contraction in GDP since at least the early 1990s after several decades of breakneck growth.

The Trump administration pledged another $19 billion in relief for farmers reeling from a massive jolt to the agricultural markets with schools and restaurants shuttered across the country.

Part of the funds will be used to buy up surplus dairy products and produce that farmers have been destroying, unable to get it to consumers or food processors.

"Having to dump milk and plow under vegetables ready to market is not only financially distressing, but it's heartbreaking as well to those who produce them," agriculture secretary Sonny Perdue said.

African state leaders and global financial bodies warned on Friday that the continent needed tens of billions of dollars in additional funds to fight the outbreak.

The IMF also warned the virus could spark another "lost decade" in Latin America and backed debt moratoriums to free up spending for the region's fragile economies.




___________________________


2:50pm | Social distancing? What exactly is it?

Quick one: What would you be doing on a typical Saturday afternoon?

Something outdoorsy, I bet. But these are unsual times we are living in due to the ongoing coronavirus pandemic that is spreading across the globe.

In an era of lockdowns and social distancing, you might be wondering what social distancing really means. Thankfully, the health ministry has attempted to break it down for us.
Social distancing means keeping space between yourself and other people outside of your home.

How can you practice social distancing?

1. Stay at least 4 meters from other people
2. Do not gather in groups
3. Stay away from crowded places#STAYSAFEUG pic.twitter.com/KmB0WrB0Vl

— Ministry of Health- Uganda (@MinofHealthUG) April 18, 2020

___________________________


2:45pm | What we know so far

On Friday, the health ministry confirmed one new coronavirus case out of the 744 samples tested among truck drivers at border points of entry. In a statement, the ministry said a further 376 samples from individuals under institutional quarantine and contacts in the country tested were all negative.

It means the total number of samples tested on Friday at the Uganda Virus Research Institute in Entebbe was 1,220.

That person who was confirmed to have coronavirus is a 34-year-old Tanzanian truck driver from Dar-es-Salaam, Tanzania, who is understood to have arrived at Mutukula border post on Thursday. According to the ministry's statement, he was asymptomatic, and "efforts are under way to track the driver and return him to Tanzania".

The ministry had earlier erroneously indicated that the positive case was from the community, and later made the correction.

As of now, the total number of confirmed cases of COVID-19 in Uganda is 55, with no coronavirus-related death.


___________________________


2:40pm | Good afternoon

Hello everyone! Welcome to New Vision's live text coverage of today's address by health minister Dr. Jane Ruth Aceng on the ongoing coronavirus crisis. She is set to deliver the second comprehensive update on Uganda's coronavirus response.

Stick with us.