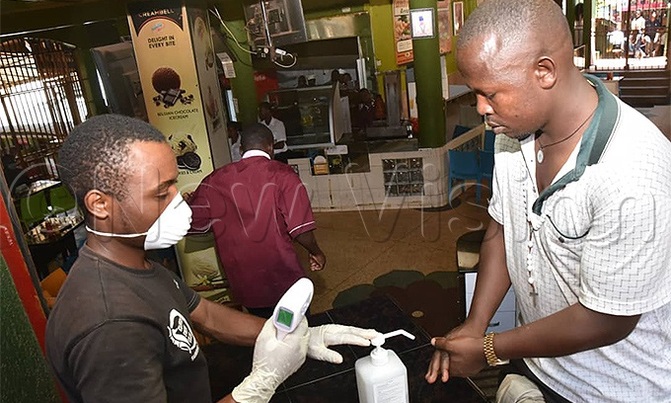 Uganda has been praised for taking decisive measures against the pandemic even before it registered a case of the virus.
HEALTH COVID-19

KAMPALA - When the coronavirus broke out in Wuhan, central China, in December last year, the experts warned of the possibility of a pandemic. However, the speed and magnitude by which it spread all over the world took many countries by surprise.

Uganda has been praised for taking decisive measures against the pandemic even before it registered a case of the virus.

The President progressively took measures to curb the pandemic such as declaring quarantine in the whole country, closing schools, shopping malls and closing borders, to a total lockdown, first of 14 days to another 21 days.

However, with all borders locked, many countries are forced to fight the pandemic single-handedly. With many of Uganda's sectors affected by COVID-19, the country has a lot to draw from the pandemic when dealing with the possibilities of future crises.

Dr Peter Waiswa, Associate Professor of Health Policy Planning and Management of the School of Public Health at Makerere University says COVID-19 should be a wakeup call for Uganda.

According to Waiswa, after COVID-19, Uganda needs to address high levels of Out-of-Pocket expenditure to protect households from catastrophic spending by broadening pre-payment mechanisms such as Social Health Insurance.

He adds that the government will also need to increase investment in the health sector if we are to increase access to health care and improve the quality of services.

"The country needs to explore alternative ways of mobilizing domestic resources to improve financial sustainability including the improvement of efficiency in resource use. There is, also, need for proper prioritization of interventions and continue the steady-shift of more financing towards preventive health care services rather than the curative care," he explained.

According to Waiswa, the government will need to develop appropriate policies that build appropriate public-private partnerships to increase access to affordable health services for the entire population.



Waiswa says, for long, the country has failed to understand that investing in human capital is the core of any society. Explaining that even the World Bank, considered human development capital and the potential productivity of the population as what drives the economy.

"Everyone should be empowered to be healthy, make primary health care a routine activity in the community, and also empower everyone to be responsible for themselves. It is a shame for us to be forcing people to wash hands yet this should be what people do in their everyday lives," Waiswa said.

He added issues of public health should be enforced in the school curriculums such that right from nursery to secondary, it is mandatory to wash hands. Even in public places such as markets, supermarkets, hospitals, schools among others need to have handwashing places.

Waiswa also suggests that after COVID-19, the government should build community resilience which is centred around the people and resources in the community.

"Village Health Teams (VHTs), women groups, church groups, health facilities, among others should be empowered to respond to simple tasks such as teaching others on hygiene, primary health care among others," he said.

According to Waiswa, the government should think of investing more in science to drive the response.

"There should be an advisory committee of scientists, not doctors alone because, at the moment, we need more scientists to look for solutions, not doctors who are just going to treat. What if the pandemic continues, what will happen?" he asked.

Dr George Bhoka, the district health officer for Adjumani suggests that after COVID-19, the government should think of ensuring that all medical professionals in the country are trained to handle all medical cases.

"It is shaming for workers to run away from medical facilities because they fear to treat people with chronic diseases. This is because they are not empowered or trained to handle any case that comes their way," he emphasised.

Bhoka also advises that the health ministry should equip all the facilities with emergency drugs and other necessary materials such as gloves, masks among others such that in case of any emergency, they don't have to wait for handouts.

"The medical facilities also should be functional at all times. Imagine if Uganda had cases like those in Asian countries or America, what would have happened? So, the government should ensure that we are equipped and ready to handle anything," he said.

Cecilia Ogwal, Woman MP for Dokolo District, says the fact that the whole world had been locked and everyone is for themselves, the government should think of putting in place measures that can help the country survive on its own.

According to Ogwal, Uganda needs to build her own capacity to be able to handle certain crises instead of thinking that without our colonial masters then we cannot exist.

"We need to think of starting to produce our materials using our locally available materials. Imagine if we were using our cotton to produce protective gears such as masks, overcoats among others, then we would not be straining ourselves with importation," Ogwal said.

She added that we should also create jobs to absorb the youths who are always swarming outside countries for jobs. Thousands are trapped in foreign countries and they cannot return until things are normal.

COVID has also helped the country to realise how much we had ignored the health sector to the extent that people have to travel to foreign countries to get specialised medication.

"This is the time we should invest and equip all our facilities here such that even the presidents and other VIPs are treated in the country. Imagine if one of them got a complication that needs specialised attention what would happen," she said.

She suggested at least every referral hospital across the country should be equipped with ICU and supplied with Oxygen, to avoid congesting a few hospitals.

Jim Mugunga, Director Public-Private Partnerships Unit for Ministry of Finance, Planning and Economic Development says COVID-19 is a good learning experience for the government to accept the realities of life and move a little bit faster. Government has always talked of digitalising most of the services but this never happened.

"Today, with people being locked down, mobile money and mobile banking are the solutions. People now are ordering domestic stuff online. Medical consultations, running farms are all done online. So the government should think of prioritising digitalisation in the country," he said.

So government should ensure instead of having to spend fuel to transport results from many kilometres to one testing centre, the government should think of having an online system of handling such cases.

Mugunga advises that when it comes to offering legal justice, today all courts are not functional because of the lockdown. So the government should think of creating a system where judges will be able to hear cases even when they are not in court.

"There are many people in prisons who would have been free in this period. However, they are still locked up because of COVID-19. However, if we had video conferences, cases would be heard without having to make people converge in on place," he added.

Mugunga adds that the cost of data needs to be revisited. In the lockdown, without data, it is hard to communicate. Many people are working from home and sharing with others online. So data needs to be reduced.

"Imagine if another pandemic happens after COVID-19 which required people to work from home, what would happen. So the government should ensure that data charges and taxes be reduced such that people and companies can access it since it has been realised that it is a necessity," he explained.

On the finance sector, Mugunga said COVID-19 has redefined the core priorities of where the government should allocate resources. The reality has been that resources must be assigned to certain areas which in actual reality are not even priority in the country.

"Priorities are now health, salaries and wages, security, and agriculture. So these need to be on top of the budgets agenda before others can also be looked at," he explained.

Mugunga added that even in homes, families should prioritise things they need for example Food, health, the safety of the family, before thinking of any other thing.

"People who think they cannot do away with drinking bars, birthday parties, baby showers, expensive weddings, huge numbers of funeral gathering among others should rethink how things are moving on now and adjust," he said.

Ugandans should also start thinking about personal health. Many thought they have to go to the gym, aerobics, among others to exercises. But now people are doing it free of charge in their homes, streets and roads. So this should also be the trend even after COVID-19.

Dr Ambrose Ogona, the director-general of the National Agriculture Research Organisation (NARO), says it is the government's responsibility to feed the country in times of crisis like these.



However, this can be possible if it puts in place permanent food reservoirs were food is stored in preparation of hard times and emergency. So this should be the government's propriety.

After COVID-19, the government should embark on encouraging people to have storage facilities other than selling everything as it is harvested.

"It should be an order by the government to people to have small silos in their houses, revive granaries among others such that government does not have to suffer to feed people," he said.

Julius Mukunda, the Executive Director for Civil Society Budget Advocacy Group (CSBAG), says the government should ensure that it puts in place systems aimed at early containment.

There should be permanent screening areas for everyone who enters the country. This can help to fish out illness could enter the country.

Mukunda also suggested that at the airports and other borders, the government should think of putting in place strict measures that are respected by everyone irrespective of the office some people holds.

"Ministers, general among others should not be the ones breaking the law because they feel they are untouchables. The government should put in place heavy disciplinary measures to curb those who think the country cannot survive without them," Mukunda emphasised.

According to Mukunda, the government should upgrade its disaster prepared systems. "Our frontline workers in cases of disaster, how are they supported to deliver in such hardship and remain safe?," he said.

Dr Simon Kawoya, of JJ medical centre Nansana added that this should also be the time for the government to empower local leaders such that they can enforce and help improve the wellbeing of the people.

"Wellbeing is everyone having clean toilets, having handwashing facilities in their homes, having clean environments among others. It is disheartening that everything has to be done by the central government even passing on public health messages. LC1 are just there to sell land which is discouraging," he said.