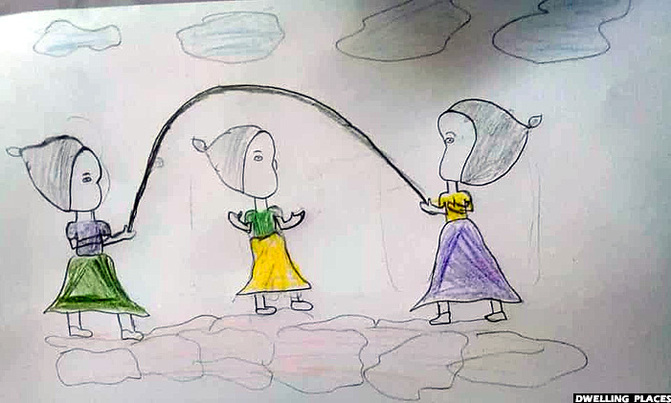 As we look to mark International Street Children Day this Sunday, the sharp focus is on the vulnerability of street-connected children in this fragile period of the coronavirus lockdown.
INTERNATIONAL DAY FOR STREET CHILDREN - APRIL 12

By Joseph Kizza
Twitter: @joekizza

____________________________


"I feel happy when I skip. I feel like a bird. I feel safe when I skip the rope with my friends."

That, up there, is what safety means to Grace (not real name). She is one of many children under rehabilitation at Dwelling Place's transitional home in Mutundwe, eight kilometres out of the city centre.

Her illustration of three girls engaged in rope skipping may come off as just any other simple drawing to the untrained eye, but to someone who works closely with and around minors for a living, there is much more than meets the eye.

"When you take time to study the picture this child has drawn, you realise there is something she is missing - and probably if that child got that one thing that they have drawn, then it would make them feel safe, protected and happy," says Jessica Abenakyo Badebye.

She is the manager of communications, strategy and impact at Dwelling Places, a Christian non-governmental organisation that, among other things, rescues and rehabilitates street-connected children in Uganda.

Abenakyo's explanation does well to lend useful definition, clarity and meaning to Grace's seemingly simple art.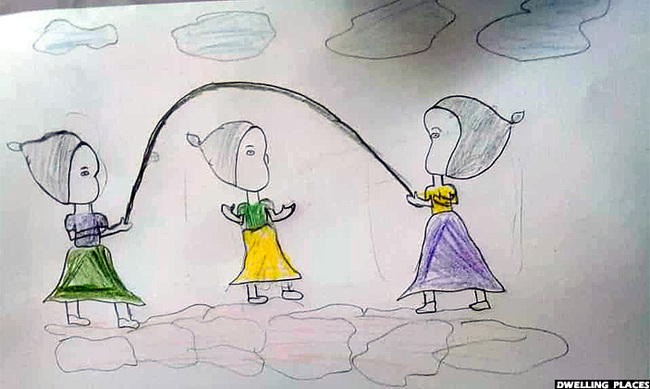 This Sunday, also Easter Sunday, is the International Day for Street Children, marked every April 12.

This year's commemoration is bringing into sharp focus the safety of street-connected children. While children like Grace are fortunate to have a safe space in the form of a rehabilitation facility, hundreds others are out vulnerable on the street.

And the current lockdown due to the coronavirus pandemic does not make life any easier for children that call the street home.

With the critical issue of safe spaces for street-connected children being at the heart of this year's International Day for Street Children celebrations, civil society organisations working with vulnerable children are calling for Government's action.

Dwelling Places, for instance, is amplifying the voice of the children-connected under rehabilitation using the method of drawing pictures.


So why pictures?

"From our experience working and consulting with children, we have found out that they usually prefer to draw," explains Abenakyo.

"In the midst of the coronavirus pandemic, Dwelling Places wanted to find out how safe the children we have under rehabilitation feel - or what makes them feel safe and happy. This fits well into this year's theme.

"We figured that we could put them through a little exercise on something they enjoy doing, which is drawing."

Again, the children's work may appear simple and sketchy, but beyond those scribbly shapes and colour, it is the interpretation lying beneath that tells the actual story.

Some of the drawings are of huts and sleeping in a nice bed (safety of home) while others illustrate play time (safety of being in company of other children).

"Some of these children feel safe and protected when they are in a school environment, and show this by drawing, say, a blackboard [as seen in the illustration immediately below of stick people]. This is because school generally provides a protective environment for a child," weighs in Abenakyo.

"There are rules and regulations - dos and don'ts. And there is a regular counselor, who is the teacher. So, being in school steers them clear of such issues as early pregancy and child trafficking."


Truth is, the coronavirus crisis has turned the whole world upside, generally reshaping the way of life of humankind as we know it. Most economic and social activity has inevitably screeched to a halt. Schools have also been closed to prevent the deadly virus spreading.

With active schooling on a pause, the sort of children that Abenakyo has talked about as a result are, therefore, not feeling safe and protected - for they are not in an environment in which they feel safer, which, in this case, is school.

Yet, the lockdown raises the vulnerability level of the children living on the streets several notches. In these delicate times, the greatest threat to the safety of street children against coronavirus infection is their way of living.

"Since they move about and stay together - and in close proximity with other communities, once one gets infected, the entire group also gets infected," says Pascal Lutaaya, who is the director of Kampala-based Mengo Youth Development Link (MYDEL).

Uganda is encouraging its citizens to wash their hands with soap and water with regularity and devotion to prevent the spread of the coronavirus.

But is this realistic for street children who, by large, live under unsanitary conditions? Does this measure even make any sense to them? Ideally, it should, but in reality, it doesn't.


Lutaaya's non-governmental organisation works with street children, vulnerable youths using drugs and sex workers, and empower them by way of sports, vocational training and community outreaches.
MYDEL also has a programme for rescuing, rehabilitating and resettling street children.

Lutaaya is an active young man who has an intimate connection with the slum area of Mengo-Kisenyi, where many of these street children stay. This is where he spent most of his childhood.

While he is not a street youth, he strives to see this vulnerable group get off the street and either get reintegrated with their families or get engaged in developmental activities. For his vast acquaintance with the ghetto life, Lutaaya is the vital link between the street children in that area and CSOs under their coalition Children at Risk Action Network (CRANE).

In Uganda, the International Day for Street Children was first commemorated on April 12, 2010, when CSOs joined hands under the umbrella of CRANE. The coalition has since continued to advocate for the welfare of children in street situations to date.

In reality, though, the street children situation remains a complex collaborative work in progress involving the Government, CSOs and other stakeholders.

It is proving a hard nut to crack. And the nationwide COVD-19 lockdown has presented its own unique obstacles to these efforts.

"Many of the street children do not have where to stay - they sleep in corridors of buildings, verandahs or out in the open. Those who sleep in groups have to cuddle in the night for warmth - it can get very cold out there," says Lutaaya.

"And for those who sleep in slums, you can find as many as 10 children in one tiny room. If one of them gets infected with coronavirus, it can spread uncontrollably from then on."


Adjusting in times of abnormalcy

One of the highlights of the KCCA Child Protection Ordinance 2019, which has yet to be gazetted, is to punish people who give handouts and services to street children.

"But in the current situation of coronavirus, we are happy that Government has co-ordinated with various stakeholders to provide a common place where these street children can be fed and given medical services," says Abenakyo of Dwelling Places.

"This, however, is a one-off. What happens after COVID-19?

"This is where, as CSOs, we would come in. It can be a rescue opportunity for those children who desire to come off the streets. An organisation that has enough space can take in some of these children who are willing to go off the street."


The UN Committee on the Rights of the Child has urged states to respect #childrights in responses to #COVID19 + to create measures to protect #streetchildren and prevent arrests when they can't comply with lockdowns and curfews #SafeSpacesForStreetChildren #StreetChildrenDay

— Ann Skelton (@askelton_CCL) April 10, 2020

Meanwhile, it is understood that a meeting involving key stakeholders was convened Friday on how to handle street children during this fragile coronavirus period.

A source says it was agreed that the children will be moved - voluntarily - to Nakivubo Blue Primary School in downtown Kampala. They will remain there for a 14-day period for their own safety, protection and care.

The Ministry of Gender, Labour and Social Development COVID-19 Intervention Plan indicates sh2.4bn set aside for the withdrawal, screening, testing, rehabilitation and resettling of street children.

The target here is to have 1,500 children withdrawn from the street, tested for the novel coronavirus, rehabiliated and reintegrated with their families.

For now, the critical question is: In what state will the International Day for Street Children find street-connected children in?


Also related to this story

COVID-19: Are street children safe?