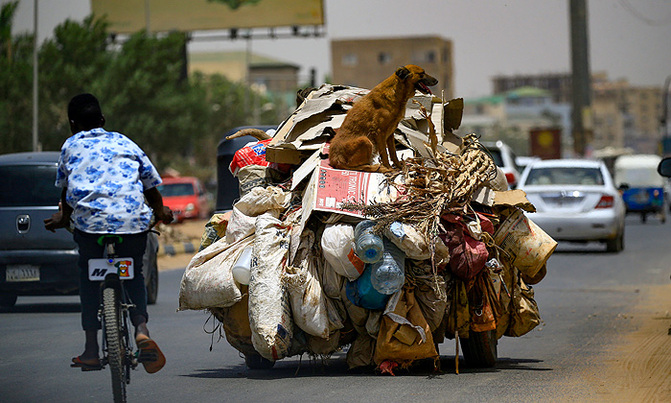 Life under a lockdown situation is as difficult as it is strange. So how are people dealing with the ubiquitous coronavirus situation around the world, you ask? We have got you covered.
CORONAVIRUS PANDEMIC

What is life like in a locked down world? Well, it is as diverse as it is during business-as-usual times. Check out these eye-catching pictures captured in the different parts of the world.

____________________________


Keeping in touch in isolation in Nairobi

At this Government designated quarantine facility in Kenya's capital Nairobi, these temporary residents are spending time on their balconies talking to each other.



Hundreds of people held under mandatory quarantine in Kenya after returning from abroad are up in arms after the government extended their confinement for another 14 days. Around 2,000 people were placed in forced quarantine as they arrived in the country from March 22 until international flights were banned three days later, a chaotic process criticised by some passengers as likely to have helped spread the virus.

Health ministry guidelines initially said that those quarantined would be tested after five days and if their results were negative they would be sent home to self-isolate. Those testing positive would be taken to treatment centres.

An unknown number were discharged. However the rest who had hoped for freedom after their two weeks were up were stunned when the government on April 4, 2020, ordered a 14-day extension of quarantine for those in facilities which had registered a positive case.


____________________________

Hitting the skies in Prague

In Czech Republic, this street artist soars through the air as he jumps on a mobile trampoline in Prague on a sunny April 9 during the exit restrictions amid the new coronavirus/COVID-19 pandemic.



____________________________

Errands in Izalco

El Salvador, is the smallest and the most densely populated country in Central America, bordered on the northeast by Honduras, on the northwest by Guatemala, and on the south by the Pacific Ocean.



Pictured above is a man riding a motorcycle carrying bags of vegetables in the indigenous city of Izalco, 60 km west of San Salvador on Thursday amid the new coronavirus outbreak. San Salvador is the country's capital.


____________________________

Not your usual painter in Massachusetts

On Tuesday, this seal got down to some art, brushing strokes with a canvas held by Marie Allen, the senior trainer at the New England Aquarium in Boston, Massachusetts.



The aquarium is closed to the public, and although they are not making any money through ticket sales, they still have to feed and care for the animals they have on sites during this pandemic. They are also not allowing any volunteers or visitors inside the main property building.


____________________________

Nifty Holy Week safety in Dortmund

Biscuits representing easter eggs with a face mask are displayed at the bakery Schuerener Backparadies in Dortmund, western Germany.




At the same bakery, these traditional easter chocolate cakes shaped as lambs are also decorated with face masks.



____________________________

Ordinary life under extraordinary times in Hamm

The sculpture "Everyday Woman Gerda" by artist Christel Lechner has been decorated with a face mask in this part of Hamm, western Germany amid the spread of the novel coronavirus COVID-19.



____________________________


Seeking a permit in Jo'burg

In Braamfontein, in the South African city of Johannesburg, these informal vendors gather in front of a municipal office building on Wednesday as they try to obtain a permit for working during the 21-day national lockdown that started on March 27 in an attempt to halt the spread of the COVID-19 coronavirus outbreak.



____________________________


'Sleeping on the job' in Kampala

Here in Kampala, Uganda's capital, these traders sleep next to items to be sold at Nakasero Market in the heart of the city following President Yoweri Museveni's directive that all vendors should sleep in markets or nearby for 14 days to curb the spread of the coronavirus.



President Museveni directed several measures to be observed during Uganda's 14-day lockdown to deal with COVID-19. Most recently, he announced that people should stop doing exercises in public, as doing so can facilitate the spread of the deadly virus.

Instead, he advised, they should do so in their homes - and he promised to demonstrate to the nation how to exercise indoors. Indeed, the President, aged 75, came good on his word when he posted a video and pictures of himself exercise in his office, drawing both local and international attention. Click here to read the story and watch the video.


____________________________

Panda foreplay in Hong Kong

Meanwhile, this handout photo provided by Ocean Park Hong Kong on Tuesday this week shows giant pandas Ying Ying and Le Le before mating at Ocean Park in Hong Kong. Stuck at home with no visitors and not much else to do, this pair finally decided to give mating a go after a decade of dodging the issue.



____________________________


Bored 'mannequin' in Bangkok

A woman wearing a face mask enters a shopping mall, partially closed to combat the spread of the COVID-19 novel coronavirus in Thailand's capital Bangkok. Supermarkets, pharmacies and banks remained open as other commercial business were closed at Bangkok shopping malls due to concerns over coronavirus.

But hey, have you seen this seemingly bored undressed mannequin? Or is it even one?



____________________________

Dog hitches ride in Khartoum

A young Sudanese boy rides his bicycle right behind a vehicle transporting domestic garbage, with a dog sitting on top of the pile in Sudan's capital Khartoum.


____________________________


Out and about in Prague

Street artists perform on the Charles Bridge early morning in Prague, Czech Republic, where most activities have slowed down or come to a halt due to the spread of the novel coronavirus COVID-19.




____________________________

Holding on in Guatemala

A man wears a face mask as he looks at a statue of Coloso also wearing one calling for prevention against the spread of the new coronavirus in Guatemala City. The Central American country has reported 95 cases of the COVID-19, including three deaths.



____________________________

Prayerful presence even in absentia in Bastia

Catholic priest father Georges Nicoli celebrates a Holy Thursday mass, livestreamed on Facebook, with pictures of parishioners taped to the benches in the empty Notre Dame De Lourdes church in Bastia, on the French Mediterranean island of Corsica on the 24th day of a lockdown in France aimed at curbing the spread of the COVID-19 pandemic, caused by the novel coronavirus.



It is a similar approach in west Germany as the evangelical pastor, Klaus-Martin Pothmann, stands in front of photos of believers who were asked to send in pictures to represent them among the pews at the St. Pankratius church in Hamm.



____________________________

Social distancing in Acapulco

We conclude this pictorial in Acapulco, a beach resort town on Mexico's Pacific coast, where Marco Antonio Galeana, parish priest of the Cordova church, hears the confession of a devotee outside the church on Thursday during the new coronavirus COVID-19 pandemic. Churches will be empty this Easter and Passover festivities will also take place behind closed doors owing to the COVID-19 lockdown. Christians will be obliged to turn to services broadcast on television or over social media this year and Jews will mark the Passover holiday in their own homes rather than as communities.




j