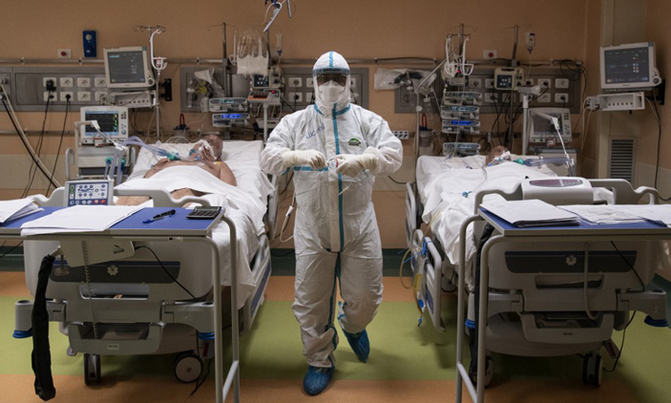 A look at why these conditions increase the risk of COVID-19 complications and what you should do if you are affected
Preliminary data from high incidence countries like China, Italy, Spain, USA, France, Germany, the United Kingdom, and Iran shows that some people are at higher risk of severe health complications from COVID-19.
According to the World Health Organisation, evidence to date suggests that two groups of people are at a higher risk of getting severe COVID-19. These are the elderly and those with underlying medical conditions.
The Ministry of Health also notes that older people and people with pre-existing medical conditions such as heart disease, diabetes, lung disease, and mental health conditions such as depression and anxiety appear to be more vulnerable to becoming severely ill with COVID-19.
Below, we look at why these conditions increase the risk of COVID-19 complications and what you should do if you are affected.
Heart disease
Dr Gerald Ssemanda, a cardiologist and a lecturer at Makerere University College of Health Sciences, explains that people with heart diseases tend to have other underlying conditions like high blood pressure, elevated cholesterol, diabetes, and lung disease, which weaken the body's health defense systems against viral infection.
"The fever associated with COVID-19 puts additional strain on the body's metabolic demands, stressing out the already weakened heart. Pneumonia, which is commonly seen with COVID-19, makes it harder for the lungs to oxygenate the blood. This puts further stress on the heart," Dr Ssemanda says.
"The infection also comes with inflammation which can damage the lining of blood vessels through which the heart pumps blood," he adds.
He advises those with diabetes to exercise regularly while social distancing as well as having a healthy diet to help strengthen the heart during the COVID-19 era.
Chronic respiratory disease
Dr Johnson Ogwang from Mulago Hospital says chronic respiratory diseases which include asthma and pulmonary hypertension are diseases of the airways and other parts of the lung.
"People with such diseases need to be especially vigilant about the coronavirus because one of the possible complications is pneumonia. Pneumonia compromises the lung, which brings oxygen to the body. In patients who already have a chronic respiratory disease, it can be lethal." says Dr Ogwang.
Ogwang advises CDR patients to have all their medications at hand at all times while following the
guidelines for handwashing, social distancing, and other coronavirus preventive steps.
Diabetes
According to Dr Ogwang, coronavirus is so dangerous for people with diabetes because the immune system is compromised making it harder for the body to fight off the virus. Ogwang says, viruses also thrive when blood glucose levels are high.
He adds that people with diabetes have heightened levels of inflammation throughout their bodies, which is another risk factor.
"If you have a viral infection, that can turn into pneumonia easier, because diabetes itself is an inflammatory disease. It is also important to note that when a person has diabetes, episodes of stress, like a viral infection, can increase blood sugar levels, which can also lead to complications," Ogwang says.
He advises those with diabetes to regularly monitor their blood glucose levels because any kind of infection can raise blood sugar levels. They should also have adequate water supply, enough medication, and testing supplies.
Depression and anxiety
According to Dr Racheal Nankinga, a psychiatrist at Butabika National Referral Hospital, COVID-19 does not only affect people with pre-existing physical conditions, but it can also have a serious impact on those with mental health issues, like anxiety and depression, even if you are not infected with the coronavirus.
"Fear of the virus and all the changes it is causing are driving anxiety levels up for everyone, but for people who have an anxiety disorder it is so much worse," says Nankinga.
Nankinga warns that people who have managed their disorder may relapse, and those actively struggling may be much more symptomatic. "Anxiety also worsens depression, particularly those whose depression is of the agitated variety, a subtype of the illness characterized by jittery, anxious, irritable behavior," she adds.
Nakinga adds that COVID-19 preventive measures such as social distancing, quarantining, and losing the structure of work can also increase symptoms of both anxiety and depression by increasing feelings of loneliness.
She advises those with anxiety and depression to exercise for at least 30 minutes each day and try relaxation techniques like deep breathing and mindfulness to help keep anxiety at bay.
"They should also try to maintain the normal daily routine even if they are in self-isolation or quarantine. This means getting up at the same time as they normally would, take a shower, get dressed, create and stick to a schedule, and maintaining normal sleep. If they work from home, they should make a dedicated workstation," she says.