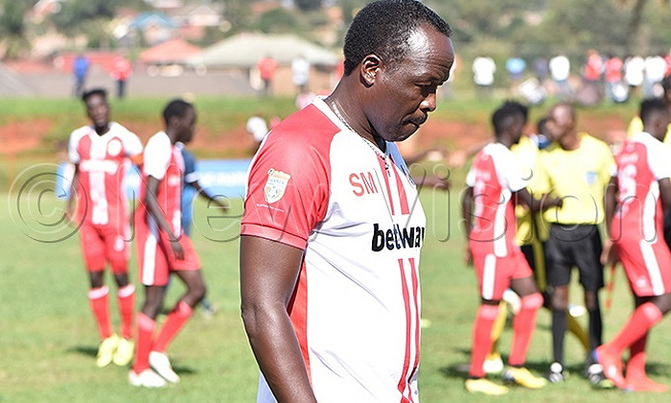 Some say the rate at which clubs gave their top tacticians the sack was alarming. Others feel it was ridiculous. A couple of other critics call it downright unnecessary.
STARTIMES UGANDA PREMIER LEAGUE


KAMPALA - Local football club doors have been revolving with a collective frequency not seen in recent times. Many coaches have marched through the exit door. Only a few have survived the chopping block.

The StarTimes Uganda Premier League is in temporary hibernation, like nearly all other sporting activity around the world that have been suspended due to the rampant coronavirus pandemic that has taken the entire planet by storm.

As active local football takes a back seat during this hiatus, this should be an ideal time to launch an inquest into what has been happening in Uganda's top-tier football.


The other day, we wondered whether the pruning of the league from 16 down to 12 teams, as proposed by local football governing body FUFA, is a good idea - and sure enough, the story received mixed reactions from readers.

Today, we look at why we have seen the departure of many coaches in the current campaign.

Some say the rate at which clubs gave their top tacticians the sack was alarming. Others feel it was ridiculous, and a couple of other critics call it downright unnecessary.

With the exception of KCCA, Villa, URA, Police and Busoga, all the other 11 clubs dismantled their coaching leadership at some point of the seaon, leaving themselves in a state of either intensified vulnerability or much-needed improvement.

So what is behind all this?


Inadequate facilitation

Police head coach Abdullah Mubiru says some club owners do not back their coaches sufficiently to be able to bring in the sort players that fit in their respective setups - yet they continue to demand positive results.

"Surprisingly, the owners of such clubs are interested in good results but are not investing adequately to get those results.

"A coach can request for a player but the club is unable to get that player. As a coach, you are left with no option but to scout for promising players from lower divisions yourself and groom them so they can fit in and hopefully give you the desired results," says Mubiru.

"It is a lot of pressure."


Depending on the appointment agreements with their respective clubs, sacked coaches are supposed to be compensated if their contracts are still running by the time of their dismissal. But are they really?

On this, Mubiru only says that if fired coaches were to go ahead and drag their clubs to court, the club owners would end up spending most of their money compensating them, potentially leaving them against the wall and on the brink of collapse.

Matia Lule was charge of Proline this season, before he left the club to go for studies in Europe.

He says some top-flight clubs are short-sighted and impatient, and all they aim for are results on the pitch. He cites his brief tenure at KCCA, where he signed a contract of three years and it was, according to him, agreed he was to rebuild the team in the first two years and focus on the title in the third year.

However, after a good start of seven straight wins in the first season in charge, the administrators and fans got too excited and began singing 'We are winning the title!'.

Lule says that when he failed to win it at the end of that campaign, the Lugogo-based club dismissed him.


Remuneration

"The problem with these club owners is that they don't have a vision for the club but only want to see the team winning, which is not sustainable.

"They don't respect the agreements and after the team registers quick success, they shift their minds to winning the league title, which is was not agreed upon in that period," argues Lule.

"If you fail to achieve that [winning the title], you are fired."

Remuneration is also another factor.

Lule says some clubs do not pay coaches consistently, which deflates their morale and results into poor performance on the pitch. "Some coaches and players go for months without payment. How do you expect them to be motivated?"

Meanwhile, Proline director Mujib Kasule weighs in on the subject.

Speaking from an administrator's point of view, he says some coaches fail to groom players to extract the best out of them to improve results, which he argues is their primary task.


'Change must-win-every-game mentality'

Kasule, who has previously been a coach himself and has vast experience in football administration, says some coaches are only after money and that should the club fail in any way to pay their salary, they right away lose interest in the job, leading to poor results.

"All that is requested of [coaches] is to groom the players and use these same players to help improve results. Failure to do so will see the owners fire you," says Kasule.

"Some are after money. When a hot deal is presented to him, he doesn't think twice about what his CV bears. Eventually, he will be moving from this club to another, which kills one's reputation," he adds.

Kasule may be critical of coaches, but he also puts the blame on his fellow football administrators - for being myopic in desperation for success, which leads them into making rash decisions.

"As administrators of these clubs, we have got to change the mentality that the team must win every game. This is very bad because after three losses, the coach is fired.

"I think we need to be patient with our coaches," says Kasule.

(Editing by Joseph Kizza)


ALSO RELATED TO THIS STORY

Maroons coach Bamweyana, CEO sacked

New Express boss Bbosa optimistic of revival

Is a 12-team Uganda Premier League a good idea?