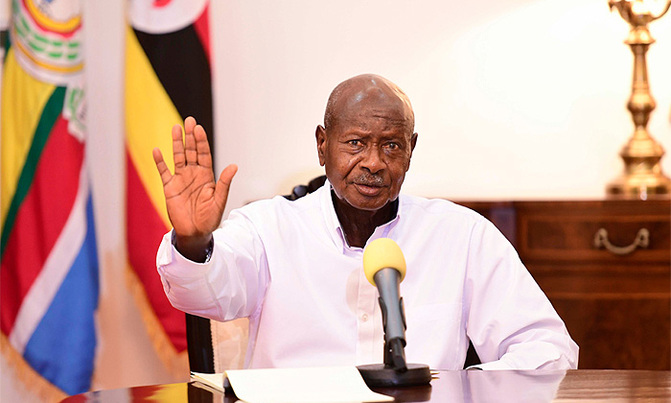 President Yoweri Museveni warns mischievous LDU officers to stop storming people's homes during night-time curfew patrols, as Uganda's confirmed coronavirus cases rise to 48.
PRESIDENT MUSEVENI UPDATES NATION ON COVID-19

Live reporting by Joseph Kizza
Twitter: @joekizza

(Scroll down the page for updates)

________________________________


10:02pm | Good night!

That's all for this evening's live coverage of the coronavirus situation in Uganda. Glad you could join me. Please continue keeping yourself safe.

Oh, and for you who is to receive relief food starting Saturday (April 4), remember the teams will find you at your home. Stay put.

Good night!



________________________________


10:00pm | Three new confirmed cases - tally rises to 48

The President gives an update on the latest tested samples. He says that from the 419 samples tested on Friday, three returned positive. Two of these came from Dubai (UAE) while the other was from the US.

The latest confirmed cases were in quarantine, he adds.

The update means that the total number of coronavirus-positive cases in Uganda has risen to 48.


________________________________


9:55pm | Relief food will find you at your doorstep

The Minister for Kampala and Metropolitan Affairs, Betty Amongi, says the relief food distribution exercise will be conducted on a door-to-door basis.

"Stay in your homes and we shall find you there," she says.

Meanwhile, she adds that in Greater Kampala, government vehicles have been stationed in 29 points for emergency purposes. Emergency call numbers through which these vehicles can be reached by local people have been broadcast via local radio.


________________________________


9:47pm | Lockdown is ubiquitous

By the way, the coronavirus lockdown is not only in Uganda. A peek over to neighbouring Kenya will paint a similar picture for you.



________________________________


9:39pm | On stickers for vehicles

Works and transport minister Gen. Katumba Wamala talks about stickers for vehicles exempted from the restriction on public movement. He says his ministry allocated a specific sticker, different from the others, for health workers.

"We gave health 200 stickers," he says.

For the Greater Kampala Metropolitan, Katumba's ministry issued stickers for essential services, including government departments, utilities, banks and telecommunications companies.


It is a different arrangement for areas outside of Kampala, where the respective district taskforce agents are responsible for overseeing the granting of permission to people with urgent need to travel.

And what about media?

Senior presidential press secretary Don Wanyama tweeted that Uganda Media Centre would "develop special access cards for media houses".


Media colleagues, the @UgandaMediaCent is to develop special access cards for media houses, to be used by critical staff that have to work past curfew hours. The security ministry has okayed this. You'll get in touch with UMC for this. @OfwonoOpondo @OgwangOgwang @UCC_Official

— Don Wanyama (@nyamadon) April 3, 2020


________________________________


9:28pm | Food relief: 'We are dealing with an emergency - not poverty'

On the food relief set to be given to the people who have been affected by the anti-coronavirus measures - those who lead hand-to-mouth livelihoods - Museveni says this exercise should not be mixed with the long-term critical issue of poverty eradication.

"Some people are mixing this up. They think it is an anti-poverty exercise. Poverty is a long-term problem, which has been here and will be here and there are other programmes, like Operation Wealth Creation, in place to address this.

"We are now dealing with an emergency," he underlines.


________________________________


9:23pm | Museveni's appeal to the rich

The President calls upon the wealthy to support government's efforts in fighting coronavirus.

"I call upon our rich people to contribute brand-new 4WD vehicles so that I can build up this fleet and we use them to fight this virus," he appeals.

Those who can contribute food are also welcome, he adds.


________________________________


9:17pm | Details on the 45 coronavirus-positive cases


We learn from health minister Dr. Jane Ruth Aceng that of the 45 confirmed cases, nine were identified at the airport upon their return, 23 were identified while in quarantine and 13 had the opportunity to interact with the public.

The ministry has so far listed 660 contacts for follow-up. But it won't stop at them. The contacts of the 660 will also be tried to be identified for follow-up as well.

You should understand that of the returnees, a big group got back into the general population and it is only the 13 of these that were traced and tested positive, clarifies the health minister.


________________________________


9:10pm | Collapsing economy? Says who?

The President says he is not "buying into this pessimism" he is hearing being tossed around about the economy of Uganda taking a dip due to the current coronavirus crisis.

Yes, some sectors are being affected, like tourism. But some are getting a boost, he argues, adding that the industries are gaining momentum, especially with the current low rate of importation.

"We have got electricity and raw materials," says Museveni.


________________________________


9:03pm | Disobedient markets warned

The President urges Ugandans to limit their movements as much possible.

Meanwhile, he warns markets such as that of Kalerwe that they risk being shut for failing to put into force the standard operating procedures, required to curb the spread of coronavirus.

"We cannot allow suicide," he sternly says, pointing at the hazard such a market is putting to the people visiting it without proper measures in place.

"We cannot sit there and watch our people die because of your defiance."

Most markets, though, like Nakasero in the heart of Kampala, are following the set guidelines.



________________________________


8:52pm | On 'corrupt' RDCs

Museveni also warns corrupt resident district commissioners (RDCs) who are taking advantage of the situation. He says he has activated the State House Anti-Corruption call centre so that the public can report corrupt officials during this period of partial lockdown.

The unit is headed by Lt. Col. Edith Nakalema.


________________________________


8:50pm | Update on protective gear

The President says he has received a report from the health ministry indicating that they have received about 10% of the protective gear needed in the fight against coronavirus.



________________________________


8:46pm | Curfew: Staying indoors or staying home

President Museveni also touches on the issue of curfew and points out that his directive may have gotten lost in translation.

During the curfew period - 7pm to 6:30am - he meant people are to stay at home (which can be in their compound, on their verandahs or balconies, etc) and not necessarily having to lock themselves indoors.

"Do not misinterprete my orders," he says.


________________________________


8:40pm | Museveni warns rowdy LDUs, crime preventers

The President warns crime preventers against involving themselves in this partial lockdown period.

"Crime preventers are part of our system, but they should not involved themselves in the system unless they have been called up by the army," he says.

He places emphasis on which groups are supposed to be involved. :This exercise is being carried out by three groups - Police supported by UPDF, LDUs (operating under the army), Local Council leaders."

Museveni also warns against marauding LDUs who have been reported to be misbehaving and slamming into people's homes during operations.


________________________________


8:35pm | Health workers vehicles to get stickers

The President directs the works and transport minister to ensure vehicles of health workers get stickers.

"They will not be stopped," he says.

________________________________


8:31pm | Most of the coronavirus cases are returnees

The 45 confirmed cases are mainly returnees from foreign countries. There are a few locals - like the man from Masaka, who infected his wife and daughter. Another is the child from Iganga, who was infected by his father, who had come from western Kenya in Kisumu.

The President is cautiously optimistic.

"I am beginning to be hopeful that we can defeat the virus," he says, pointing at the over 1,700 cases tested so far and with a low 45 cases confirmed to be positive.

Museveni is basing his optimism on the fact that most of the samples are got from people who are already in quarantine.




________________________________


8:23pm | The simple things we can do

The President reiterates his call to Ugandans to adhere to simple personal hygiene measures of washing hands with soap and water and avoiding to touch oneself in the face.

He also tells people with cough and flu-like symptoms to stay away from other people and isolated themselves in their homes - and seek medical attention if necessary.

Also, be sure to disinfect polluted surfaces in case you have coughed on them to prevent further spread of the virus.

"In my view, it is very easy to defeat this virus. The problem is that people do not listen. They take things for granted," he underlines.

The President also thinks the advancement of the developed nations has also played a role in the acceleration of the spread of COVID-19. He is keen to point out that this is not based on any research yet.


________________________________


8:13pm | 'This is a war, we are not talking convenience' - Museveni


President Museveni has started his address by saying he is happy that Ugandans are heeding his measures. He particularly draws out an example of market vendors who are staying in the markets - instead of going back to their homes for the 14 days of partial lockdown - as per his earlier directives.

He was also informed that the factories, too, are obeying the directives and are encamping their workers.

"This is a war - and I am confident that as Uganda, we shall win this war against coronavirus," he says.

"This is a matter of life and death. We are not talking about convenience. We are talking about survival."




________________________________


8:02pm | President about to address the nation

Early pictures coming in show President Museveni preparing to speak to the country. Prime Minister Dr. Ruhakana Rugunda is present.

Rugunda chairs the coronavirus national taskforce, which comprises four working committees - health, works, transport and trade, logistics and communication.


________________________________


7:50pm | We are in this together


A number of entities in the country are throwing their weight behind the fight against coronavirus. From gloves to gas cookers, mattresses and even money, these groups are donating to the health ministry a wide range of items to support the efforts in stopping the virus in its deadly tracks.

The ministry has been keen to show its gratitude and has posted the developments on its social media platforms. Here is one such thread on Twitter . . .


The Permanent Secretary, @DianaAtwine received UGX 200 million from SCD Uganda, Ltd as their contribution to the fight against COVID-19 in #Uganda. Thank You, SCD Ltd. #STAYSAFEUG pic.twitter.com/x0NKWuW9wO

— Ministry of Health- Uganda (@MinofHealthUG) April 3, 2020

________________________________


7:45pm | President to address nation

If you are just getting here, I should remind you that President Museveni is set to address the nation on the current situation of the coronavirus in the country.


At 8pm this evening, I will address the country on the Covid-19 situation. pic.twitter.com/AgT5nzrRxR

— Yoweri K Museveni (@KagutaMuseveni) April 3, 2020


________________________________


7:36pm | 'Distortions' about ministry activities and budget

The Ministry of ICT and National Guidance has to clarify on what it calls "distortions" about the activities and budget for the communication support towards national efforts to combat coronavirus.

To begin with, the ministry says it is part of the national taskforce tasked with stopping the spread of COVID-19.

About the budget for the taskforce, the ministry says that includes facilitation of the over 2,000 sub-counties in the county, to ease the operations of sub-country chiefs in efforts to sensitize their respective communities on the COVID-19 - "and not only social media as portrayed".


Clarification by @MoICT_Ug on the communication activities and budget for #COVIDー19 pic.twitter.com/SpX4Aqb1Gy

— Government of Uganda (@GovUganda) April 3, 2020


________________________________


7:23pm | Not in agreement with Parliament

Government spokesperson Ofwono Opondo tweeted about government's stance on the distribution of relief food to the vulnerable urban poor.

On Thursday, Speaker of Parliament Rebecca Kadaga concluded a vibrant plenary by asking Premier Rugunda to stop the exercise "until we have addressed the national issue".


#COVID19UG Govt has taken the decision to distribute relief food in Kampala and Wakiso. Govt doesn't agree with the advice of @Parliament_Ug on relief food @RuhakanaR. @UgandaMediaCent @ubctvuganda @nbstv

— Ofwono Opondo P'Odel (@OfwonoOpondo) April 3, 2020


________________________________


7:19pm | Relief food distribution starts Saturday

Government has stuck to its plan of distributing relief to the vulnerable urban poor affected by the coronavirus lockdown in the country despite a call by Parliament to halt the exercise until a plan to cater for the entire country is arranged.


Now that the exercise will go ahead as planned, the distribution will cover Kampala and Wakiso, covering 1.5 million people.

According to a statement by Prime Minister Dr. Ruhakana Rugunda, the distribution "will be done at LC1 level by the LC chairpersons, supported by Police and UPDF for purposes of transparency and avoiding crowds".

"Security will stay at the distribution point from the beginning up to the end of the exercise. The relief package will include 6kg of maize flour, 3kg of beans and salt per head. In addition, lactating mothers and the sick will receive 2kg of powdered milk and 2kg of sugar."

President Museveni says his government is aware of this group's struggles in such a time of desperation.

"We are aware of our people that have been living hand to mouth. Unfortunately, these people have been most affected by our measures in trying to curb coronavirus spread. We shall support them until the situation returns to normal," he said.


________________________________


7:07pm | Here are the presidential guidelines

Many activities have been banned, facilities closed and public transport suspended. These, plus several other measures to curb the spread of coronavirus, are contained in the summary below.




________________________________


6:56pm | 'Remain calm but vigilant'


So far, as many as 1,026 individuals are said to be monitored under institutional quarantine. The ministry says a total of 962 contacts to the confirmed cases are under follow-up.

The good news - and of course I know it is good news that you desire to be reading about in these difficult times - is that all the 44 confirmed coronavirus cases are in stable condition at Mulago National Specialised Hospital, Entebbe Grade B Hospital and at Adjumani and Hoima hospitals.

While underlining that Uganda has not registered any coronavirus-related death, the ministry appealed to Ugandans "to remain calm but vigilant and practise the preventive measures".

"Wash your hands with soap and water or use an alcohol-based handrub at least three times a day, maintain a social distance of at least four metres and if you have flu-like symptoms, cover your nose and mouth with a mask".


________________________________


6:52pm | One confirmed case

On Thursday, one of the 302 samples that were tested for COVID-19 at the Uganda Virus Research Institute in Entebbe returned positive, bring the total number of confirmed cases in Uganda to 45.

That one case is understood to be a 22-year-old Ugandan female from Wakiso district. The health ministry said in a statement that she is the wife of a previously confirmed case who arrived from Dubai (UAE) on March 20.

The said case was asymptomatic, meaning she did not have any signs and symptoms consistent with COVID-19.

Meanwhile, Ugandans are playing it safe while going about their work under these unusual circumstances - like at this temperature check point at Nakasero Market in the heart of the city earlier today.




________________________________


6:40pm | 'Give them more love'

If you are a parent out there, how can you help your child deal with the stress that comes with an unprecedented situation for them as the coronavirus pandemic?

Give them extra love and attention - and listen to them, advises the health ministry.


As a parent, you can play your role by helping your child cope with stress during this #COVID19 outbreak.
👉🏾Support your child, give them extra love and attention and listen to them. #STAYSAFEUG pic.twitter.com/JDdT52fM9N

— Ministry of Health- Uganda (@MinofHealthUG) April 3, 2020


________________________________


6:27pm | COVID-19 roars on

At the beginning of Friday, the number of confirmed coronavirus deaths globally had risen past the 50,000 mark. As I write this, the death toll is over 55,000. USA, Spain and Britain have particularly taken the hardest knocks so far.

At a time of global desperation, these nations are running around the clock to curb further spread of the virus as they grapple with their highest death tolls thus far. Italy and China have had their fair share of hits in the face.

Globally, the number of COVID-positive cases is well over one million!

Back home, here in Uganda, the situation is comparatively not as bad. 45 confirmed cases, no death. That, in short, is our medical story so far. Beyond our borders though, we received reports of the death of a Ugandan medical consultant, Dr. Acellam Labeja of Lewisham University Hospital in the UK. He reportdely fell victim to the lethal coronavirus.

Tonight, one hour into curfew time, President Yoweri Museveni will address the nation again on the COVID-19 situation in the country. Will keep you updated in real time.




________________________________


6:20pm | Curfew looms

Good evening everyone, if you are out there on the streets or are walking your dog arund the neighbourhood, you have just under an hour to get back to your home.

You do not want to get caught up on the wrong side of the 7pm curfew, do you?

Yes, who knew the year 'twenie-twenie' had curfew plans for us all! Such is our current reality. And if it should make you feel any better, this is not happening only here in Uganda. Many parts of the world have issued restrictions on the movement of people after a certain time of the day in recurrent efforts to contain the spread of the ubiquitous coronavirus.

So, fret with moderation.