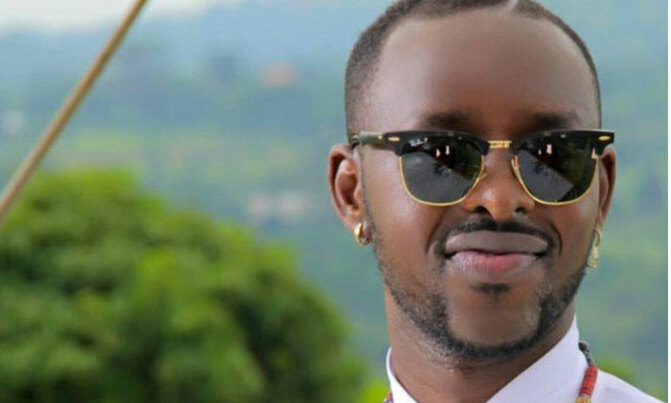 Kenzo has become an unannounced ambassador for COVID-19 in Ivory Coast, with his regular posts about developments in the West African country
If there's an individual cursing Coronavirus to the bone marrow, it is singer Eddy Kenzo. No sooner had his concert dubbed the "Kenzo Festival" been cancelled, than he left the country for business, only for his return to be put on hold.
With no clear date as to when the ban on shows will be lifted, he opted to try out and do a gig in Ivory Coast, but even that event too was cancelled. Kenzo is now quarantined in a hotel room in Ivory Coast after his plans of flying back to Uganda collapsed with the closure of Entebbe International Airport and all borders.
"So I'm not allowed to come back home," he posted on his social media, with crying emojis (as usual).
The post invited trolls, of course, they quoted lines from his own songs while hurling insults.
Kenzo has become an unannounced ambassador for COVID-19 in Ivory Coast, with his regular posts about developments in the West African country.
His cry about being locked out has since been re-sounded by several other Ugandans who are now locked out.
With other countries like Kenya offering free transport to fly their nationals back home, Ugandans have to stay abroad, leave in fear and brave the cold weather.
Most of the senior players on the Cranes team have also been locked out.
Captain Dennis Onyango, who is based in South Africa, was preparing to come home when he heard the announcement. He says he will be under "complete lockdown" starting today.
For those in Europe and the US, we have been informed that they are all under self-isolation in their apartments.
William Kizito Luwagga, Alex Kakuba, Isaac Muleme and Timothy Awanyi are all in apartments, hoping for the situation to cool down so that they can finish off the season and not have issues like contracts being terminated as most clubs are planning to take the bankruptcy move.
They only go to the rooftop once a day for fresh air. For the rest of the day, they are stuck in his house.
For the socialites like Nalongo Don Zella, it is the same case. And for her, the reality of not having a man in the house has hit her hard. She confessed that after the quarantine, she will get married.
According to her post, made in Luganda, she promised that if the situation continues as it is, she is going to get married because the last three weeks with kids have been a nightmare.
"Nkoye quarantine. Week three kyaba too much quarantine. Wegwera weti, I am getting married. Wabula eh! Seriously quarantine with only kids nayo sinyanguu." Don Zella in a scientific wedding would be a wonder.
I was in Dubai three weeks ago — Spice Diana
One of the few celebrities who were lucky to sneak into the country shortly before the closure of the borders was Spice Diana.
She was in Dubai shooting a video, and as soon as she was done, she flew to Tanzania, another place with cases already registered, for a collabo with Harmonize.
Later, one of those involved in the collabo project tested positive for Coronavirus.
"The Spice Diana Dubai trip was three weeks ago. The one to Tanzania was last week. When she came back, she followed the guidelines starting with being tested at Mulago and the results were negative," explained her manager Roger.
He says Spice Diana went on to follow the 14-day self-isolation guidelines.
By press time, Spice Diana's phone was switched off. However, while departing from Julius Nyerere International airport, she posted: "Worry no more. The nurse is coming back to cure dangerous Coronavirus. Line up for injections." This was before the 32-day lockdown.
Other celebs, like Abryanz and Mutoto have since used social media to explain that despite their travel to Dubai, they have tested negative and are safe.
Judith Heard's posts seem to have followed a script — scare, get positive results, pose as an ambassador.
It is something similar that got Miley Cyrus irked that some celebs are being paid to claim to be victims of Coronavirus.