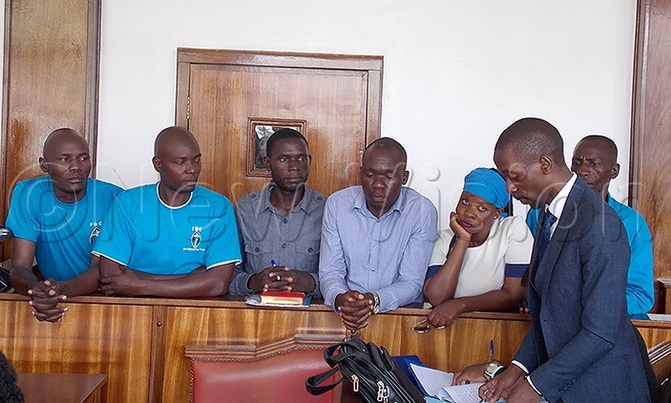 The accused are indicted with five counts of inciting violence, malicious damage to property,contempt of court and common assault.
COURT JUSTICE

KAMPALA - The Buganda Road Chief Magistrates' Court in Kampala will on April 3 rule on whether to dismiss the case in which six people are accused of attacking a Magistrate.

The accused, Simon Wanyera 28, Abdullah Waiswa 29 and Augustine Ojobile 30, are indicted with five counts of inciting violence, malicious damage to property, contempt of court and common assault.

They are battling the charges together with Joel Kabali 40, Fatuma Abalinabyo 34 and Moses Katumba alias Wesonga 37.

The fixed date followed submissions of the accused lawyers, Isaac Ssemakadde and Erias Lukwago entreating court to dismiss the case on grounds that the prosecution slapped fake charges on their clients and failed to prosecute their case.

"Your honor, the charges are vague, this is because they don't indicate who clearly threw a bottle to the said Magistrate, which obscene words were said, a time when the alleged crime was committed and which part of Buganda Road Court were the words said from," Ssemakadde said.

He argued that six people cannot throw a single decanter to the Magistrate as prosecution alleges.

"We, therefore, pray that this court is pleased to dismiss this case and set the accused free," he said.

Ssemakadde further accused the prosecution of failing to adduce witnesses for now a period of seven months ever since the accused took plea in August last year.

"This is a case where the accused took plea last year, but how comes the state has failed to amend charges but instead requesting for adjournments," he added.

On rejoinder, the prosecution led by Miriam Njuki told court that she had not provided an amended charge sheet as ordered by court for the secretary in the Directorate of Public Prosecutions' office was on leave.

"We have delayed availing the amended charges because the secretary in the DDP's office is on leave," Njuki said.

Concerning the several adjournments, Njuki said the adjournments have been requested by both the prosecution and the defense.

The arrest

The accused were arrested on August 2, 2019, following an attack on Grade One Magistrate Gladys Kamasanyu as she was passing an 18 months jail sentence to Dr Stella Nyanzi over cyber harassment.

However, on August 5, they were charged and remanded, but later given cash bail of sh300, 000 each, while each of their two sureties was bonded sh3m, non-cash.

The charge

Prosecution purports that the accused and others still at large on August 2, 2019, at Buganda Road Court incited court audience to do an act of violence against Kamasanyu by reason of her office.

All this happened as her worship Kamasanyu was passing an 18 months jail sentence to Nyanzi.

It is further alleged that the accused within the premises of the court in which a judicial proceeding was being heard, showed disrespect in speech manner to reference of the said proceedings and the magistrate presiding, by abusing her with obscene words and throwing a bottle of mineral water at her and making noise.

That kabali, Wanyera, Abalinabyo and others still at large willfully and unlawfully damaged a walk detector machine, the property of the government of Uganda.

Prosecution also asserts that Abalinabyo, on the same date commonly assaulted Kamasanyu, an act contrary to section 235 of the Penal Code Act.