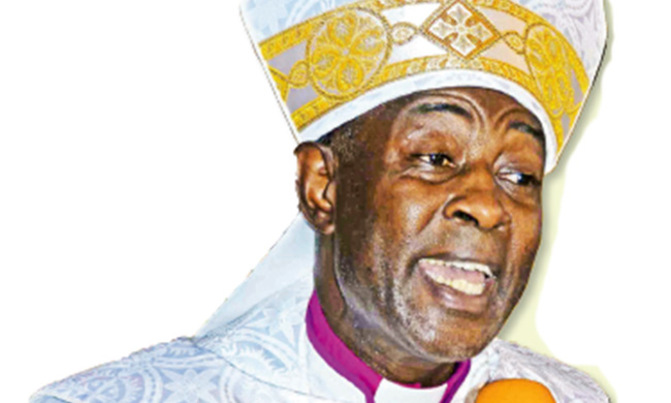 Brothers and sisters in Christ, – I appeal to you this day to Choose Life in all it's abundance (John 10.10). Do the right thing. Pay attention to your behaviour and choose to change your behaviour so together we can defeat coronavirus.
CORONAVIRUS
The archbishop of the Church of Uganda has issued a statement urging people to stay home.
In a strongly-worded statement, the archbishop reiterated the President's message of behavioural change if the country is to defeat coronavirus.


Below is his statement in full
Dear Bishops, Clergy, and Christians,

Praise God from whom all blessings flow!

Even in the time of coronavirus and COVID-19, all blessings flow from God and we offer praise to Him because He is the same yesterday, today, and forever (Hebrews 13.8) and His mercies never come to an end (Lamentations 3.22).

Today, 25th March, the Ministry of Health has reported five more confirmed cases of coronavirus in Uganda, bringing the total of confirmed cases to fourteen. Yesterday, 24th March, His Excellency, the President of Uganda, addressed the nation and reminded all of us that Uganda can defeat the enemy of coronavirus if all Ugandans will focus on three things:

1. Distance yourself from people who are coughing or sneezing and reduce all non-essential travel;

2. Wash your hands often with soap and water;

3. Do not touch your eyes, nose and mouth with your hands.

Behaviour Change
In the early days of the HIV/AIDS epidemic in Uganda, we were able to reduce the infection rate and the prevalence in the country simply through behaviour change - the ABC approach of Abstinence before marriage, Be faithful in marriage, and Condoms, when necessary.

Many secular-minded people scoffed at Uganda's behaviour change approach because they think human beings are really only animals and, therefore, incapable of exercising self-control. But, we know differently.

When God created man and woman, he made them different from all the other animals. Men and women are made in the image of God. Animals are not made in the image of God, but we are made in the image of God.

Part of what this means is that we human beings have been given a will - the ability to choose one thing rather than another. Animals can't choose - they are driven only by instinct and desire. But, people can choose. And, through the death and resurrection of Jesus, we have been set free to choose life.

Brothers and sisters in Christ, and my fellow Ugandans - I appeal to you this day to Choose Life in all its abundance (John 10.10). Do the right thing. Pay attention to your behaviour and choose to change your behaviour so together we can defeat this enemy called coronavirus.

God has created us in his very own image and given us the capacity to change our behaviour. Please do it today. Wash your hands and don't touch your face.

Stay At Home
We in the Church of Uganda have already supported the President's guidelines to cease public gatherings of worship and have urged Bishops, Dioceses, Clergy, and Churches to offer online worship services, and to partner with radio and TV stations to offer Radio and TV Church.

We have, likewise, urged all families to organize not only daily family devotions but also family Sunday worship, including worship through tithes and offerings.

Please don't forget your tithes and offerings as a thanksgiving to God who is the One protecting us. Contact your local church or Diocese about how best you can give your weekly tithes and offerings during this season of Worship from Home.

I want to appreciate the generosity of Uganda's media houses for their great support last Sunday in providing airtime for radio and TV broadcasts of worship services. Likewise, I congratulate all those congregations who creatively engaged Facebook Live and YouTube Live and other internet-based streaming services to broadcast worship into people's homes.

I only pray for more outlets to broadcast worship and preaching and for more people to avail themselves of the opportunities. Please also join with me in praying for the day the Church of Uganda will have its own television station.

Isaiah 26.20 says, "Go, my people, enter your rooms and shut the doors behind you; hide yourselves for a little while until God's wrath has passed by."

We are already worshipping from home. It's time now for us to also work from home.

I call upon all Bishops to organize the best way for most church workers - lay and ordained - to work from home while also being facilitated. We also want to encourage leaders to take advantage of online technology for audio and video conferencing.

If working from home is not possible, then reduce work and give people leave. Uganda's borders have been closed to reduce transmission of the virus across national borders. But, the virus is already here in Uganda. Therefore, as a church, we need to ensure the virus is not able to cross desks and move from one office to another. We need to set an example of staying at home.

I also appeal to all church workers - lay and ordained - to reduce the use of public transportation to an absolute minimum. Do not give the virus an opportunity to infect you.

By the end of this week, I am requesting Bishops and Dioceses to have organized yourselves to work from home. The Provincial Secretariat will do the same. We are identifying which staff should take leave and which staff can work from home.

The Office will be closed to the public beginning on Monday, 30th March until further notice. A few staff, however, may still need to report and they will be notified. Dioceses need to do the same thing by the end of this week.

The Provincial Secretary will communicate separately about the status of provincial board meetings and meetings of the Provincial Assembly Standing Committee.

I also want to call upon employers to come up with creative solutions for how workers can work from home. For those who must report to work, please support your employees with gloves, face masks, hand sanitizer or soap and water, and remind everyone to keep distance between people. Our people still need ways to earn money to feed their families.

Lent is a season of focusing less on the pleasures of life so we can focus more on the Lord our God. Never has there been a Lent season like this one when circumstances forced all of us to pull back and to turn our eyes more onto Jesus. Don't miss this opportunity to focus on Jesus, and to repent and pray as you "stay at home."

Bear One Another's Burdens
Staying at home, however, does not mean neglecting our neighbours or even the strangers amongst us.

Jesus taught us how to be a good neighbour in the Parable of the Good Samaritan (Luke 10.25-37). Regardless of who the hurting person is, whether a friend or a stranger, we should make an extra effort to show mercy and give practical support.

Paul summarized Jesus' teaching by saying, "Bear one another burdens, and in this way, you will fulfil the law of Christ." (Galatians 6.2)

Being distant from one another by staying home does not mean we stop caring for others in practical ways. We need to be creative and find more ways to stay connected with one another.

Instead of spending money on a boda boda or a taxi, buy some extra airtime and call someone to check on them. Or, spare a kilo of beans to share with someone who doesn't have.

We thank the mobile money providers for reducing fees on sending support through mobile money. This is very helpful and a good example of corporate social responsibility. Keep it up.

On the other hand, those business people who have increased prices on goods and transport, shame on you. The Old Testament prophets had strong words of condemnation for people like you who exploit their fellow countrymen for their own greed. I urge you to turn now from your wicked ways, while there is still time.

I urge all Bishops, clergy, and lay readers to not neglect the pastoral ministry. If people call you for emergency prayer, go. If there is a death in your community, go. But, go protected with gloves, face mask, and hand sanitizer, and conduct prayers with at least two metres between you and others. (Two metres, by the way, is the length of a mattress. That's how much space should be between people when meeting face-to-face.)

Additional detailed information about applying the Ministry of Health Guidelines in the context of church work are enclosed.

I call upon the government to support these frontline church leaders with the same kind of personal protective equipment that frontline health workers use. They are essential personnel in the fabric of our communities and need to be facilitated with gloves, face masks, and hand sanitizer.

Funerals and Burials
When a loved one dies in the season of coronavirus, it is going to be especially painful for burial. The last thing we need, however, is for more people to get infected because of attending a burial and then for more deaths to occur.

The short term pain is much more bearable than the long term pain of losing more loved ones. Paul says it this way: "I consider that the sufferings of this present time are not worth comparing with the glory that is to be revealed to us." (Romans 8.18)

Pastors should be present at burials, but please respect the government guidelines and there should be no more than ten people present at the burial.

The pastor should also be equipped with gloves, face mask, and hand sanitizer, and conduct prayers with at least two metres between them and others.

My brothers and sisters in Christ, my fellow Ugandans. These are extraordinary times that call for extraordinary measures and for the extraordinary conversion of our head, heart, and hands.

We can change our behaviour because we are human beings made in the image of God. So, Wash your hands and don't touch your eyes, nose, or mouth.

Stay at Home and Work from Home. Don't travel.

Bear one another's burdens through mercy and practical support.

In these extraordinary times, we can do this because we have been made in the image of our extraordinary God, "who is able to do immeasurably more than all we ask or imagine, according to his power that is at work within us.

To him be glory in the church and in Christ Jesus throughout all generations, forever and ever! Amen." (Ephesians 3.20-21).

Yours, in Christ,

The Most Rev. Dr Stephen Samuel Kaziimba

ARCHBISHOP OF CHURCH OF UGANDA.