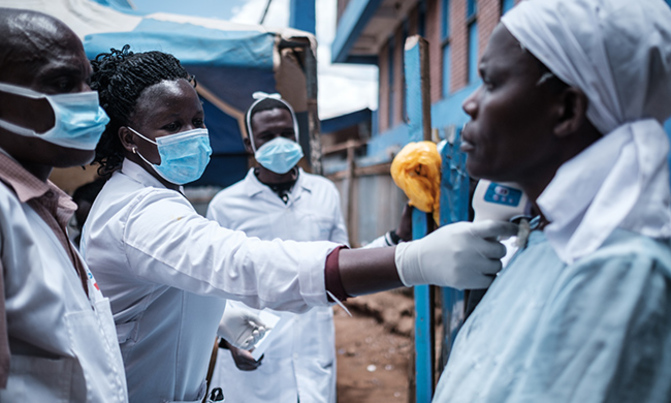 In Africa, at least 1184 cases of coronavirus have been confirmed and 20 deaths reported according to the WHO.
HEALTH VIRUS

The new coronavirus infection has surpassed 300,000 cases worldwide, while the death toll has topped 13,000 as of March 22, according to the Johns Hopkins University.

In Africa, at least 1184 cases of coronavirus have been confirmed and 20 deaths reported according to the WHO.

At least 90,000 people who had been diagnosed with coronavirus have recovered so far.

Coronavirus which started in China in December 2019 has so far been reported in more than 100 countries. The World Health Organisation (WHO) has since declared it a public health emergency of international dimensions.

Out of 54 countries in Africa, 42 including Uganda have confirmed cases of coronavirus.

Uganda confirmed its first case Sunday morning. The confirmed case is a 36-year-old male resident who travelled to Dubai on March 17, 2020, for a business trip.

Uganda is taking action to suppress the virus in order to keep the diseases at bay.

About Coronavirus.

The name of coronavirus comes from its shape, which resembles a crown or solar corona. Corona is a Latin word that means crown.

Coronaviruses are a family of viruses that range from the common cold to MERS coronavirus, which is Middle East Respiratory Syndrome coronavirus and SARS, Severe Acute Respiratory Syndrome coronavirus.

Amidst these measures, there are ways individuals should ensure to keep the virus at bay.

Currently, the virus has no cure, but good hygiene which includes handwashing with soap remains the most effective way of keeping the virus at bay, according to Uganda's health minister Jane Ruth Acheng.

Ugandans are also encouraged to take lots of fluids and to eat fruit and vegetables to boost their immunity.

"It is very important that everybody drinks a lot of fluids this time because the virus itself causes dehydration. At least drink three liters every day," Aceng says.

She explains that you need to eat fruits like oranges, mangoes, banana for vitamins but also a lot of vegetables because we get antioxidants that help humans fight diseases.

"Let's Make sure we maintain hygiene of whatever we are eating. It is not enough to only wash hands," Aceng says

Government has also set up a mandatory institutional quarantine, for Ugandans returning from high-risk countries.

"This is for your own safety, your beloved ones and the population. You will be quarantined at your own cost for 14 days in our identified places. This is not because we want to keep you away from your families, but to protect them and easily evacuate you in case you show symptoms," Aceng says.

She calls upon the affected persons to adhere to the rules of quarantine.

WHO and other health authorities, have emphasised that both washing one's hands, cleaning and disinfecting frequently touched surfaces daily are key in preventing Covid-19's spread.

According to WHO, current global data indicate that 81% of COVID-19 cases are relatively mild, 14% evolve into a more severe illness, and about 5% become critical, requiring supportive treatment such as oxygen and mechanical ventilation.

Advanced age and pre-existing medical conditions are risk factors for severe outcomes.

There is currently no vaccine to prevent coronavirus disease(COVID-19). The best way to prevent illness is to avoid being exposed to this virus.

It is important to communicate the facts that viruses do not target specific racial or ethnic groups and how COVID-19 actually spreads can help stop the stigma.

You can protect yourself and help prevent spreading the virus to others if you:

Do

Wash your hands regularly for 20 seconds, with soap and water or hand sanitizer (alcohol-based 62%) and above hand rub

Cover your nose and mouth with a disposable tissue or flexed elbow when you cough or sneeze

Avoid close contact (1 meter or 3 feet) with people who are unwell

Stay home and self-isolate from others in the household if you feel unwell

Don't

Touch your eyes, nose, or mouth if your hands are not clean.