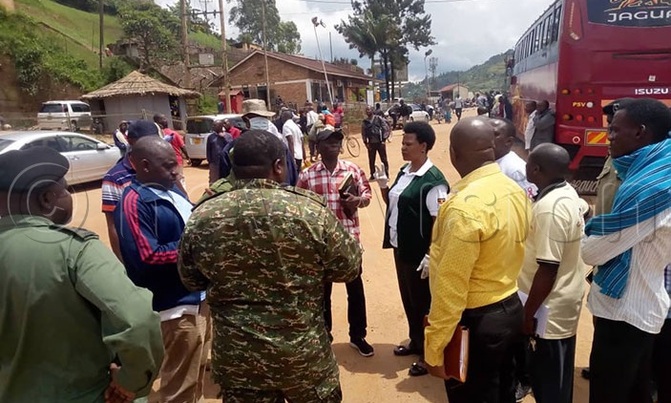 According to Kalikwani all illegal entry points at the border have been closed and are now being manned by security.
The security at the border in Busia is only waiting for time to clock midnight and close the border, having put in place all the required measures.
Kenya, on the other hand, closed its border effective yesterday midnight only allowing Ugandans leaving Kenya and no one going to Kenya is allowed.
A crisis security meeting held this morning at the one-stop border point, chaired by the area deputy residents district commissioner, Paul Kalikwani, resolved to put in place stringent measures to enforce the presidential directive.
According to Kalikwani all illegal entry points at the border have been closed and are now being manned by security.
This means that all local council one committees along the borderline have been brought on board because they have been purportedly aiding illegal travelers into the country.
Kalikwani who briefed journalists after the close door meeting also appealed to Police and the Uganda Peoples Defence Forces to come and beef up the traditional security agencies like Police, CMI, ISO, immigration and UTA enforcement personnel that operates at the border.
The other measure put in place is to ensure that all walkways are closed before midnight, no vehicle will be allowed in at the border apart from those carrying cargo.
The cargo vehicle have been allowed to only have three persons including the driver his co-driver and the turn man, who upon arrival will not be allowed to walk in the customs yard but to drive directly to the border screening point.
The security has also burned all idlers from the customs and allowed a few clearing agents with protective gear to clear both Ugandan and Kenyan cargo vehicles as not Kenyan clearing agents will be allowed in Uganda.
The boda boda cyclists that have been operating at the entrance of the main gate have been directed to move 300 meters away.
Money changers and clearing agents who will be having no work to do have been banned d from customs.
The meeting however also identified some challenges in the areas of having only three medical personnel screening people and called upon the ministry of health to deploy more medics at the border effective tomorrow morning.
Ugandans who are in Kenya and vice versa have been directed to come and go back before midnight or remain forever where they are until the border will be re-opened.
The meeting appealed for more supplies to ensure the facility does not run out of the essential requirements and also to provide protective gear to the officers that will be dealing with the travelers.
The other challenge was the small number of officers on the ground but they have already appealed for reinforcement from UPDF and police.