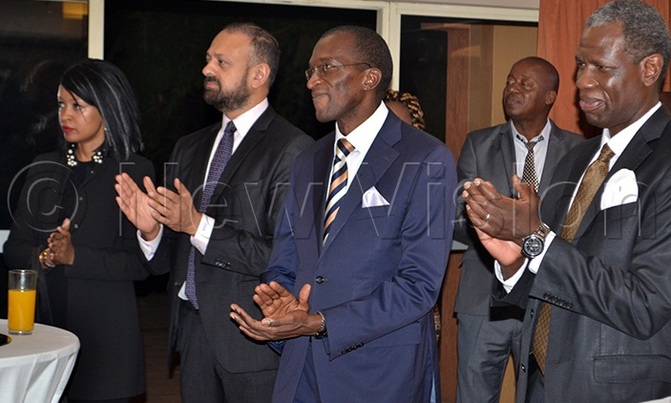 "Insurance penetration is 0.84% in Uganda compared to the 3% in Kenya," Kamau said, adding that the market is very receptive, spiced by the accommodative regulator.
INSURANCE BUSINESS

KAMPALA - GA insurance recently acquired 100% of Nova Insurance Company in Uganda, according to a public statement by the Insurance Regulatory Authority of Uganda in November.

This is part of GA's insurance plan to expand across East Africa. The firm already has operations in Kenya and Tanzania.

"I am hopeful that the new brand we are unveiling today will go a long way in contributing to the development of the insurance industry in Uganda," Alhaj Ibrahim Kaddunabbi Lubega, the Chief Executive Officer - IRA said. This was during the launch of GA Insurance Uganda Limited at Kampala on March 5, 2020.

"It is important that we continuously reinvent ourselves and adapt to the changing needs of the market so as to respond to the customers' needs and aspirations", he added.

Lubega said, "I am happy to note that the GA Insurance Limited brings to the Ugandan market its financial strength, skillful underwriting, customer experience and most specifically, that GA is rated by the Global Credit Rating Agency and their underwriting premiums growing to $66 billion."

According to Francis Kamau, the Chief Executive Officer of GA, the company believes in using technology and innovations to drive the wheel of claims settlement without hustles.

"Insurance penetration is 0.84% in Uganda compared to the 3% in Kenya," Kamau said, adding that the market is very receptive, spiced by the accommodative regulator.

"Basing on the allocation of funds by the Government to different economic sectors like road transport, air transport, oil and gas, ICT innovations and others, we are optimistic that the economy will grow to favour an increase in the uptake of insurance", Kamau added.

Following GA's acquisition of NOVA insurance company, GA will be part of more than 25 companies driving up insurance sector penetration in East Africa, which according to the Financial Sector Deepening report, is still less than 1% in Uganda.

The GA Insurance Kenya CEO, Vijay Srivastava stated that GA will go along with the rapid technological innovation and will soon launch a document management software that will enable the management of huge volumes of data and information for its general and medical insurance.

KPMG East Africa Insurance Fraud report, 2015 shows that in Uganda, fraud adds a 10% extra amount to each premium. Insurance fraud is a real risk in today's business environment, and businesses of all sizes can find themselves a target, the report notes.

This, among other reasons, could partly account for the low insurance uptake in Uganda, which still stands at 1% about 0.2 million people still informally insured and 59% about 11 million Ugandans unsecured.

Fraud indicators, according to Kaddunabbi, can be seen when staff/employees unwilling to take annual leave or rotate positions, delays in reconciliations of collected premiums by agents and request to change the beneficiary shortly after issuing the policy, among others.

Cases reported to IRA, investigated 2018,2019 (Jan-Sept) show that sh325,750,000 was issued on fake policies and forgeries compared to UGX 223,000,000 in 2018. Overall, Cases reported to IRA on insurance fraudulent practices totaled up to UGX 4,933,556,000 in 2019 from 3,061,033,733 in 2018.

According to the report, credit bond guarantees accounted for the highest figures of sh3,650,000,000 in 2019 from sh1,200,000,000 in 2018.

Insurance Regulatory Authority (IRA) recommends establishing a clear dismissal policy for internal fraud cases in order to deter other potential perpetrators in addition to observing the four-eye principle, to involve more than one person in decision making for validation, proper governance, transparency, and control, among others to prevent and control insurance fraud.