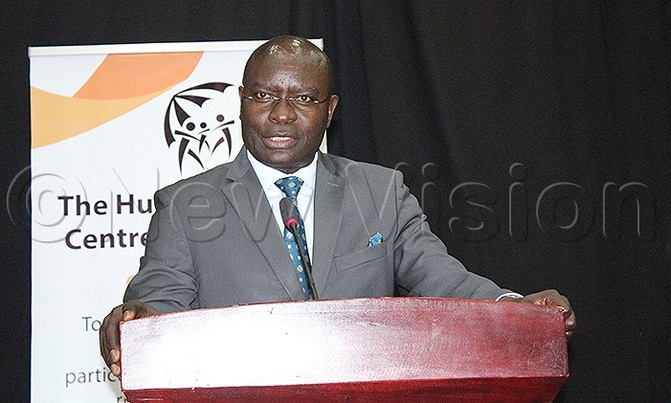 Some of the notable aspirants include Kyadondo East MP Robert Kyagulanyi aka Bobi Wine and former security minister Lt Gen (rtd) Henry Tumukunde.
POLITICS ELECTIONS

KAMPALA - The Electoral Commission (EC) chairman, Justice Simon Byabakama, has said 35 people have so far expressed interest in contesting for Uganda's presidency in 2021 general elections.

Byabakama said this on Wednesday while speaking at the 7th Human Rights Defenders' (HRDs) annual forum in Bugolobi, Kampala, under the theme of "Human Rights Defenders and Elections; Towards Effective Promotion and Protection of their Rights and Work."

Some of the notable aspirants include Kyadondo East MP Robert Kyagulanyi aka Bobi Wine and former security minister Lt Gen (rtd) Henry Tumukunde.

The duo have already got the nod from the EC to carry out countrywide consultations ahead of the general elections.

Byabakama also used the occasion to warn all those who plan to violet voters' rights in the elections that the long arm of the law will catch them.

"We realised that during elections, voters are the most targeted individuals because they are the people who determine who becomes the next President, Member of Parliament, among others, however, there are wrong people with intentions of denying others their rights," he said.

He also appealed to human rights defenders to ensure that voters enjoy their rights freely during election time.

"We have had cases of coercion and intimidation where voters are lured into malpractices such as receiving bribes from candidates to surrender their votes. These people should be reported and tried in courts of laws," he said.

Byabakama advised HRDs to always record all forms of violence during the electoral process to hold perpetrators accountable and punishable to the law.

He promised that EC will work together with HRDs to have the necessary protection they require in the course of their work.

He warned some aspirants to stop posing as candidates before they are nominated. According to EC, the next presidential and parliamentary elections will be held anywhere between January 11 and February 9, 2021.

Parliamentary contenders will be nominated on August 12, 2020, a week before presidential candidates are chosen on August 20.

Margaret Sekaggya, the executive director of Human Rights Centre Uganda (HRCU) said the government should at all times respect, protect and safeguard the rights and fundamental freedoms of HRDs during the elections period.

She also called upon the government to put in place reporting mechanisms of human rights violations to facilitate quick and affordable access to justice for HRDs whose rights have been violated during the elections period.

"The government and state agencies should implement the elections laws effectively and without bias. The right of equitable access to the media should be respected," she said.

Sekaggya also said there should be a constructive dialogue with all stakeholders to address the known challenges during elections as they move towards elections in 2021.

About this forum

The annual national HRDs' forum 2020 is the seventh one and it is intended to provide a platform to HRDs countrywide to discuss pertinent issues concerning their working environment.

This year's annual forum was focusing and putting into perspective the likely road on which HRDs will move towards the 2021 general elections.

Human Rights Centre Uganda says research shows that there are numerous rights challenges relating to freedom of speech, press freedoms, freedom of assembly, freedom of association and torture during the elections period in Uganda.

Advocacy and networking is one of the Human Rights Centre Uganda's focus areas.

The annual forum brings together over 150 HRDs to share experiences in their work and discuss and agree on strategies for the future.